Kitchen cutlery is one of the most profitable businesses around the world especially when it comes to knives. This lucrative market makes people profit from it. As a result, you will find infinite cutlery brands offering their knives to the chefs but not all of them are worth it. Because not every single brand is focused on quality for their blades. If you grab the wrong brand, you will regret your decision.
If you are passionate about cooking it doesn't matter if you want to take it as a career, or it's just fun for you; knives are still the most important element for your kitchen. Now, if you are a rich guy and have several hundred bucks in your pocket, you can grab whatever knife you want without any problem.
But, this isn't the case with everyone out there. They want budget knives and they eventually grab an underperforming set of knives somehow. Here, we crafted this Cangshan Knives Review exclusively for you, so you can get a balanced performance at affordable pricing without paying for a premium.
Of course, Cangshan cutlery is a new name for many of you like most of us were aware of brands like Shun, Yoshihiro, Miyabi, Global, Zwillings, Wusthof, or Tojiro. These prominent brands design quite performing blades, but you need to pay a decent amount for these knives.
Here, Cangshan Knives comes into play as this isn't an expensive brand that features pretty decent knives with the incorporation of razor-sharp and steel blades. They put a lot of effort into designing, crafting, and manufacturing their knives. Before going deeper into this Cangshan Knives Review, we need to find out whether Cangshan is worth it or not?
Take a Look at Budget Knives:
Cangshan Knives Review | A Brief Intro & Overview of the Brand
Whenever you choose a knife, you must know about its brand, but for Cangshan, having an intro is a must so you can develop trust in it. So, let's start the history from its foundation. Cangshan was founded by Henry Liu out there in the Cangshan district of China, and this is where this brand got its name.
Not just the brand, the founder was also born and raised in the same city so he has a legacy as well. This is a story of almost more than a decade ago when Henry started looking for manufacturers to make their blades. He finally found a reliable one and later moved to the United States so he can market his impressive knives.
The brand was already successful in China, Henry expanded it to the world and it has also been successful here as well. Right at this time, the brand offers its knives across the United States along with other countries, and its workshops are currently based in Yangjiang. This lets them make and launch budget knives.
Most of their knives are made through high carbon steel with a bit of stainless steel layering on them that brings longevity to their beauty and sharpness. Specifically, they are using German and Japanese steel of good quality. Depending upon a series, you will get different Rockwell hardness that could be 55 to 62 HRC as well.
Cangshan manufactures knives both in stamped and forged construction. So, quality and performance aren't an issue with these knives. Moreover, with that, you will also get wooden sheaths and handles that look and feel quite comfortable.
Now, let's dive deeper into this Cangshan Knives Review so you can pick the right blade as per your requirements. Our editorial team picked all these knives that have existed for a long time, delivered an impressive performance, and earned quite a good reputation. If you find any of the knives worthy, don't forget to check that out!
Brand Comparisons:
Cangshan Knives Review At A Glance
IMAGE
PRODUCT
SHOP

Overall Best Cangshan Knife Set

Cangshan N1 Series 1022377 23P Knife Block Set

Benefits: Impressively sharpen knives, Well balanced and versatile, Sharp & serrated cutting edges, Value to money & anti-rust knives

Shop Here

Stain Resistant & Good Edge

Cangshan D Series 59120 8-Inch Chef's Knife

Benefits: Easy to sharpen and maintain, Balanced and durable blades, With an Impressive sharpness, Fine finishing & a comfy handle

Shop Here

Knife with an amazing build

Cangshan J Series 62762 X-7 8-Inch Sashimi Chef Knife

Benefits: Full-tang balanced knife, Exceptional performance, Sharp double bevel blades, Maneuverable & adorable

Shop Here

Sharp & Chip Resistant blade

Cangshan Z Series 62731 X-7 8-Inch Chef Knife

Benefits: Fully forged handle & blade, Easy to maneuver chef knife, Productive & a sharp blade, Precise & smooth cutting

Shop Here

Best Chef Knife for Home use

Cangshan N1 Series 59090 8-Inch Chef's Knife

Benefits: A well balanced Chef Knife, Lightweight & maneuverable, Nice & a Comfortable handle, A Strengthened build quality, Sharp blade & precise cutting

Shop Here
Cangshan Knives Review | Our Best Picks & Review
Let's start this list with the knife set of Cangshan that was launched back in 2018 and you can consider it one of the best launches ever done by Cangshan. You will get this set in a couple of versions that vary from 03 pieces and goes up to 23 Pieces of the set which comes in a proper block as well.
Anyways, Cangshan is using X50CrMoV15 german steel to make blades of these knives. With this specific steel, you will get a durable and resilient structure that would last for quite a long time. This one is developed through a proper heat treatment that is a forged blade with impressive robustness.
N1 series features a double bevel blade that doesn't exceed 16° for a single side. It is a bit on the higher side, but sharpness and practicality are still up to the mark. You can use it for relatively heavy tasks as it is designed solely for that purpose. With the proper heat treatment, the knives get to a Rockwell hardness of up to 60 HRC.
To bring an ever-lasting sharpness to its blade, Cangshan manually sharpens this knife that is done precisely yet carefully. In this way, you will get almost a straighter cutting blade with added precision into that. Along with this, the edge retention is also quite satisfying here that doesn't bend or chip its cutting tip.
Within this set, you will get a chef and bread knife with 08-inches long blade in both. Alongside, cleaver and santoku knives feature a 07-inches blade that provides optimal versatility while chopping out the veggies. There is a boning and carving fork of 06-inches each, while the carving knife is given in a 09-inch blade.
Not just that, other knives include serrated utility and a tomato knife of 05-inches. Also, you will get a simple utility knife of the same length. Further, there is a set of 08-inch honing steel, a kitchen shear, a block along with a full package of 08 steak knives with 05-inches long serrated blades.
Pros
Impressively sharpen knives
Well balanced and versatile
Sharp & serrated cutting edges
Value to money & anti-rust knives
Cons
The handles could be optimized
Cangshan D Series is a line-up that mostly focuses on chef knives. This specific knife was launched back in 2015 which is durable and pretty impressive in look. Also, it features an optimized and sort of lightweight construction that makes it an overall balanced knife that would be pretty easy to use especially for casual chefs.
Cangshan is using high-carbon German steel to compose its body, making it economically strong and practical. It provides a rust-resistant body along with good edge retention considering its pricing to be very frank. The blade design is also unique and smart as it has already been patented by Cangshan.
Other than that, this knife is well-balanced as it has a slightly larger handle that makes a perfect compliment with this 08-inches long blade on top of it. This handle is full-tang, durable, comfortable, and riveted to provide possibly the best feel out of it. The partial bolster makes it even easier to control and maneuver.
The D series of Cangshan features a Rockwell hardness within 58 HRC that is quite delightful. Because it is not an easy to chip blade due to the less stiff blade. For its blade, you will get a sharp and straight blade that makes your chopping, dicing, and slicing quite comfortable. Also, sharpening this blade is quite easy.
Pros
Easy to sharpen and maintain
Balanced and durable blades
With an Impressive sharpness
Fine finishing & a comfy handle
Cons
Not meant for the advanced chefs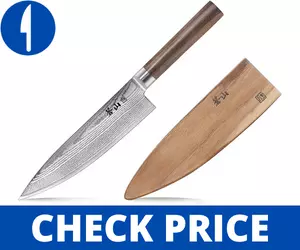 Taking the list one step closer and we have grabbed you with the Cangshan J series. If you are a big fan of traditional sort chef knives, this would fascinate you. This lightweight knife was launched back in 2017 and its performance is already proven so you don't need to worry about any of its parts as such. Cangshan launches this variant in the 08, 10, and 12-inches size of blades.
Alright, this is the very first knife of Cangshan that has got layered steel for its blade which is a true thing for being a traditional Japanese knife. They are using Japanese steel which is almost the same as VG10, but it is not Damascus steel. You will get exceptional performance with these blades along with a durable core.
With the incorporation of heat treatment of its blade, the knife features a strengthened core that would never disappoint you in the long run. The edge retention is phenomenal as it doesn't easily chip. However, you must take care of this blade as it is easy to maintain. Also, don't use dishwashers for this chef knife.
It has a double bevel blade and both of its bevels are sharpened for 16°, which classifies it as a sharp blade. The knife gives a decent performance considering its balancing and ease of control that makes it maneuverable almost for everyone. With the durable and wooden handle, you will get a comfortable feel.
Pros
Full-tang balanced knife
Exceptional performance
Sharp double bevel blades
Maneuverable & adorable
Cons
Nothing to argue for its pricing
The Z series of Cangshan is one of the most interesting knives ever produced and designed. Here, we will specifically be looking at their Chef knife as it is the most common knife that every chef opts for. Cangshan launched this chef knife back in 2017 and it is a balanced knife in terms of weight. It will surely fascinate you.
Cangshan is using high carbon steel in all these knives, but they aren't the carbon steel knives as it is fully forged blade that doesn't disappoint you. To make things quite interesting, Cangshan uses their custom Ultra6 heat treatment which they are calling precise heat treatment. Of course, it is a pretty durable knife.
For its blade department, Cangshan uses hand sharpening that brings an impressive razor-sharp effect to it. This sharp blade provides you with a responsive and smooth cutting experience. Alongside, it provides a reasonable precision when you take your cuts as this blade features quite a straight cutting length.
On top of its blade, you will get a non-stick pattern that makes you more productive. It is sort of a Damascus pattern, but not the real one. Anyways, the knife is productive enough to carry your bulk tasks with little to no problems at all.
Besides these things, you have also got a full tang handle that is nicely placed on its completely forged handle length. This not only brings durability but also provides enhanced stability along with a fair balance to make it maneuverable. It is a riveted handle that comes riveted with mosaic pins so it won't fall apart.
Pros
Fully forged handle & blade
Easy to maneuver chef knife
Productive & a sharp blade
Precise & smooth cutting
Cons
The Edge could be improved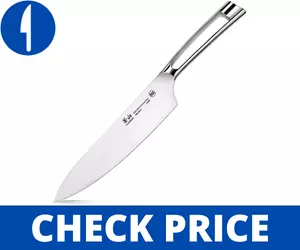 Now, if you are a big fan of western chef knives, but you have also used Japanese blades for your cutting tasks, this chef knife from the N1 series is meant for you. You will get a hybrid taste with this blade and it was launched back in 2015. Also, it is an impressively lightweight kitchen chef knife that makes it more versatile.
Cangshan has launched this in three different styles depending upon your requirements through it. All three knives come for a reasonable price, to be honest. They are now using German steel to make this knife so it would make the best compliment. With this thing, you will get balanced durability and quality.
Just like the previous ones on the list, this chef knife is also forged but it is not the precise forging as they had to justify the pricing of it. With this traditional forging, the knife gets an impressive construction profile that would enhance its overall cutting performance. Also, it has a reasonable Rockwell hardness of under 58 HRC.
Here, this chef knife features a bit thicker spine that provides good support which is useful if you are planning for a relatively longer cutting session with your knife. Meanwhile, the knife is productive as it has a sharp yet double bevel blade. You can perform all sorts of cutting with this specific knife.
For its handling department, Cangshan is thinking out of the box as they have brought an engraved handle. This makes it a lightweight knife and it also becomes fairly easy to control. Alongside, the handle is metallic and you will fall in love with Cangshan's craftsmanship. Also, the handle is comfortable for any sort of chef.
Pros
A well balanced Chef Knife
Lightweight & maneuverable
Nice & a Comfortable handle
A Strengthened build quality
Sharp blade & precise cutting
Cons
A little light knife for some chefs
Cangshan Knives Review | Frequently Asked Questions
Explore more about knives:
Summing Up the Cangshan Knives Review
To get a phenomenal knife, you need to pay an exceptional amount as quality comes at a price. However, this is not a rule of thumb that you do need to pay a lot for the quality as we've busted this myth with this Cangshan Knives Review. If you are on a limited budget, no one else can beat the class of these knives.
Being a relatively new entrant in this market, Cangshan focuses on delivering quality at a reasonable price. This thing is working fine for them as mostly casual and beginner chefs have now started using their knives and they seem to be happy with their performance. Just like them, you will also get value for money.
They have launched several knives in their fleet and covering every single blade isn't a cup of tea. Instead, we picked and filtered their best-performing knives and presented them on this review with transparency. All these knives feature incredible performance along with ease, which you will never regret!