After going through our Wusthof knives guide, you may get to know how many series or lines of knives Wusthof offers to the market. No doubt, Wusthof manufactures the most reliable, compelling, and performing German knives than anyone else. Still, opting for the right series might be a challenge for you as a chef.
As Wusthof is dominating the knives market, the reason behind this is their brilliant and innovative manufacturing technique. They clearly know how to make outstanding knives. All these motives help them to craft better knives.
This craftsmanship and intelligence reflect in almost every single series of knives. However, two of these series have captured the attention of chefs and spots on their kitchen counters due to so many reasons. And, you already know both those series. Yes, we are talking about the Wusthof Classic VS Gourmet series.
Wusthof classic and Gourmet series are better known as the most prominent series by Wusthof in their entire fleet. And why wouldn't they be? Wusthof is putting a lot of effort and expertise to form these brilliant knives so that you get a maneuverable German knife by Wusthof.
As a credible knives reviewer, we would also suggest both these series of knives to you. However, you need to be clear about every single thing about these knives in this Wusthof Classic VS Gourmet Comparison. So that you will know which series is ideal for which tasks or chefs and which one isn't ideal for what tasks.
After reviewing and analyzing both these series, we are going to deliver our verdicts for these lines. In this comparison guide, we will break down their major differences and prominent similarities that take place in their overall performance.
Wusthof Classic VS Gourmet Series | Tools Of Chef
Alright, we will be covering their major and some other contributing factors in detail. They might include things like Build Quality, Construction Method, blade profile, sharpness, design, balancing, and handling sort of stuff. So, let's take a look at both these series to find out what they have to offer.
1. Blade Material & Construction Method
When comparing Wusthof Classic VS Gourmet, the first and the most important difference lies in their manufacturing department. Wusthof's classic series is entirely made up of high-quality and precise forging methods. While their Gourmet series is formed through stamping rather than forging their blades.
For their forged Classic series, Wusthof uses a complete high carbon stainless steel billet. This is some sort of raw material that isn't cut right at the moment. Instead, Wusthof takes an entire billet and puts that into the forging chamber or in a furnace. Usually, this is also known as batch processing.
Here, the knives being made in batches or series of multiple numbers feature almost the same hardness, durability, and sharpness. Because all these knives are collectively formed at the same time where temperature and everything also remain the same from the first knife to the last one.
The gourmet series on the other hand features stamped knives mostly. Wusthof uses laser cutting to cut steel from the billets as per the blade's length right at the first step in this series. All these blades are formed by using a cutting pattern to cut. Now, another difference you will get here that you must know clearly.
After cutting blades as patterns for stamped knives, the blades don't get to forge at all. As this is a fast & rapid construction method, the manufacturing cost also gets lower, & this way you get budget knives from Wusthof. Now, the Classic series features both heat treatment & forging, Gourmet knives could vary a little bit.
Not all the Gourmet series knives are just stamped. Instead, a very few of the knives also get heat treatment after stamping. Such knives are formed for casual chefs who want better durability and sharpness by paying a little bit more.
As per Wusthof's claims, their classic series knives are made after following 40 steps while manufacturing them. Of course, they haven't revealed all these steps, but this starts from heating, forging till resharpening, and crafting of their handles.
Along with that, Wusthof uses PETech technology to form both these series. However, the Classic series dominates this term mostly while only a few Gourmet knives feature this technology. Here, Wusthof uses robotics to sharpen, finish and measure the bevels or length of the blades to get accuracy while cutting.
2. Blade Sharpness & Resharpening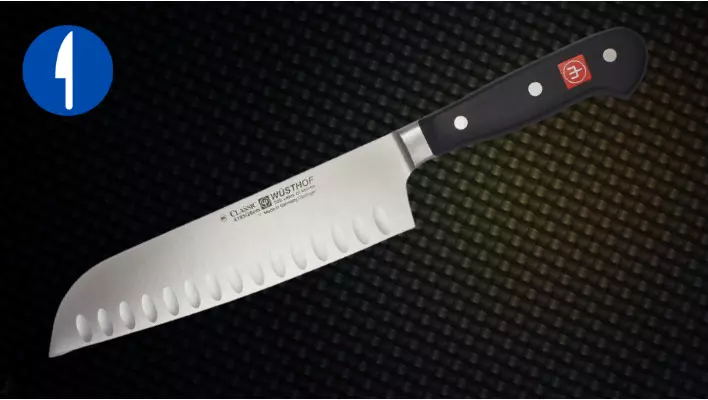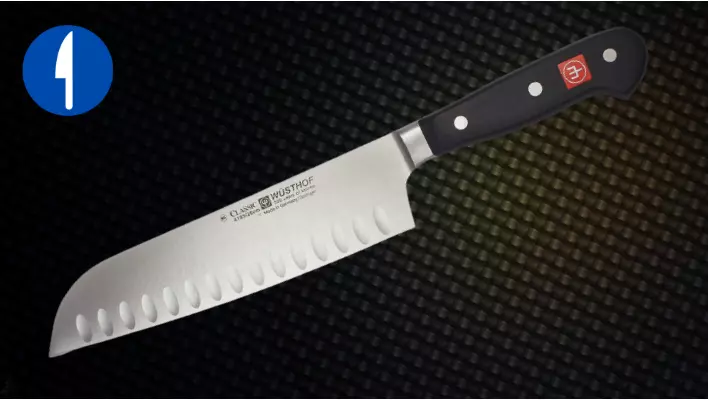 Coming to the main part of the guide, that defines the sharpness of both these series. When comparing both these series apple to apple, you might not find any significant difference in their sharpness due to their prices and manufacturing. However, they vary a lot in sharpness when it comes to practicality.
Wusthof has tried its best to bring sharpness to both these series. But, the Classic series dominates this part as well with a significant margin. Since the classic series is formed through heat treatment and forging, this has provided them an edge over its rival series. Further, classic series are made after dedicated attention.
At first, Classic series are formed after forging and this series features an upper hand in terms of hardness. You will get a Rockwell hardness of up to 58 HRC in the classic series. This just stops at 55 to 56 HRC in the Gourmet Series.
Firstly, they craft the blades at precise bevels that are recommended for German blades. For the Classic series, Wusthof maintains an almost 14° angle for its one side. This makes a collective blade of around 28° angle which is still 2° less than recommended 30° blade. The lower the bevel the sharper the knife will be.
But, the Gourmet series lacks a little bit in this part. You will get a bevel of at least 17°. However, most of the time, you will get at least 18° bevel for one side of the Gourmet Series, far more than 30° bevel. Design-wise, the cutting edge turns to round and this makes significant contact with the cutting board.
This way, the Classic series outranks the Gourmet series in terms of sharpness. Now, the Classic series is meant for professional chefs & they must need a razor-sharp knife. Here, the classic series justifies their requirement. But, the Gourmet series is ideal for casual, beginners & home chefs who are just getting started.
You might not get any difference in terms of resharpening as both are almost equivalent in this part. You can resharpen both these knives with Whetstones and Machine sharpeners. And, you will be getting an impressive blade here again and again. You must resharpen both these series at least once a month.
Further, classic series are measured and monitored accurately after manufacturing. Wusthof uses PETech technology which is known as Precision edge technology. Here, they use precise measurement via robotics. Using PETech improves Classic series quality pretty much.
3. Handle Design & Grip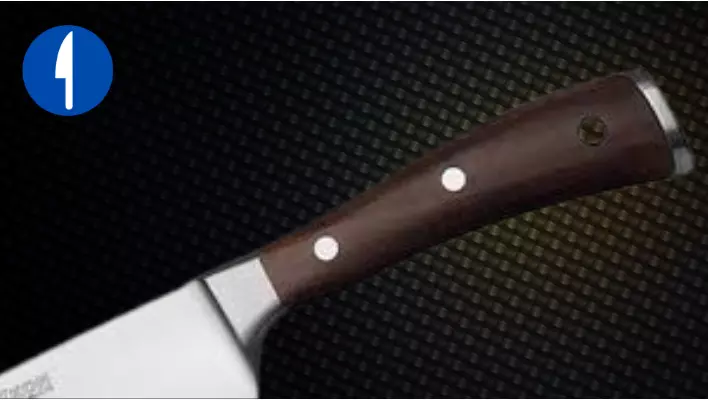 Out of several German Knives brands, Wusthof is the one who takes care of knives a lot. The handle is the thing that matters a lot after the blade of a knife. You will be getting a sharp and durable blade but your knife lacks in handle comfort and balancing, how strange is it?
For their classic series, you will find almost all sorts of handles here. Most classic knives would come with wooden, laminated, and polymer handles of polypropylene. However, the Gourmet series only comes with polymer handles. Both are comfortable and reliable at their ideal use case at least.
To deal with this thing, Wusthof put a lot into the designing of handles from material to build and comfort as well. And, this is also the case in every single series of Wusthof including Classic & Gourmet.
Talking about some of their differences that matters a lot in both these series. While the Classic series comes with an eliminated and full bolster, you will not find any sort of bolster in the Gourmet series. Bolster makes the knife's overall grip very impressive that you will love in their classic series.
Moreover, it prevents your hand from slipping over the handle. Grip-wise, the Classic series is exceptional for longer sessions. However, the Gourmet series is an ideal match for short intervals especially if you want to practice the gripping of a knife.
The only drawback of having a bolster in the Classic series occurs while resharpening. Their bolster makes the resharpening of Classic knives a bit time-consuming while this is not an issue in the Gourmet series at all. So, it depends on some of your needs.
Classic series handles are the most versatile and they are the most comfortable handles in the market. Their Classic Ikon series features a very impressive and comfortable grip, to be honest. You will never get such exposure in any other knife by Wusthof.
Wusthof uses triple riveting handles both in their classic and gourmet series instead of two rivets. This enhances the durability of it and the handle doesn't split up easily. Further, both these series feature full tang versatile handles.
4. Longevity & Balancing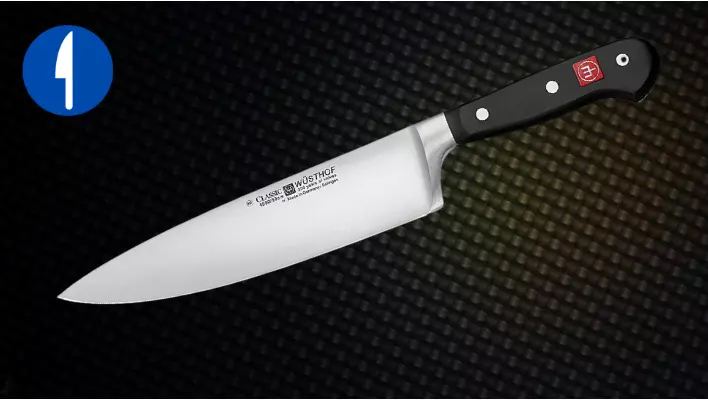 Wusthof makes both Classic and Gourmet series with high carbon steel. This steel features a sophisticated composition of stainless steel components along with chromium, molybdenum, and vanadium elements, especially in Classic series knives. So this brilliant composition results in anti-corrosion properties.
When it comes to anti-rust features, the classic series is the leading winner. Here, you don't need to keep your blade dry or clean it with a dry cloth every time you use it. Instead, you can use it for an entire day, and later, you can clean it thoroughly. This blade won't capture rust frequently, which enhances its longevity.
Gourmet series knives on the other hand may need some special treatment. These knives don't feature nonferrous composition as such and this is the reason you must wash it with water and must dry the blade with a cloth. Don't leave Gourmet knives soaked or wet. Otherwise, you will need to resharpen it perfectly.
Mostly stamped knives could capture the rust layer on their blades if you don't use them for a long time. Now, if you are going on a picnic for more than a month, you should wash your knives and apply an oil layer on them so that your Gourmet series knives won't capture rust by the time.
Read also: How to Prevent Rust on Knives
When it comes to balancing, both these series are maneuverable in almost every aspect. You will get a thick spine just like other series that assists a lot in chopping & mincing. Further, the classic series has got an enhanced balancing, to be honest.
The only reason for classic balancing is due to their bolster. Classic series has got a full bolster that you don't get in the Gourmet series. This bolster is made up of metal that you will get right in the center where the handle and blade meet together.
This bolster adds a balance between the blade and the handle of the knife. With this thing, the entire knife gets balanced just right and you don't find its blade or handle either lightweight or hefty. This is a reason why Gourmet knives are lightweight as compared to knives in the Classic series.
5. Prices of the Series
Finally, another most important price comparison of these series that everyone wants to explore. In one line, Classic series knives are expensive and Gourmet series knives are inexpensive in terms of price.
This was a straightforward comparison, but it isn't just enough. As we must compare them like apple to apple to get to a perfect verdict. Classic series knives are processed through a lot of steps to form a nice and sharp knife out of the box.
Classic series is the widest range by Wusthof that features almost 70 types of kitchen knives out of 200 offered knives. You get a bolster, wooden, riveted, and full tang handle with perfect balancing. Gourmet handles don't come with a bolster and they are also polymer handles though they are comfortable also.
Furthermore, classic series knives are forged and heat-treated as well. They are rust-resistant, come with the sharpest double bevel cutting profile, and feature a PETech edge with impressive durability that doesn't distort. Gourmet however is stamped and there is a chance of rusting as well.
Considering all these things, you will find Wusthof's Classic series as reasonable and rightly priced. Because, you have a forged, durable, sharpest, and versatile blade as compared to Gourmet's knives. Plus, they feature a bolstered handle with perfect balancing that is missing the Gourmet series once again.
In classic series knives, you are paying a considerable upfront but these knives are hybrid and you can use them for a long time with a lot of features. While the Gourmet series doesn't cost a massive upfront but their lifespan isn't that great.
Summing Up Wusthof Classic VS Gourmet Series Comparison
Wusthof has been making sharp, and long-lasting knives for more than 02 centuries. During this period, they kept themselves evolving so they will be able to craft better knives by using modern manufacturing methods.
Most Japanese brands use the traditional manufacturing method and this leads to a pricey knife that costs at least 1.2x of the German knives. Wusthof on the other hand utilizes their flagship Precision forging and laser stamping methods to pack as much quality as they could. This provides them an edge over other brands.
As they are offering over 200 kitchen knives in tens of series, this huge range results in a challenging selection. So, we have taken their flagship and the most popular classic and Gourmet series to this list. In this guide, we thoroughly covered Wusthof Classic VS Gourmet Series from almost every possible aspect.
This way, you will be saving a lot of time and instantly get to know which series is meant for your ideal use. Classic series features forged knives for a slightly expensive price while the Gourmet holds stamped knives for a budget range. Just give this guide a skimmed read and get your ideal companion from these series.