Everybody wants to get the best deal when shopping for new kitchen knives. For this, a chef has to go through several brands in front of him and their fleet of collections so they can get to know about what's currently going on in the culinary market. However, it is a time-consuming process that isn't everyone's cup of tea. Here, you should consider knives brands to get a clear idea.
Of course, you couldn't take a look at every single knife brand out there in the market which isn't possible either. So, we would recommend you identify your needs. For example, if you are a home chef looking for knives on a budget, you should go for Zwilling and Henckels. In this article on Zwilling VS Henckels, we will be comparing both these knives brands as per their common and unique aspects.
As Henckels VS Zwilling is a pretty common debate nowadays, some chefs might be unaware, and some others are trying to find what is the difference between Zwilling and Henckels. Of course, this couldn't be covered just in a sentence, so our editorial decided to launch a dedicated comparison to help you.
Zwilling VS Henckels | Comparison of Two Confusing Brands
There are a lot of misconceptions regarding these two brands in the market and we want you to stay crystal clear about every single thing. For this reason, we have sliced up this guide into a few sections covering their collections, build, performance, pricing, profile, so it will be easy to get for everybody.
Zwilling VS Henckels | Overview & a Brief History
Oftentimes many people find themselves confused between Zwilling and Henckels even though these brands have joint ownership under Zwilling J. A. Henckels. It is famous around the world, especially in Germany and the United States. Though their ownership is the same, Zwilling and Henckels both are different brands. This is why both these brands feature different knives collections and line-ups.
In layman's terms, you can say Henckels & Zwilling are sister brands with the same parents. "Zwilling J. A. Henckels" itself is composed of several knives brands that include Miyabi, Demeyere, Staub, BSF, Henckels, Ballarini, and Zwilling. So, Zwilling JA Henckels is a collection of brands with all these brands under their name.
Now, all these brands not just manufacture knives specifically, they also produce cookware, accessories, electronics, and knives of course. Here, Miyabi, Zwilling, and Henckels are the kitchen knives brands. And, we will be focusing just on Henckels and Zwilling in this comparison.
Miyabi is a premium brand that specifically produces Japanese style knives and you will find pretty attractive knives in this brand. If you are a professional chef who wants durable and pleasing knives, Miyabi is one of the best deals to grab.
Zwilling and Henckels both are separate knives brands but they are under common ownership of Zwilling J.A. Henckels which confuses. Both Henckels and Zwilling have their dedicated factories, staff, management, workforce, and knives collections as well. We will find out about their construction and other things later. Now, let's get deeper into both these brands.
Henckels VS Zwilling | Collection & Types of Knives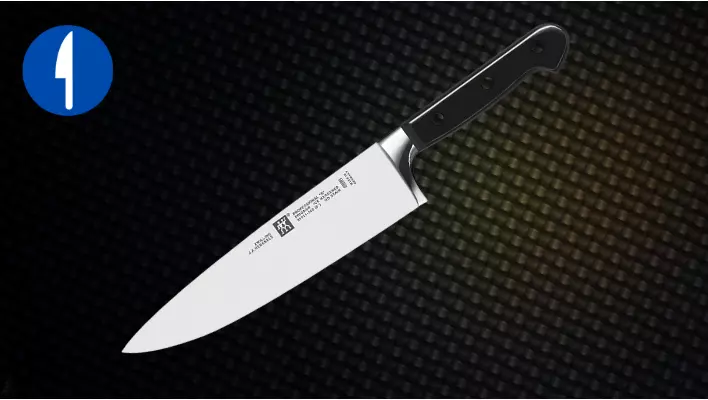 Just like any other brand in the industry, Henckels & Zwilling both launched several collections that further consisted of a plethora of knives models. Some collections got successful while a few couldn't stay in the market. Anyways, both these brands make every type of kitchen knife to provide you with the best possible solution.
Zwilling offers their knives under several categories like Chef, cleavers, Japanese blades, Santoku, Bread, Utility, boning, steak, paring, peeling, and knives sets as well. Each of these categories further expands to several models but we'll be covering their top-performing and demanding knives to save your time.
These knives include Zwilling Pro, Gourmet, Professional, Kramer, Euroline, Signature, Grip, 1731 as their best-performing knives in the market. Further, Henckels knives might include Henckels Classic, Everedge, Dynamic, Silver cap, Fine Edge, Everedge Pro, Synergy, Premio, and Modernist.
The Four Star line is currently the senior most lineup of Henckels that was introduced somewhere back in the 1970s. This is also a forged knife that comes equipped with a polymer handle. Let's move to the next point right now!
Zwilling & Henckels | Design & Build Quality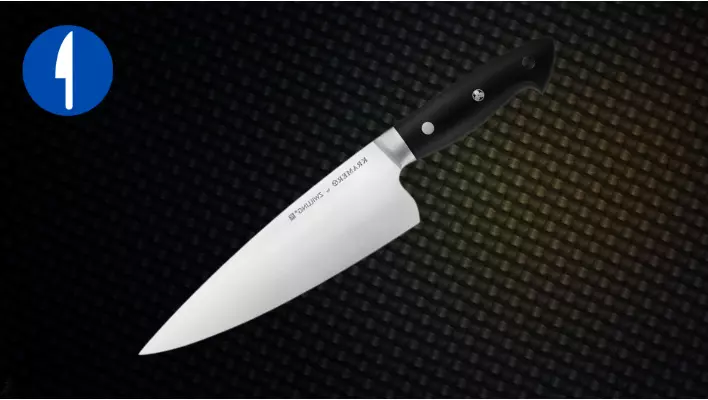 Zwilling knives are mostly forged but they also make stamped blades for the budget line-ups. Henckels instead equally makes both forged and stamped knives. Also, you will get a reasonable and sophisticated build quality in both cases.
As Zwilling knives are relatively expensive and made in Germany or Japan, they also use premium materials. These materials are processed in the innovative industry under professional yet traditional knife manufacturers to ultimately form an outstanding blade that would perform like a pro in the hands of any chef.
Zwilling usually uses high carbon steel of German build in their chef and other multi-purpose knives. However, this sort of steel is carefully selected and further treated by professionals and experienced knife makers. For their forged knives, Zwilling gets their knives from a solid piece of steel to get the best performance.
After forging, the next step is ice hardening where their knives come to room temperature, and then required treatment is executed to make the blade harder. Stamped knives instead don't get forged at all due to precise laser cutting.
Henckels on the other hand uses both carbon and stainless steel depending upon their collection of knives, requirements, expectations, and budget. For their forged knives, Henckels uses precise forging sort of a method to get the work done. They don't use layered forging as Zwilling, Shun, Global and Yoshihiro do.
Henckels VS Zwilling Knives | Sharpness & Versatility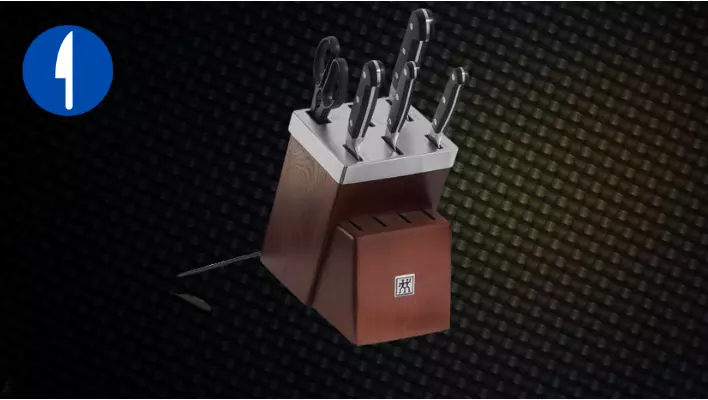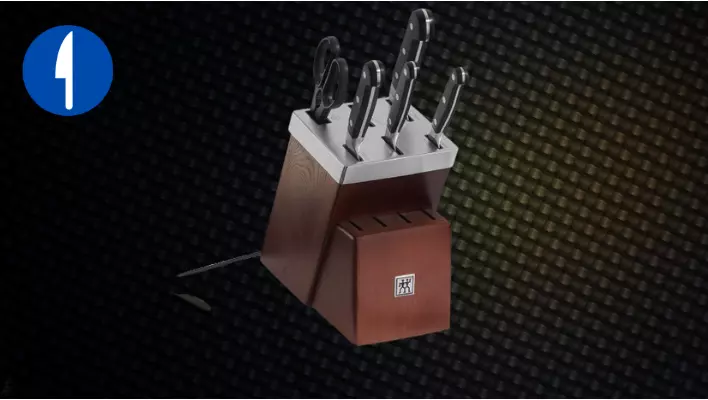 Sharpness is the key department of any knife that lets you make or break the deal. To be very honest, you might not notice any special difference between Zwilling & Henckels blades as such. For the price and expectations, both perform pretty well.
You will get a double bevel blade both in Zwilling and Henckels that is pretty much enough for home and casual chefs as well as for some experienced ones. Anyways, the blade profile might not exceed 15° at any of its bevels depending upon the collection and type of knife in your hand.
For the sharpness performance, these knives perform as they were supposed to do. You will be cutting very conveniently without pushing your blade harder and they will definitely provide sophisticated versatility. With this thing, you might find both these brands pretty maneuverable in use and balanced of course.
Zwilling VS Henckels Knives | Hardness & Resharpening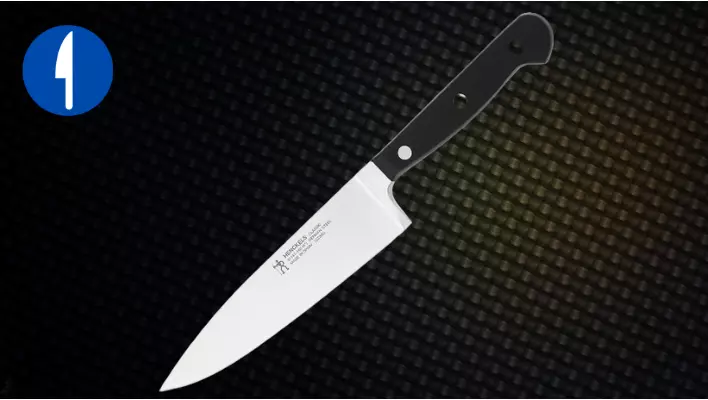 Another decisive factor would be their ease of resharpening and hardness to forecast edge retention of knives from both these brands. Here, Henckels knives provide you a Rockwell hardness that doesn't exceed 57 to 58 HRC in most of their line-ups, especially for the forged ones. A very few collections might exceed even 60 HRC but that depends on a couple of factors.
Here, Henckel knives might not be richer than Zwilling due to their edge retention even though their general hardness is pretty much equivalent. For the Henckels knives, the edge retention isn't up to mark but it is still quite impressive for the price. These knives won't break or chip out so easily.
Zwilling makes most of their knives with a Rockwell Hardness of 58 HRC. These knives provide a bit of improved edge retention due to ice-hardening under their manufacturing process. Moreover, their resilience is also quite decent. Overall, these knives hold their edge for a slightly good time making them long-lasting.
Along with these things, Zwilling and Henckels both feature easy to sharpen blades that are a plus point for both. Zwilling comparatively is on a higher side in this department. Anyways, you don't need to spend hours and hours or professional sharpening if you have whetstones or machine sharpeners.
Henckels VS Zwilling J.A. | Handle & Comfort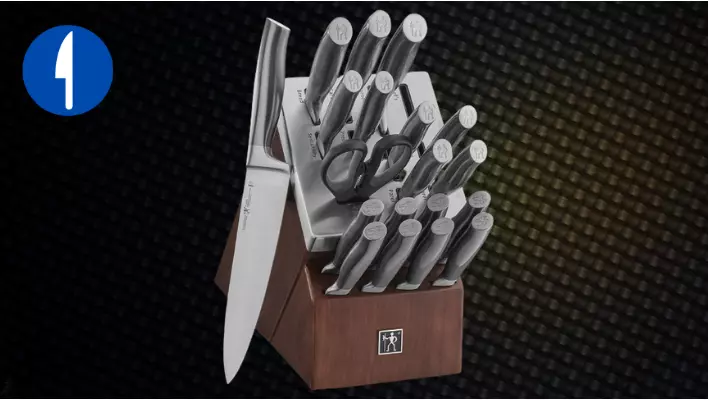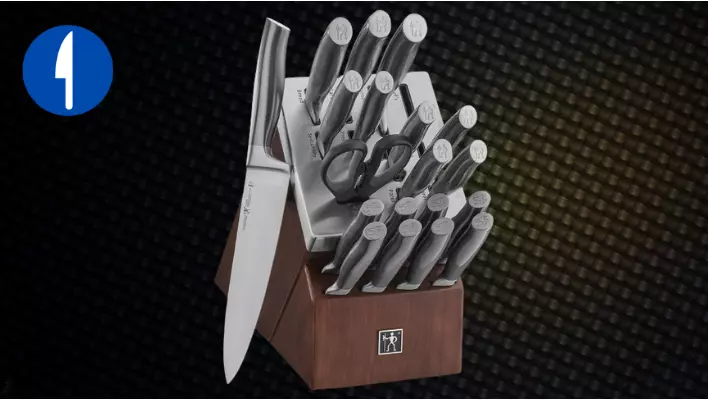 The last yet great part to consider between these brands is their comfort department which is a great practice when purchasing any knife. Though the blade is directly responsible for cutting any ingredient out there on the cutting board, you will be picking them up directly with their handle for quite a long time.
So, this thing should be reliable and comfortable both at the same time. For this, you should pick a handle that is durable, easy to control, and maneuverable. Zwilling features riveted and full tang handle which is exceptional in the build quality. These handles don't split even after years or washing them intensively.
The best part of Zwilling knives is that their handles are safe to wash in dishwashers oftentimes which is a drawback for Henckel as their knives aren't safe for dishwashers. So, if you are a lazy person, Zwilling is your cup of tea, even though we don't technically recommend washing knives through dishwashers.
Zwilling VS Henckels Knives Pricing & Best Knives
Depending upon the manufacturer, pricing, and needs, these knives could be made up of carbon or stainless steel, with double or single bevel edges. Zwilling knives are made in Germany and even in Japan this is why they have outstanding durability, performance and they also come for a comparatively higher price.
Henckel knives on the other hand are mostly made in China and Taiwan. This is why these knives aren't much expensive due to lower production costs. Both these brands provide budget knives as compared to other brands, but Henckels is quite cheaper than Zwilling due to their stamped blades and entry-level knives.
However, Zwilling knives perform well for the price and their forged knives specifically. Zwilling knives start from 80 bucks and could go up to 150 as well. While Henckel knives don't exceed even 100 bucks in most cases.
Summing Up Zwilling VS Henckels Knives Comparison
Once a legend is always a legend and Peter Henckels is the man behind this Zwilling J. A. Henckels' formation dates back to the 18th century. Later Peter himself was replaced by Johann Abraham Henckels and this was the time to shine in the world. Today, every chef is aware of these mighty knives manufacturers.
Zwilling and Henckels both seem to be confusing brands in the industry due to so many reasons. To clear this confusion, we have tried our best by comparing these two budget brands. Henckels features pretty economical and entry-level knives that are meant for beginner chefs specifically.
On the other hand, Zwilling knives are durable, strengthened, and performing when compared to Henckels. They both provide versatile and budget knives in their series of collections but Zwilling is likely to be on a premium side. Moreover, they feature a far better build quality and edge retention than Henckels knives.