So, you've found our Shun Knives Review exciting, and you are now up in the market to pick the best knife economically but still couldn't decide wisely. Precisely for this reason, you are here in this Shun Kanso Review. We will recommend the Shun Kanso series, which is no less than a gold mine for the price!
In order to possibly be the best chef in your restaurant, you must maneuver your knife so you can perform outstandingly. For that reason, your knife should also be outstanding almost in every regard, and you should be aware of that particular selection. To get it done, you need a dedicated review to understand it better!
Shun Kanso Review | A Short Intro of the Line Up!
This legend series dates back less than a decade ago when Shun's creative department designed it. In this short span, this series has almost conquered the middle range market! During this time, the Kanso family got several updates one after another so that this line-up could stand out in the market for a long time.
Shun has been a pretty famous brand since its starting. Their research and development department team is competent and productive, forming impressive knives that could perform on the cutting boards.
Some other brands try to give their knives a slightly modern look so they can play with your feelings. Shun, specifically, on the other hand, doesn't work on these tactics. You will find adorable yet straightforward knives almost in all series. In fact, "beauty lies in simplicity" comes true for Shun's Kanso without any doubt.
Kanso isn't just simple and beautiful, and this series is also pretty performing and budget king. This series is perfect in almost every department from design, build quality, pricing, performance, and the rest of the things.
You might be missing the Damascus pattern in this series, but Shun better knows how to provide a substitute for this part. Instead, they have simply made this blade in a slip-resistant and non-stick design without overcharging you at all.
There are a lot of things to scroll for this series, and both of us are running out of time. So, to keep the story short yet precise, let's dive deeper into the list right now! For your ease, we have divided this list into several sections.
Shun Kanso Review | A Short Comparison Chart
| | |
| --- | --- |
| Blade Material & Construction | AUS-10A Steel & Forged Knives |
| Rockwell Hardness | ± 60 HRC Scale |
| Sharpness Department | 16° Double Bevel Blade |
| Blade Finishing | Non Damascus & Non Stick |
| Edge Retention | More than Enough |
| Types of Knives in Series | All Kitchen Knives |
| Handle Build Quality | Riveted & Full Tang Wooden |
| Price Range | $100 to $160 |
Shun Kanso Review in Detail | The Legendary Knife Series
We have already divided this entire review into several parts that make it digestible for everyone to make things interesting. After going through this detailed Shun Kanso Review, you will be crystal clear about your next move, whether or not it's your cup of tea. So, without any further ado, let's get into this review!
Build Quality & Material: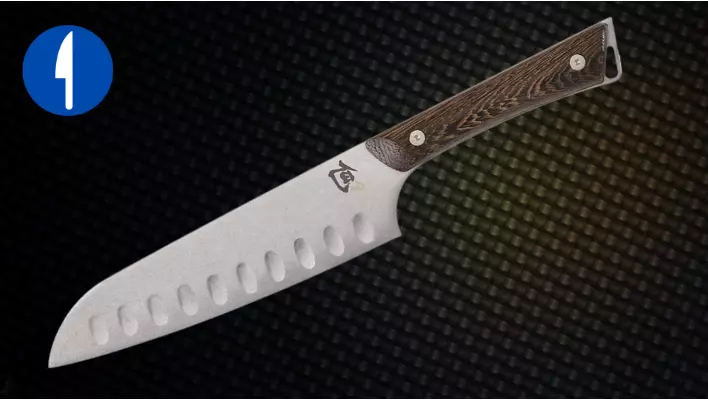 So, the most crucial thing about a knife is to get to know its build quality. This is the decisive part of every knife out there that makes or breaks it for performance in the long run. Shun is using dedicated Japanese steel to form this magical series.
Shun specifically uses AUS10A for the entire Kanso line-up. It is layered steel as usual, which is impressively built. Here, the composition of steel matters a lot as it tells about a lot of things that are needed for any chef knife. This exclusive formulation of Shun provides decent coverage to its users.
Technically, it is an alloy steel knife that is composed of several elements. We would not be able to tell the exact composition, but the prominent ones. Being a stainless carbon steel knife, it consists of vanadium and carbon steel, ensuring robustness and decent rust resistance. We will take a detailed look at these features sooner!
Blade Design & Ease of Use:
The next thing about Kanso lies in its designing part for its blade. If you want a balance between simplicity and beauty, Kanso is an exclusive deal! Shun introduces one of the most spartan yet most excellent blades in their fleet with the launch of this Kanso family.
This series features an appealing, calm, and straightforward design right out of the box, making you feel relaxed. But it wasn't either a goal by Shun for this lineup. Shun hasn't put a lot of time into crafting it. Still, the knife looks quite charming.
It is the only lineup in Shun's fleet that doesn't come with Damascus pattern or cladding at all. Although it would have been advantageous, it would increase the cost at the same time. Instead, Shun has modified the surface by making it a bit rough, which is a more convenient way.
With this thing, the knife becomes stain-resistant as well as non-stick. It also gives a scratchless feel to the blade even if you look at it after using it for a long time. Alongside, the knife looks very decent in hand due to a compelling handle that is nicely installed.
The knife itself is pretty balanced between its thickness, which makes it nicely balanced even in your hands, and you won't be feeling tired even after using it consistently for a long time.
Hardness & Versatility: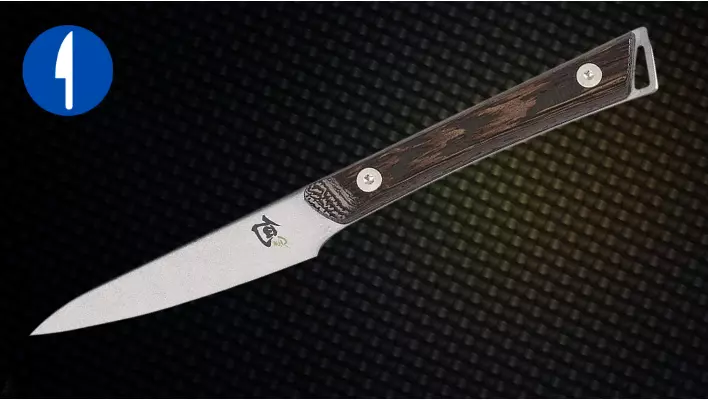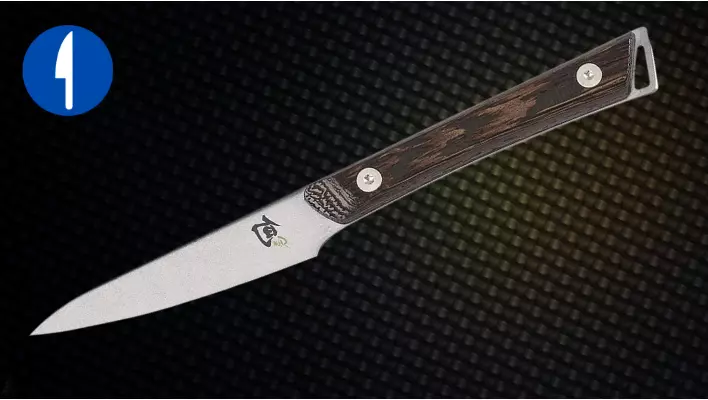 To examine a knife's durability, you also have to concern the hardness of its steel along with build quality. If a knife is a hell hard, it is likely to break right on the first fall on the floor due to overrated rigidity. Likewise, if a knife isn't hard enough, it will be affecting your cutting experience, which is also not a good deal.
So, hardness is still a concern for knives, and it also goes for Kanso by Shun. Kanso is packed with a reasonable hardness of up to 60 HRC at Rockwell Scale, which is likely higher, but it is okay enough for the price and expectations.
Due to higher carbon content, the hardness scale is also on a higher side. However, it is not going to be easy to bend or chip at all. That acts as a protocol for this entire line-up. Moreover, it also features lucrative edge retention.
With this edge, the entire knife gets a solid profile that reflects its versatility by making all of these knives responsive on the cutting boards. Depending on the knife type, you will have a more comprehensive blade spine that enhances your overall cutting experience.
Sharpness & Performance: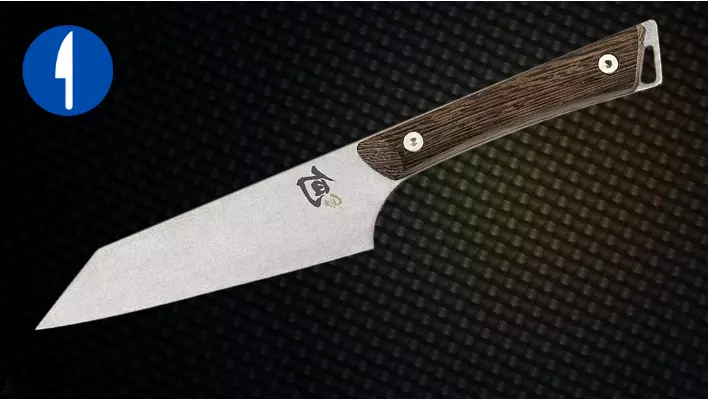 Exploring another most essential factor of Kanso knives that are known as its Sharpness. Being a double bevel blade, this knife mostly suits western chefs, and using these knives for your tasks would be a joy for you! Shun nicely takes care of this department to make you feel proud.
To be very honest, this entire line-up features the most luxurious Sharpness for this price. You will be saving a lot of your time until the blade stays sharpened, so you won't have to point it at each time before you start using it. All of the Kanso knives perform impressively, whether you are a beginner or an advanced chef.
Kanso's razor sharp cutting length is very compelling for the price. With the help of whetstones, it becomes pretty easy and fun to resharpen. Moreover, its optimally forgiving yet precise cutting edge provides an accurate cutting experience at your fingertips. The non-stick blade increases your productivity even more.
Handle & Comfort: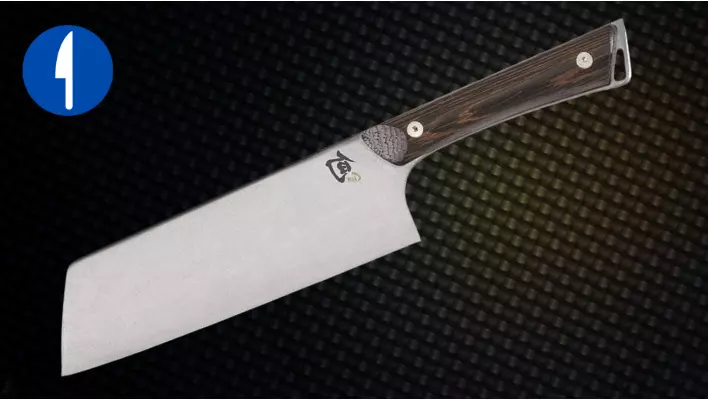 Last yet another decisive point of Kanso knives lies in their handle department. If your blade is durably made, features a luxurious design, and has powerful sharpness but lacks handling or comfort for long sessions, it will not appeal to you. This could be the case with many knives, but it isn't a big deal for Shun Kanso knives!
Shun uses Tagayasan wood to make Kanso's handles which is a complete package for your requirements. You will have enormous durability, along with the ability to waterproof feel right after washing it. Plus, this handle doesn't slip from your hands as long as you do not have sweaty hands on it!
Further in this, this series features a riveted and full tang durable handle that never falls apart even after contact with water. Along with this feature, this handle is ergonomically designed, which gives a prominent look. With this thing, you will be feeling comfortable even while using it for a long time.
Best Shun Kanso Knives & Pricing
Shun Kanso Review | Frequently Asked Questions
Summing Up Shun Kanso Review
Shun has a rich history, and their launched fleet is also pretty rich with more than 10 best Shun knives series. Out of all these families, their Kanso series is considered the best option in pricing, aesthetics, and performance. Also, its handling and comfort department is no less than a dream for chefs!
This absolute cutting knife gives a tough time to its expensive competitors of a few other brands in the market. Along with these things, Kanso itself becomes a workhorse for your tasks, and it never disappoints you unless you take care of it nicely! With this point, Kanso gets an edge over the other blades out there.