Japanese knives are so good and impressive that even the western chefs couldn't live without praising them. In fact, we recommend every chef opt for these knives if someone is looking for the sharpest & versatile knives. This is one of the best investments a chef could ever make in his career.
Most of the brands are now revising their models to give them a traditional Japanese look. Some of them went successful while a few brands are still trying to manipulate as much better as they could. No matter how successful this gets, they can never be like a real & a traditional Japanese knife.
Chefs tend to pick branded knives rather than a replica & this is the best practice, to be honest. This part minimizes the risk to ensure the longevity, claims & deliverance that the manufacturer is promising to their specific knives. However, what happens when you spend several hundred bucks in exchange for a crap?
Of course, it is the biggest mistake that you must regret upon. To bypass this risk in the future, you must opt for the best Japanese brands. Whatever is the case, the two popular brands have been rivals of each other for quite a long time. They are known as Shun & Yoshihiro in the culinary world.
If you have been following our Best Japanese knives guide, you will find both these knives along with some others. However, you might be thinking about which brand out of these you should opt for and why?
So, we have made things pretty simple by making this Yoshihiro VS Shun comparison. As they both are considered legends, it is going to be a tough yet detailed comparison. And for this reason, we have broken this guide into parts.
Yoshihiro VS Shun | Overview & History of Brands
Although these brands have been making knives for centuries; western chefs got to know about them just recently. Both of these brands came into being after getting out of their parent brands. Yoshihiro is older than Shun in terms of appearance or heritage at least.
Shun was once a part of its parent Kai group and this got launched back in the early 20th century. The headquarters are located in Tokyo while Shun makes their knives in the Seki city of Japan which is known as the City of blades.
Exploring Yoshihiro and these knives dates back to Medieval imperial Japan of the 14th century when they used to make Samurai swords for their empire. Again, these are the claims of Yoshihiro by tracing their lineage back. Of course, we have to rely on these claims as they didn't get challenged nor we can run a DNA test.
Collection & Types of Knives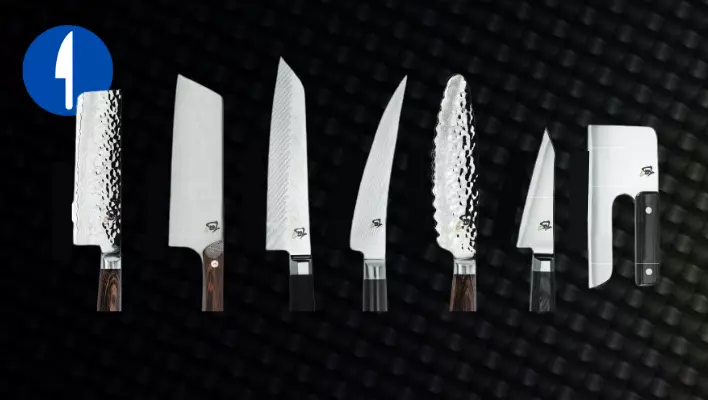 To measure the success, deliverance, and longevity of a brand, you should take a look at their launched knives in the market. This justifies the public experience and the brand's response in terms of updates and fixing the issues if any. In the culinary world, brands tend to launch several knives collections to take over the market.
When it comes to Shun as a brand, they own several lineups in their launched fleet. At the moment, Shun owns more than 15 successful fleets while 04 out of these contributes most in their shares and economy.
Shun offers magnificent and some of the greatest knives in their Classic, Sora, Kanso, Classic Pro, Premier, Hiro & Blue series. If you have gone through our Shun Knives guide, you will mostly find knives from these series.
However, this is not the case with the Yoshihiro knives. Yoshihiro presents several knives but none of their single knives comes in any form of a series. You can find NSW, VG-10, or Mizu knives, but these are still not the series. So, Yoshihiro knives are quite hard to understand & you will find them almost similar in every case.
Now, Yoshihiro is trying to group their upcoming knives. At the moment, their INOX stainless steel & stainless clad series is taking over the market slowly. Along with that, you will find several types of Japanese knives in both of these brands.
Both Yoshihiro & Shun make traditional Japanese types of knives. However, Shun takes over Yoshihiro in terms of Santoku knives. Still, the score is balanced as Yoshihiro is beating Shun when it comes to Slicer & chef knives with longer blades.
Design & Build Quality
Shun knives are considered modern in design but they are based on traditional patterns. However, if you want to have a traditional design over a traditional blade profile, Yoshihiro is going to be the ideal case. Again, this depends on your preferences and the budget you want to invest in that.
Since a Japanese knife is made to last long; Build part of a knife matter a lot. As this thing has to deal both in long and short term usage of it. Thankfully, both of these brands are taking care of this crucial part without compromising on it at all.
The core part of a knife is in its steel like Which culinary steel the brand is using. In the case of Yoshihiro, they have been using up to 20 different types of steel. These knives are either made up of stainless or either high carbon steel.
Yoshihiro further optimized that steel by using heat treatment and forging along with other methods. Most of the time, you will find layered steel cores both in Shun and even in Yoshihiro. This interesting part makes your knives last long.
Further, you will also find very specific knives. This may include SG2, VG-10, AUS-10, VG MAX, carbide steel, and maybe some other ones. But, all of this steel must be layered as this forms the most durable structure for a knife.
See also: AUS-10 VS VG-10 Japanese Steel
To enhance the durability, even more, Shun sometimes uses Nitrogen cooling or ice-hardening while Yoshihiro doesn't. This gives Shun an upper hand however it also increases the price. Yoshihiro knives are just forged & cooled as they are mostly handmade by professional knifemakers.
Sharpness & Versatility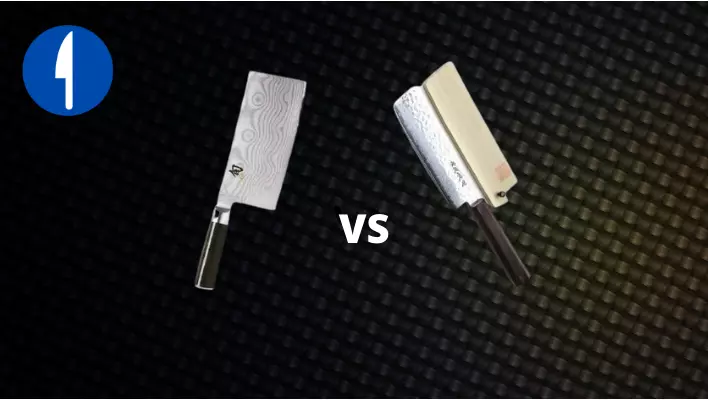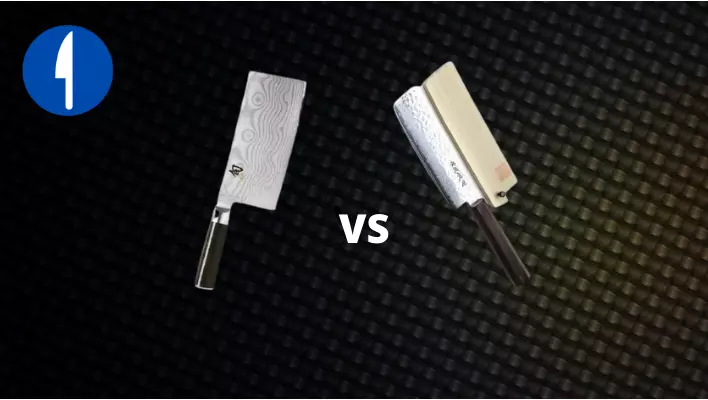 Sharpness and versatility are considered the second most important department of a knife after its build quality. To be honest, there is no difference as such in sharpness when it comes to knives with the same steel and production technique.
You will find both these brands offering single and double bevel knives even though Japanese knives are single beveled. However, the Japanese knives with double bevels are not round but sharp as their cutting bevel is less than 15-18°. For single bevels, their sharpness is extensive enough to cut down your finger.
Except for the Sushi knives, most of the Japanese knives' bevels are more than 10°. The sushi knives require additional sharpness to effectively make your meal. The rest of the knives are optimized for daily usage.
The versatility of a knife also matters a lot especially if you are using chef knives. In this regard, Yoshihiro knives are superior as they have got a balance between their sharpness, weight, and versatility. Shun knives are considerably lightweight.
If you are a right-hand person and you love rocking, Shun knives could be your perfect match. As they are light and their handles are mostly round, you will find them pretty easy to maneuver as compared to Yoshihiro with a hefty blade.
On top of that; both these brands make their knives in non-stick blades by adding patterns to their blades. To be honest, Yoshihiro wins this part as they use real hammered Japanese patterns with dense cladding. This is more maneuverable. However, Shun mainly focuses on beauty rather than an incremented Tsuchime.
Both these brands are well-performing out there at the cutting boards. While it depends on everyone's ideal use case and cutting style. Shun knives tend to work for rocking in Professional hands while Yoshihiro is great both for professionals and home chefs. Shun comes with a straight spine while Yoshihiro mostly doesn't.
Hardness & Resharpening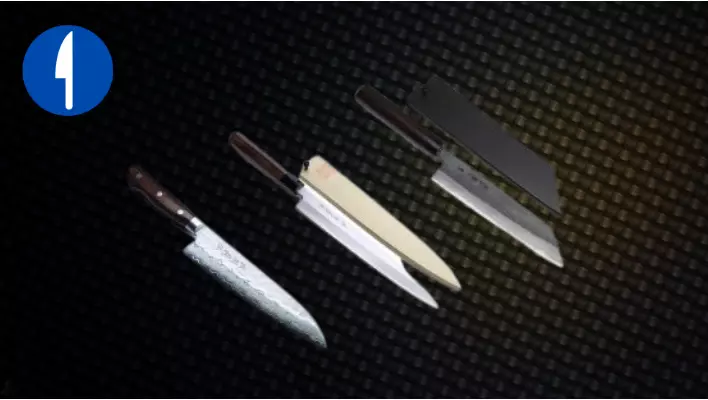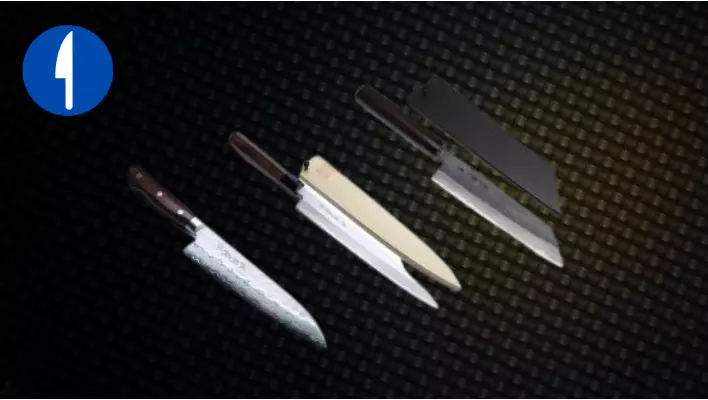 This part should never be skipped as you have to deal with it almost every single week or twice a week. The hardening of a knife depends on the steel that's been used. Carbon steel knives are considerably harder than stainless steel knives.
Both for Yoshihiro & Shun; you will mostly get Stainless steel knives as they are the senior brand mainly focusing on professional chefs. They create and maintain a balance between hardness, resilience, and durability so they will be able to last considerably for a long time. A hard knife tends to chip quickly by the way.
However, it is not the case with any of these brands. Yoshihiro and Shun both take care of this part. Their edge retention is one of the best in the market and you won't get a knife with a fragile edge. To ensure durability, their hardness doesn't exceed 55 to 60 HRC on the Rockwell scale at all.
Moreover, such knives become quite easy to sharpen. As compared to Yoshihiro, shun knives are considerably easier when resharpening. You can simply use a whetstone for that purpose and it will take some patience but worth it in the end. Of course, Machine Sharpeners are also going to be the best choice to save time.
Handle, Care & Comfort
This part also matters a lot however some people tend to neglect this thing. The handle of a knife must be considered in order to keep it using for long cutting sessions. Otherwise, you will regret your knife no matter how sharp it is.
Now, if you want to make the most out of your handle in terms of comfort; no one could be better than Shun. Shun packs their knives in the well-finished handles that are made up of polymer or Pakkawood.
Both these handles are quite comfortable and they also provide a sophisticated grip. Shun handles are versatile and full tang but they are not riveted at all. Additionally, they are offered in round shape & they also have an end cap. This gives the knife a VIP look & luxury to your hand.
However, Yoshihiro prefers balancing, deliverance, and maneuverability rather than beauty, luxury, and finishing. This is why their handles along with knives last for a long time. Yoshihiro handles are full-tang and riveted and don't split. You will never find a sheath with the Shun knives right out of the box.
Further, these handles are on a bulky side to create a balanced knife overall. They are also durable and their shape depends on the knife you opt for. Some knives come with a Pakkawood hexagonal handle while other ones with Asian design. Plus, Yoshihiro knives come with a Mongolian wooden sheath.
In the end, both these brands make their knives in a completely rust-resistant blade. Their blades don't capture rust until you take care of them. Just like any other brand, neither Sun nor Yoshihiro recommends Dishwashers to clean your knives. Better is to wash manually & dry them out with a dry piece of cloth.
See Also: Yoshihiro knives review
Yoshihiro VS Shun Knives Pricing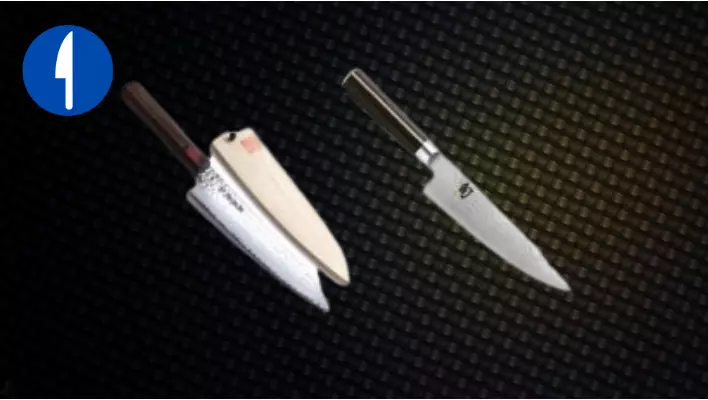 The pricing part of a knife could never be neglected. Depending on your budget, you opt for a knife that falls under your pocket. You can find budget and premium knives both in the Yoshihiro and Shun fleet.
Yoshihiro knives are mostly handmade and people love to buy them out instead of automated knives. Their ensured deliverance and time-consuming yet durable manufacturing let them market their knives for a premium upfront. They offer knives & knives set for a couple of prices starting from at least a hundred bucks.
However, Shun knives are a little bit cheaper than the Yoshihiro as they make a lot of knives in a couple of series and most of them are machined. Some are still being made manually but they are offered for quite an expensive price tag. These knives and sets could start from a little bit less than a hundred bucks.
Summing Up Shun VS Yoshihiro Comparison
There has always been a common debate of Yoshihiro VS Shun out there. Both of these are Japanese brands and they have been in the industry for quite a long time. Their deliverance is exceptional & longevity is also unbeatable.
Several western knife manufacturers are now trying to make or form their knives just like a Japanese knife. The top of the list remains Wusthof and they have already been making Santoku officially.
But, no one could come near to these two mighty brands as you already know. To get the most out of the money you spent, you must opt for these two brands. But, which brand is right for you; we have cleared it in this detailed guide. Just give this guide and you will have the right choice as per your needs. Not everyone has the same taste!