It might be a tricky task when it comes to finding the best kitchen knife for your kitchen. In fact, the selection part is quite harder than practically using a knife itself. You would have to deal with a lot of factors to consider to make a choice.
Of course, we are not here to discuss every single factor of it as you can find that out in our Best Knives buying guide. We are specifically talking about the knife brands that make the selection pretty hard though.
Even when it comes to the brands, there are a lot of options to consider and to skip. However, you must have listened to Shun & Dalstrong as they both are one of the leading brands in the culinary world. Now, the tension arises between Dalstrong VS Shun knives; which one you should pick.
Although you would have to pay some extra bucks for their brand reputations; but it will be ultimately for your benefit. Both these brands have been in the market for several years & their long-lasting knives with support made them successful.
Shun and Dalstrong make their knives for every sort of chef. Even if you are a home chef and looking to get a knife for home cooking, you will surely get knives from them in that case as well.
These two brands have knives that are almost quite similar in a lot of terms. But you will also get some yet reasonable differences and unique points in both of these. This uniqueness could be due to their production method that later reflects in their performance part while using them out there on the countertop.
One might feature design, reliability & productivity; while the other one focuses more on deliverance, sharpness, versatility, and comfort. So you can imagine a strong debate in this Dalstrong VS Shun knives guide. Let's dive deeper into it!
Dalstrong vs Shun Knives | An Unbiased & Detailed Comparison
There are a lot of factors to consider in a knife & without that, you won't get a real knife. So, we have made things a bit easier for you by splitting this entire guide into sections to get a clear and skimmable picture of both these brands.
Shun VS Dalstrong | History & Brief Intro
To evaluate the value of a brand; the first rule is to validate its history. This gives you an idea of their reputation, origin, worth, and a lot of useful things. Instead of providing you with a whole checklist, we will consider their history & brief intro.
Starting from Shun, who has been the king of the culinary world on earth for a very long time. This leading Japanese knives brand is loaded with a decent reputation and no one is going to challenge them except for a very few brands.
Shun had been in the market under their Parent brand of KAI group for almost a century. Things started getting interesting when they got independence that dates back to 2002 after establishing their headquarters in Tokyo. They produce their knives in the popular city of Seki out there in Japan that is the capital of blades.
Since their launch, Shun has been making their knives originally in Japan and their exports are now touching the shores of the American continent. However, this isn't really the case with Dalstrong who's been in strong competition with them.
Check out our Best Shun Knives List:
They are relatively newer to market in front of Shun as they date back to 2014 officially. As compared to Shun, they conquered the market in a pretty short time. Because Dalstrong is providing chefs impressive knives of decent build quality at a reasonable price which makes them one step ahead then Shun culinary.
However, Shun still has an edge over Dalstrong which is their workshop. Though they both originated in Japan, Dalstrong knives are produced in China which somehow leaves a question mark in the minds of chefs. But they have nicely overcome this part by using quality materials along with satisfaction & support.
Dalstrong VS Shun | Knives Collection with types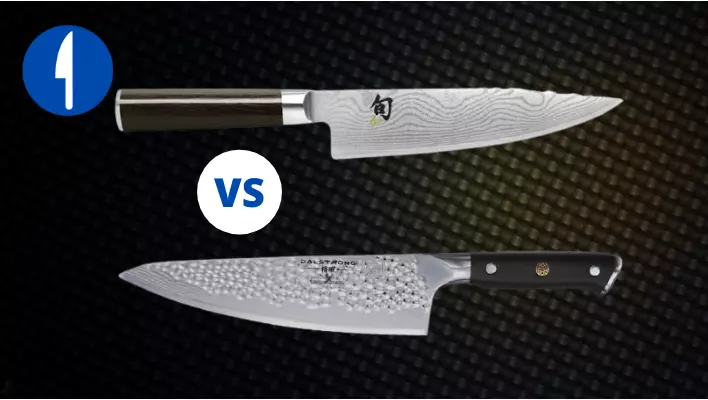 So, here comes the interesting part. If you want to forecast whether a brand is going to last longer, check their launched products aka Collection. This pretty much ensures the promises of a brand come true even in the long run as well.
Luckily, you will be happy to find the collection of each brand. They might not be huge in numbers out there on the table, but their success rate is more than enough to consider. Because brands tend to focus more on fewer collections and high quality with a lot of respect in the eyes of chefs.
Brands like Shun & Yoshihiro don't launch bundles of collections right in the market. Considering Shun, you will barely get more than 15 collections since their launch. This translates to less than 01 collections to launch each year!
When it comes to Dalstrong, the range is even less here. Dalstrong features 11 collections in total and all of these series are for Japanese knives except for a few ones. This translates to a bit more than 1 collection to launch per year considering their launch year 2014. All of these series are enough to call them successful.
Along with the collections, it is better to consider the types of knives as well. Because there are some brands that only make chef knives or only specific knives types rather than all essential types.
Thankfully, both Shun & Dalstrong make almost all sorts of knives. These knives include Carving, Butchers, Fish, Paring knives, Nakiri, Santoku & Gyuto knives of course AKA Chef knives. Plus, both these brands also make Knives sets as well.
Check Out Japanese Knives Set.
Build Quality & Design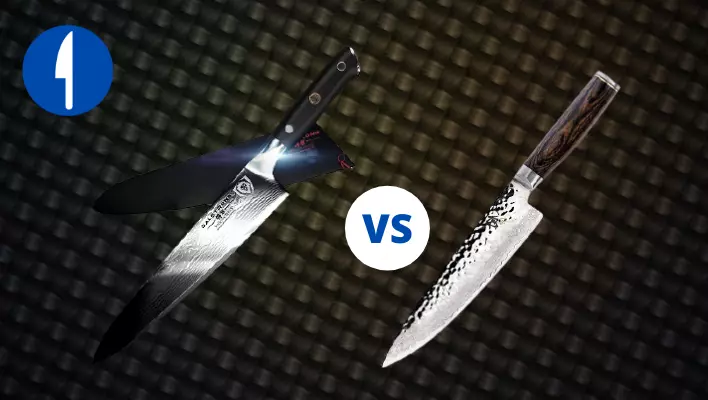 In the battle of Dalstrong VS Shun knives, you must get to know about the build quality a brand is delivering or promising at least. To get it done, you must figure out the methods a brand is using in producing their knives. Because, how a knife is made, matters a lot when it comes to getting decent longevity & value to money.
Some brands use stamping which is considered as below-average knives in the long term. However, these knives are meant for beginners and newbie chefs. Brands that use forging in their production method are the greatest ones.
Now, forging itself is a vast method and there could be a lot of other methods within forging. To get the perfect deal, you should get knives that consist of layered steel core as they are supposed to launch even for a lifetime.
Both Shun and Dalstrong use layered steel to forge their knives. However, you will still get a considerable difference due to later treatments and budget reasons. This could be due to the different steel types that they are using.
Dalstrong extensively uses AUS-10 steel in all their knives. Shun on the other hand makes their knives with VG-10 & VG-MAX steel core that is the most superior culinary steel right after SG2 that you will get in some of the Miyabi knives.
Additionally, both these knives look fantastic in look and feel. If you want a simple, clean yet adorable blade then Shun is the best choice to opt for. However, if you are some sort of aggressive chef, Dalstrong's blades will appeal to you a lot.
Sharpness & Versatility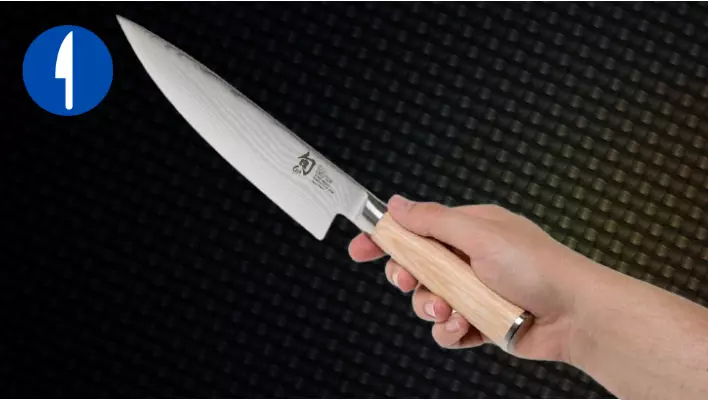 We all know why you are choosing branded & expensive Japanese knives and this is only due to their amazing sharpness and added versatility. Undoubtedly, you will never get such a razor-sharp blade in any knife except for Japanese blades.
When it comes to sharpness, Shun and Dalstrong knives are almost identical. This time, we will say that Dalstrong knives are superior as they are considerably sharp if you compare them considering their price as well.
Dalstrong packs their knives in a pre-sharpen blade. However, this sharpness isn't long-lasting because Dalstrong packs their knives after resharpening by Machines. But, you can get the sharpness backed with an enhanced profile if you sharpen it with a whetstone. Believe us, you will never regret such a sharp knife.
Though Shun knives are crafted inside Japan, the knife is still a little less sharpened as compared to Dalstrong knives of Chinese manufacturing. Here, Dalstrong takes over in the design part, especially in the bevels.
Shun knives are sharpened at 14-16° for one side making a cutting profile of 28-32° for their double bevel knives. But, Dalstrong knives are sharpened at 08-12° per side by utilizing the traditional Honbazuke method. This way, Dalstrong knives are deployed with the sharpest cutting profile of up to 25° for double bevel blades.
However, Shun makes the competition equal by optimizing the versatility part of their knives. If you are not a big fan of a lot of sharpness but prefer versatility over sharpness, Shun knives are a good match for you in that case.
Hardness & Resharpening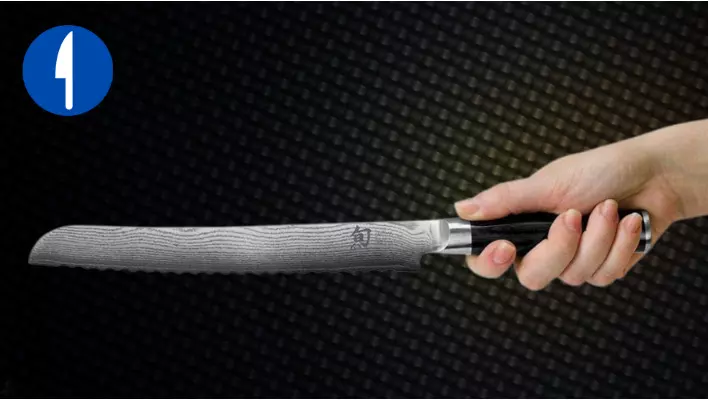 Here comes another decisive point that you can never skip. If you want your knife to stand out for a long time, you should consider the hardness of the blade also. Because durability sometimes comes along with the hardness of that knife.
To get a durable knife, your blade should also consist of a hardness yet a balance. If your knife is too hard then it will carry a lot of stiffness that makes it over as it will immediately start chipping out once it hits the ground mistakenly.
To overcome this part, you should take a note of Rockwell's hardness of that blade that tells the hardness caliber of it. In terms of HRC, Dalstrong knives are harder than Shun's with the average Rockwell hardness of 62 and Shun knives come with 61 HRC on average. However, Shun wins this hardness test due to its less stiffness.
You are likely to get a significant exception when comparing every single series available in the market. For reference, we have compared the Shogun Series of Dalstrong with the Shun's Classic series as they get a strong competition.
You can forecast a bit of longevity with the hardness of a knife. But, hardness also tells you about another great thing. And, that is known as its ability of resharpening. If a knife is a hell hard, it will be pretty difficult to resharpen.
So, a balanced hardness is needed here as well. Luckily, both the Shun and Dalstrong take care of it pretty well. All of their knives are almost easy to sharpen and you can get it done yourself even without any need for professional services. However, if you are not into this part, consider getting professional service.
Handling & Comfort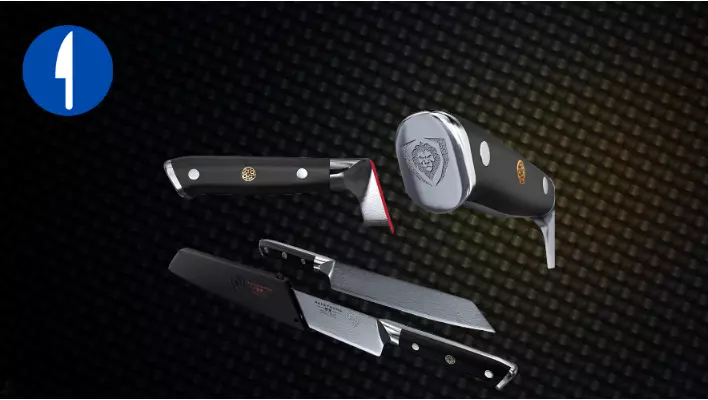 To serve your customers at your restaurant or your homies if you are at home; you should have a comfortable handle. Of course, you would have to pick a knife in order to validate the comfort level & durability of its handle. But, you can also validate this part even without holding that knife!
You just have to make sure your handle is full-tang that you can find upon looking at it. Later, it is better to opt for knives with riveted handles. These knives don't split even if you are an aggressive chef when it comes to cutting.
Sometimes, the material your handle features also matter. If your handle is wooden, make sure it's a Pakkawood handle with proper lamination. For a better experience, both Shun & Dalstrong focus on it. However, Shun looks more decent in this part with his Pakkawood, Full-Tang & D-Shaped handle.
Dalstrong handles are also quite adorable without any doubt. Plus, their knives also come with a leather sheath to protect them. However, Shun knives don't come with any sort of sheath for protection against rust and care.
Take a Look at Best Dalstrong Knives Review
Dalstrong vs Shun Knives Pricing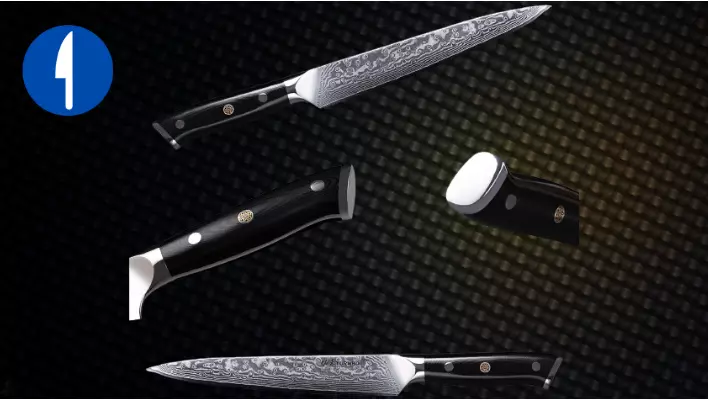 Concluding Dalstrong VS Shun knives debate at their pricing factor that finally leads you to make or break the decision. There was a time when Shun and Dalstrong knives were offered at significantly different prices.
But this isn't anymore. As Shun has got a strong competition with Dalstrong, there is less difference left. However, it is still considerable in some of their series. A chef knife of a 08-inches long blade from Dalstrong is offered for under $150.
For Shun, the same knife you can get almost for $160 to $175 if not less than that. Of course, there is a difference in production method and steel type. But, Shun knives come for a huge upfront payment as compared to Dalstrong knives.
Summing Up Dalstrong vs Shun Knives Comparison
So this was the detailed comparison of Shun VS Dalstrong after a long discussion and analysis. Every chef suffers when it comes to picking up the right knife but it must be from the right brand. Otherwise, you will be suffering throughout your career. To avoid this harsh part; you must opt for branded knives.
Several brands hit the market almost every year but only a few among those could survive. Shun & Dalstrong along with only a few other brands are some out of those brands. The next part is to compare the brands as we did in this Dalstrong VS Shun comparison to get the real picture in your hands.
Comparatively, Shun knives seem to be on the high-quality side due to a couple of valid reasons. Although Dalstrong itself is a Japanese brand, Shun takes over them due to their long-lasting blades that are made professionally & traditionally both at the same time. They are handmade by a skilled Japanese Knives master.
However, the problem is in their budgeting department due to their handmade knives and not everyone is willing to spend a couple of hundred bucks. If you are certainly one out of those; you are never going to get a better option than Dalstrong knives. They are mass-produced but still feature a lot of power to you!