A knife is an ideal member within a Kitchen arsenal a chef can opt for. Without the best knife, you won't be performing well & the taste or presentation could also be affected which is a big disappointment. So, picking up the right & the best kitchen knife is a must to succeed whether you are a professional or home chef.
There are several classifications, brands & types of knives just like for anything else. The right brand also matters a lot if you want to get the most out of your knife. For that reason, you must have to pick and validate the right brand.
As far as western knives are concerned; people already know they are worth & they prefer to opt for the top brands like Wusthof, MAC, & Henckels. But, this is not the case when it comes to Japanese knives.
There is a lot of competition within the Japanese knife brands and each of the brands tries their best to make outstanding knives. And, this is one of the reasons why we prefer Japanese knives over the other ones despite their performance.
Recommendations aside; the next point is to figure out the right brand. Out of several brands, you must know about Shun & Miyabi as they both are one of the leading manufacturers based in Japan. To help you pick the right brand for you out of these; we will compare them both in this detailed Shun VS Miyabi guide.
Shun VS Miyabi | An In-Depth Comparison of Knives brands
To make things easy to digest and provide you with the best possible & rightful information; we have divided this comparison into parts. We will be taking a look at their history, origin, and launched series. Further, we will be having a closer look at their design, sharpness, durability, longevity, pricing & comfort parts.
Miyabi VS Shun | Overview & History of Brands
Both these knife brands have been in existence for centuries; they have just come into the market to compete in the market with their outstanding knives. Shun itself isn't a group, but they have been the daughter company of a Japanese brand known as KAI.
KAI itself has been established since the time of modern empires prior to the war. It's been more than a century. However, Shun came into the market back in 2002 with their headquarters in Japan & the United States. Further, they have got their workshop based in the historical Seki City of Japan.
Coming back to Miyabi's lineage; their origin can be traced back to Zwillings as ZWILLING Group is the parent brand of it after acquiring them. At first, they used to produce independently and ZWILLING Group acquired them back in 2004. Just like Shun, Miyabi knives are also made in the Seki City of Japan.
Shun VS Miyabi | Knives Collection & Types
Right after the origin and history of a brand; the next thing is to figure out the number of knives in their collection. Now, this thing should never be listed just as numbers, but the focus should also be over their deliverance rate.
Both Shun and Miyabi feature several knives in their fleet; however, Shun takes over in terms of the number of lines. Shun knives are classified in their Kanso, Premier, Sora, Dual-Core, Classic, Hiro, Kaji & several other launched series.
In fact, Shun has made and owns more than 15 series since their launch date. But, 06 out of those 15 knives had been all-time popular and converting. If you have taken a look at our Shun Knives Review, you will mostly get these series.
However, this isn't the case with Miyabi as they work on a different model. They don't launch a lot of series and then wait for their success. Instead, they work in advance at their knives and then market those collections successfully.
At the moment, the Miyabi series may not exceed 15 in counting, but more than 08 of those series went viral. This may include Miyabi Kaizen, Birchwood, Black, Artisan, Evolution, Mizu, 7000D, 4000, 5000 FC, Fusion & Morimoto series.
Along with that, both these brands focus on Kitchen knives that include all of the essential knives for a chef. This includes chef, santoku, slicer, cleaver, Paring, Sujuhiki, bread, and boning knives along with knife sets as well.
Also, Check Best Santoku Knives
Design & Build Quality
The most important & On-Ground factor of a quality knife lies in its build quality along with the design as well. Because; how a knife is being made matters a lot both in terms of longevity and using that right at the moment.
Shun knives are made both through manual and automated processes, to be honest. Almost the same goes for Miyabi as their knives are also batched and traditionally processed depending on their series and your budget of course.
Exploring their build method; Shun manufactures most of their knives traditionally and manually as this is the most sophisticated production technique. Their knives are formed after several steps. This includes steel selection till its finishing and packaging as well.
To form the sharpest blade; they prefer culinary steel like VG-10, VG-MAX & AUS-10 as well. After picking up the right steel, they pass these steel billets to heat treatment and further towards forging.
Nowadays, almost all of the Best Japanese knives are made through layered steel rather than solid ones. The layered steel is easy to forge and holds a strengthened structure that makes your entire blade compose a durable blade profile.
With this procedure, the steel meets requirements and structural properties that help in forming a durable steel core that would last long. Later, they make their knives non-stick either with the laser pattern or through hammered cladding which is more prominent in terms of productivity.
Furthermore, both these brands use nitrogen or ice-hardening to take the hardness to a completely next level. Build-wise, there is little to no difference between Shun and Miyabi. However, Miyabi is now using SG2 carbide steel which is more superior to other steel giving an edge over Shun's steel.
Explore more: Japanese steel
Sharpness & Versatility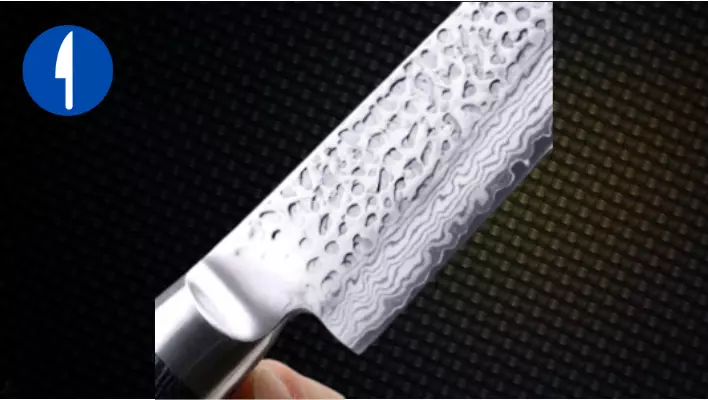 All of these things are done just to get longevity, versatility, sharpness, and versatility. And, this has been done so far in both knives. As both these brands are using similar steel with different compositions in different series; the sharpness isn't affected at all. A similar production method has balanced both these brands.
Shun knives mainly come in a double bevel blade that is quite easy to use for Western knives. Single bevel knives require time to maneuver; Shun offers a single side blade in a very limited option and that too for a premium upfront. However, the knives deserve as they are mostly formed traditionally.
Miyabi knives are considerably sharper than the Shun knives as these knives are manually honed almost for every professional knife in their fleet. Here in these knives, you are likely to get a bevel of around 9 to 12° for one side.
However, Shun knives hold the round edge as compared to Miyabi. You will be getting a sharpened bevel of up to 14 to 16° which is far more. This turns their knife to get a slightly round blade with a collective angle of no more than 32°.
But, Miyabi does have an edge over Shun in terms of sharpness. Now, don't just judge the book with its cover as Shun is still on the list. Shun knives provide a profile that would be maneuverable for almost any sort of chef at any level. But, Miyabi targets professional and advanced chefs if you explore their blade profile.
Now, blade thickness also matters in some cases and Shun takes over in this part. If a blade is thick it would be a great match for single strokes and to cut harder things that may not be possible with thin and flexible blades. Both these knives feature different series and all those series include specific sorts of knives.
For their profile, you can use both these knives for anything. This covers chopping, dicing, slicing, cutting, and sometimes mincing as well with precision. Shun blades are considerably precise and you will be getting accurate cutting through them.
Hardness & Resharpening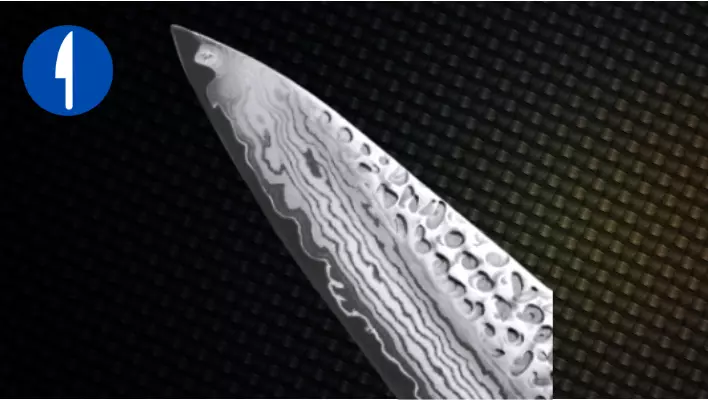 To maintain a sharp blade, you will be resharpening your knife a couple of times in a month if you are a daily user. For that purpose, you must get to know about your blade's hardness level as it could make or break your sharpening.
Comparing their hardness; Shun knives are considerably harder than the Miyabi knives. Most of the Shun knives feature a Rockwell hardness scale of at least 58 HRC and it could also get beyond 60. However, Miyabi knives are different.
Miyabi blades don't exceed 60 HRC (except for a limited series), which makes them optimal. This is because their knives are mostly ice-hardened. Most of their knives don't hit 59 HRC, however, the Morimoto edition exceeds even 62 HRC.
Along with the cooling technique, the steel composition also matters a lot. Shun sometimes modifies the composition of their culinary steel for specific knives but Miyabi doesn't. Except for the SG2 knives of Miyabi, the rest of the knives from Miyabi and Shun feature VG-10, AUS-10, VG-MAX steel only.
Depending on the steel of the knife you opt for; the resharpening process may vary. Both Shun & Miyabi knives are thankfully easy to sharpen but it sometimes depends on your skill and the requirement of your blade. Moreover, you can resharpen both these knives with the help of whetstones & machine sharpeners.
Handle, Care & Comfort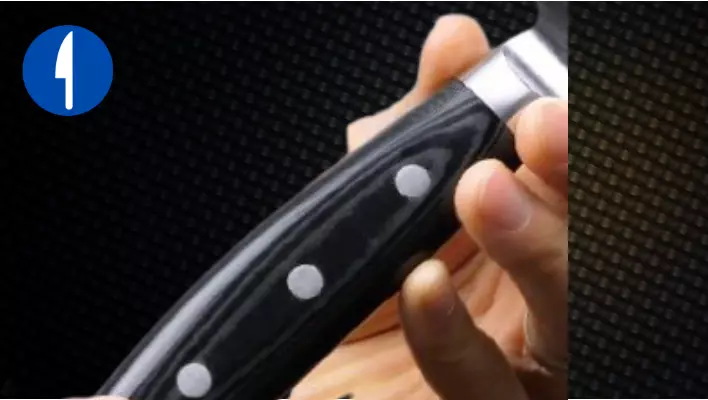 Moving forward the next thing is their handles. Right after the blade; the handle of a knife matters a lot as you have to operate your knives with this exclusive part. No matter how maneuverable your blade is; a mediocre handle would be more than enough to ruin your cutting.
To keep using your knife seamlessly, your knife should come packed with a meaningful handle. A few factors are contributing to your handle that makes them. The best one is their build material and assembly parts.
If you are a professional chef either in a commercial or household kitchen; it is better to opt for wooden handles. Otherwise, plastic and nominal handles are enough. Better is to get knives with Pakkawood, Birchwood, or Tagayasan handles as they are more relaxing and don't require a lot of care.
In addition to this; the handles of your knife must be full tang to achieve the best possible versatility without losing productivity. Such handles extend to the full length of your handle and they are packed with a lot of durabilities.
Furthermore, your knife could be assembled either with rivets or just with glue. Here, it is better to pick Riveted knives as this allows you to take single strokes. Plus, it doesn't fall apart, enhancing the longevity of your entire knife even more.
Miyabi VS Shun Knives Pricing
Another considerable factor to consider is their pricing. To be honest, there's no such rule of thumb for evaluating the price of a knife. All these prices are mostly set by considering their competition. So, you can only get estimated versions.
In terms of pricing; there's strong competition between Miyabi and Shun. As long as you have a similar knife with a similar blade length and production method; both brands will list them for a reasonable price without additional upfront.
However, Miyabi knives of SG2 steel are considerably expensive as compared to Shun knives of VG-MAX. This might be due to the non-existence of competition in Shun's fleet. Enso features SG2 knives but their knives are even more costly. So, we can say Miyabi knives prices are comparatively balanced pretty much.
A chef knife with 08-inches long blade from Shun could cost you somewhere between $120 to $175 with an average of $150. Miyabi's 08-inches chef knife would cost you somewhere $150 to $170 which is almost the same as Shun's knives. Other knives of similar size and features might have a different price.
Summing Up Shun VS Miyabi Comparison
As Shun VS Miyabi has been a hot topic between the chefs; so we have passed our verdict about both these brands in this detailed comparison. Both Shun and Miyabi have been popular when it comes to making quality and traditional knives.
Of course, you can both strictly follow quality standards. They do differ in terms of deliverance and longevity that you must have to figure out. Shun delivers beautiful and precise blades while Miyabi blades feature either traditional or Western profile in appearance.
Miyabi knives are considerably bulky with a harder blade and deliver decent maneuverability. However, shun blades are more on the durability side, but they cost a bit more than Miyabi. Further, sharpness is meaningful both in Miyabi and Shun. Plus, their handles are also packed with both durability and comfort.