Finding a reliable product from a trustworthy brand is quite a challenging task in this cruel world. You might not get what you have looked at on-screen, and it is a bitter truth in some cases, primarily if you are investing several hundred bucks into that.
Almost the same goes with kitchen knives, as you now get bundles of brands with a plethora of so-called best knives. If you are new to the culinary industry, you can obviously relate to this as you might not have any extensive experience. If your budget is tight, the situation may get even worse.
It is not just limited to beginners; some expert and advanced chefs may also fall into this trap. Whatever the case, we would recommend you only purchase branded knives so you will have peace of mind & performance on the table. Out of several brands we compared, you may find them a bit expensive.
Just like anyone else, you might also be thinking about the reliability of both these brands, and why shouldn't you be? It's your right & our duty to bring transparency in every aspect of any of these brands! For this reason, we have crafted this Zelite VS Dalstrong comparison to let you make a perfect choice as per your needs.
Why Consider Zelite Infinity VS Dalstrong?
Well, this is a detailed-oriented question. The culinary world is loaded with several expensive yet performing brands, and almost every brand brings competitive and compelling knives for chefs. But, their high prices might not be so good for every chef out there. You must explore brands that offer budget & decent knives!
Some beginners and casual chefs know about these brands, but they might be confused about their exact choice. Let's explore more about these brands that would ultimately lead you to decide! To bypass mediocre brands and provide you with a list of suitable knives, we have crafted this comparison of Zelite VS Dalstrong.
Also Check:
Zelite VS Dalstrong | Overview & History of Brands
Compared to top-notch Japanese knives brands, both Zelite and Dalstrong are infants in front of them considering their age. And, they have conquered the culinary world in a pretty short period as compared to senior brands. Behind this, there is a lot of dedication & contributing factors for them! This all dates back to 2012-14 for Dalstrong when they got officially launched in the market.
For some users, the title of Made in China isn't welcoming. But, Dalstrong has proven something unique. They still use high-quality German and Japanese steel and other high-quality materials to make their outstanding knives. They are historically situated in Yangjiang in China. Although they are situated mainly in China, it is not a drawback either as they still pass the quality checkpoint to be successful.
Being innovative is the key to success in the market as it is a survival factor almost for any brand. Though Japanese knives are traditionally made by hand and traditional tools, Dalstrong is thinking out of the box most of the time. They have been using the latest technology and production methods that no one else is using currently. This makes a perfect compliment along with the Japanese steel.
Zelite, on the other hand, is even younger than Dalstrong that officially dates back to 2015. It is more likely a family business, and using German and Japanese steel has led them to ultimate success! Like Dalstrong, they have also been located in China, and their selling price is also lower due to lower production costs. Dalstrong, however, incorporates headquarters in Canada and the United States.
Both these brands distribute quality knives and provide their customers with responsive customer support, which is a second key for a brand. Dalstrong is one step ahead of Zelite as they also claim to give money back and a replacement guarantee if you aren't happy with them! It is still valid for zelite knives, but Dalstrong has a more responsive support team than Zelite's.
Collection & Types of Knives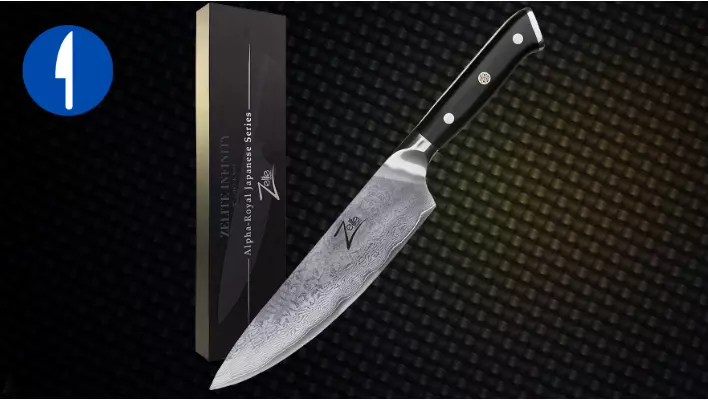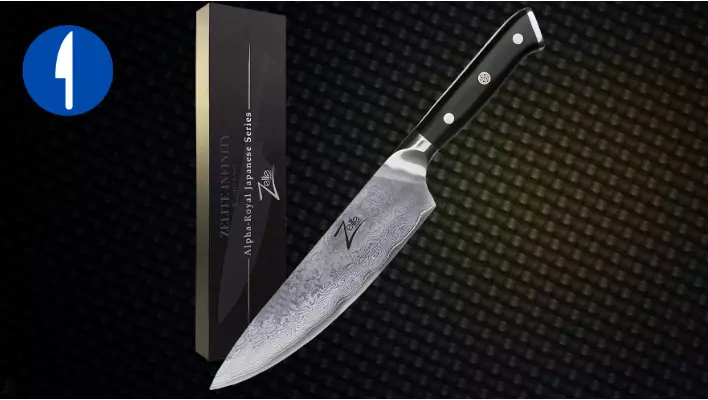 Here comes another significant part of both these brands that is useful to elaborate their dedication, effort, and consistency since their launch. How many knives a brand has got in its fleet provides some sort of satisfaction to potential customers.
In terms of kitchen knives, both these brands own a rich fleet that varies from budget range and goes up to expert knives. However, we will be considering their Japanese knives for the context of this comparison. Anyhow, both Zelite and Dalstrong do manufacture quality german blades as well.
For Dalstrong, you will get several types and series of knives. In this fleet, you will get almost all types of knives, including Chef, Santoku, Paring, Cleaver, Fillet, Utility, Boning, and butcher knives. All these blades might be available in a bundle of series. You can also find a dedicated set of knives in parallel to each series.
Out of these series, you will commonly get famous series like Gladiator, Shogun, Shadow, Crusader, Phantom, Omega, Delta, and some other fleets. Except for Delta, the rest of the series are dedicated to Japanese knives by Dalstrong. At the same time, Shogun is the most popular and converting series.
Coming to Zelite Infinity, they have also beautifully showcased their knives and series. Some of their popular series might include Comfort Pro, Executive Plus, Alpha Wave, Alpha Royal Japanese, and Razor edge. Their Comfort Pro is more likely a hybrid series between German and Japanese sort of knives.
Even these series contain some sets along with Santoku, Chef, Butchers, Serrated, Utility, Paring, and some other knives. So, stay tuned till the end! At the end of this Comparison of Dalstrong VS Zelite Infinity, we will provide you with some of the best blades of both these brands as per your needs.
Design & Build Quality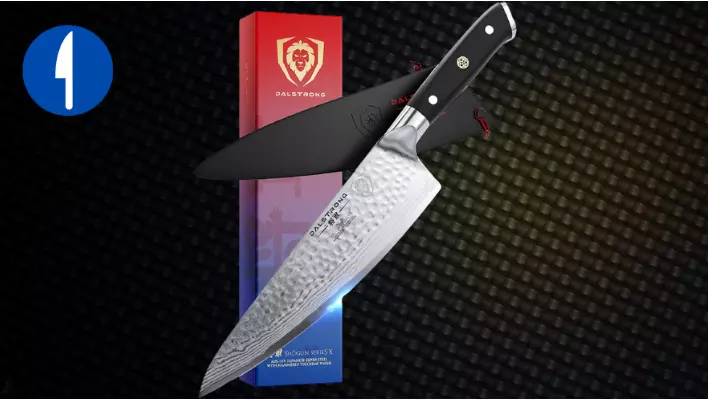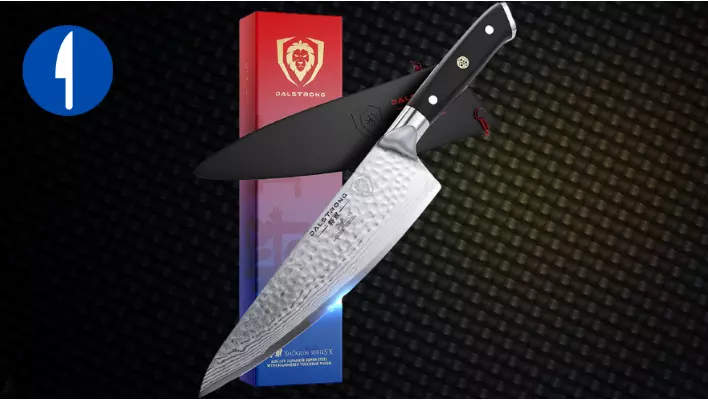 Design and build quality are the most prominent and decisive factors that a chef should consider when purchasing a blade. You will always be dealing with these things in terms of versatility, durability, and a couple of other things. Again, both these factors might get different for different series of different brands due to pricing and use case factors directly involved.
For Dalstrong knives, they use Japanese steel to make and craft a better knife. Depending on the series and blade you pick, the exact type of steel may vary. However, you will get AUS-10 almost in the entire Shogun line-up to make things the same and pre-determined. Dalstrong claims this to be Super steel, by the way.
To form durable steel out of the box, Dalstrong ensures using the latest production method. They are using 3D design to implement the final prototypes that provide them with the most advanced blade design. Every new knife of Dalstrong to be launched follows the exact timeline before hitting the market. The layered steel composition enhances the durability even more.
Zelite Infinity is also no less than Dalstrong in terms of innovation and quality. They also use the exact AUS-10 Japanese steel but with a minor modification that reflects their blades after being made.
Zelite uses carbon steel for added hardness. As per their claims, they used to forge this steel before processing the knife. However, they also use layered steel rather than a plain one for enhanced durability and quality. We will explore more about this later in the Hardness and Resharpening part of it.
Sharpness & Versatility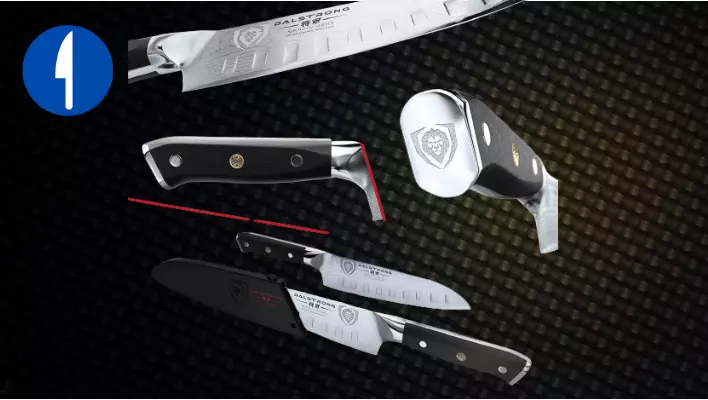 An essential knife factor that makes or breaks your expectations out there on the cutting boards. Everyone wants to get possibly the sharpest knife as it helps you complete the cutting tasks pretty efficiently. For that, you need to consider many things to buy the most pointed blade.
Both Dalstrong and Zelite have been rivals in this part since their launch. Japanese knives are already extensively sharpened, and they should cut like a pro in any case. Considering this, Zelite and Dalstrong are trying new things and innovating traditional methods to form possibly the sharpest blade.
Zelite integrates a double bevel cutting profile to their blades that are comparatively easy to get used for novice chefs. Here, you will be getting an angle of around 12° to 15° at most. This is an ideal range for mostly Japanese knives, which kills any sort of daunting element when cutting veggies, herbs & meat.
With the addition of AUS-10 steel, their knives get an enhanced cutting profile that you can feel when using them. Almost all their blades are packed with the versatility to ensure a productive time with cutting.
Dalstrong, on the other hand, is honestly more superior than Zelite's knives. You will find a considerable difference between Zeolite VS Dalstrong sharpness. Even though Dalstrong makes their blades double bevel profiles, they integrate innovative designs that provide them with a more luxurious knife.
In Dalstrong knives, you will be getting an angle of around 08-12°, which is far less and optimized than Zeilte. It leaves a significant difference both on the cutting as well as in the mind of its owner. For this special price, you aren't quickly going to get such mind-blowing sharpness in any case.
For the versatility part of Dalstrong knives, you will get almost the same feeling as Zelite's. However, you might find Dalstrong a little bit lightweight. This leads you to maneuverability while balancing remains constant again.
Hardness & Resharpening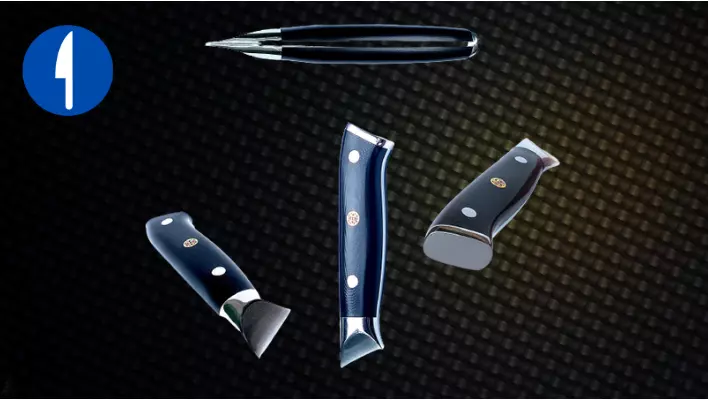 If you want to get decent longevity for your knife, you also have to consider its hardness. For this, you have to look at the Rockwell scale of that knife so you will be confident about its chipping and other factors.
Starting with Zelite as usual, they design their knives with an added hardness, so they won't easily break out. With their Zelite Infinity Chef Knife, you will be expecting a Rockwell hardness of around 61HRC that describes it as an unbreakable knife.
The previous version of this specific knife was likely to get chipped, as some users reported it. However, Zelite has now fixed this by modifying the composition and sharpening procedure. Now, this series features durable edge retention. Unless you drop it, neither cutting edge bends nor its blade.
Dalstrong, on the other hand, uses modern production techniques. Here, you will get a Rockwell Hardness of 62HRC for its core blade that not just makes it hard but is also pretty durable and bend-resistive.
It will work pretty well! With its slim and thin blade, you will get a sharp cut, and it is also secured with ease of sharpness. If you are good at resharpening, you should use Whetstones with both these brands. However, other sharpeners can also be used if you don't want to waste effort and time resharpening this blade.
For the price, both these brands provide you with an easy to a sharp blade. Dalstrong still uses the traditional Honbazuke sharpening method while making these knives after being forged. This gives them a significant advantage that ultimately reflects into their cutting blade.
Later, Dalstrong encrypts their blade with a sophisticated tempering that never lets their knives lose their sharpness, even in long-term usage. Whatever is your skill level, you must resharpen your knives at least two times a month. The more you sharpen & use, the better it will be. Overall, Dalstrong has an edge in this part.
Handle, Care & Comfort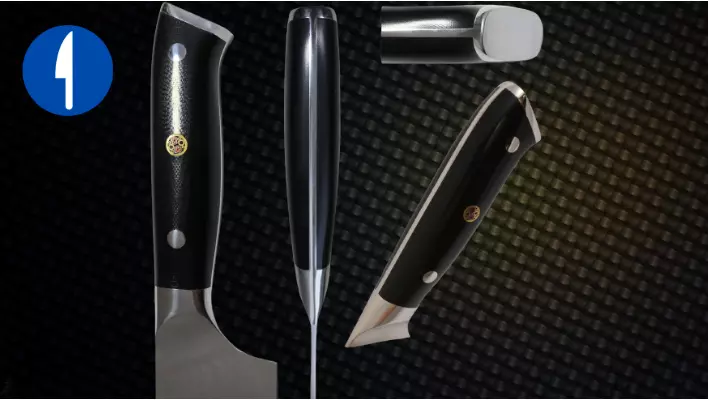 We are expanding our comparison of Dalstrong VS Zelite knives to the subsequent factors. These factors are basically considered secondary ones, but having them at the same time will ultimately improve your experience with that knife.
Both Zelite and Dalstrong make Non-stick knives so that they will improve your productivity. Without a non-stick knife, you will be feeling messy as you will always have to remove the excess materials from the blade so the blade would resume working. For that, both these brands integrate the Tsuchime & Tsunami pattern.
As both these brands use stainless Japanese and German steel, their blades aren't easy to rust compared to some sub-standard brands. Both Zelite and Dalstrong knives are easy to clean, and you would only need to wash them with normal water. Later, dry the blade, and don't forget to dry your blade.
To protect your knife, Dalstrong offers a leather sort of sheath so it will be safe from oxidizing effects that are not given in Zelite's case. So, it's a tiny minor drawback of Zelite Infinity knives as they don't offer sheath with any of their knives at all.
In parallel, the handle of a knife also matters a lot as you will be dealing with this part every time. Thankfully, Zelite and Dalstrong are offering full-tang handles incorporated with a Pakkawood lamination in most of the series. This way, you will get a complete package of comfort and robustness.
Zelite VS Dalstrong Knives Pricing
Last but not least, the pricing comparison is a must thing to have in this guide. Zelite and Dalstrong are new entrants in this market, and this is why they have been targeting every sort of chef with their wide range of knives.
Out of these knives, you will get budget, entry-level, casual, advanced, and professional knives. Here, we might not be able to provide you with a complete range of knives along with their prices. Instead, we can give you an idea of these brands by comparing two or more knives with the same specs and size.
Dalstrong's 08-inches chef knife from the flagship Shogun series comes for around $130 bucks while Zelite offers the same knife with the same price. So, there's strong and strict competition between these two brands.
For their Santoku blades, you will get the same condition here as well. Dalstrong offers its Dalstrong Santoku Knife – 7″ almost for 120 bucks & Zelite's Alpha-Royal Santoku comes hardly for 119 bucks out there.
Zelite VS Dalstrong | The Best Knives Ever Made
Summing Up Zelite VS Dalstrong Comparison
Choosing between the best possible option is always worthy for every human. If you are new to the culinary and chef industry or looking to choose between the two best brands, we have exclusively crafted this dedicated Zelite VS Dalstrong. Both these brands offer great knives for a reasonable price.
You will get almost all sorts of knives both in Dalstrong as well as in Zelite infinity. Dalstrong officially uses Japanese steel for their knives, while Zeilte uses German as well as Japanese knives. You will get Japanese knives in Dalstrong's fleet. At the same time, Zelite is manufacturing both German as well as Japanese knives.
Comparatively, Dalstrong uses modern production methods that let them craft better knives. Zelite is also towards innovation, but Dalstrong outranks Zeilte in some factors. Despite being solid competitors in the industry, these brands feature reasonable quality and superior performance for a very lucrative price.
From blade to handle, Zelite and Dalstrong put their everything to come forward. Zelite provides a durable and hard edge to stand out better. At the same time, Dalstrong features an extensively sharp and balanced blade that never rust, along with a dedicated sheath to protect every single knife.