Japanese knives have been popular for a long time. Chefs from around the world love to pick Japanese knives to get the work done. These knives are famous for their incredible sharpness, meaningful blade along brilliant appearance.
Now, once a specific thing gets popular, you are likely to get a lot of replicas for a relatively lower price. You would love them out just due to their price factor but it is the trap to sell disgusting stuff. These knives aren't the ones that you should get.
To come out of this trap and to find the best Japanese chef knives, you should only opt for real Japanese brands. Of course, you are also going to find a couple of underground brands here as well; but this is still not a big deal. You should then opt for the top brands that have been famous and reliable to get out of this trap.
In the presence of so many brands; you must have heard about Shun and Global knives at least once in your lifetime. Both these brands have been leading manufactures of Japanese knives that you should never skip out on.
Shun & Global feature a lot of similarities in their produced knives. However, there are also a couple of decisive uniquenesses that makes them stand out better at their spots. To figure out the exact offerings of both these brands, you have to analyze the Shun VS Global debate that would lead you to the final verdict.
So, without any further ado; let's dive deeper into Shun VS Global Knives Comparison. Sit tight till our Summary if you are still not so clear in every term!
Shun VS Global Knives | A Detailed & Unbiased Comparison
To make things pretty digestible and hybrid we have decided to split this list into several parts that are essential in finding the best knife. From history to intro, collections to design, sharpness, comfort, and pricing; we will cover all these things right into this guide. You will surely be able to get to a perfect decision with this Shun VS Global knives comparison. So let's get into it right now!
Check out the Best Shun Knives
Global VS Shun | Overview & Brief History
Like anything else, a short history along with an overview of a brand matters a lot. This decisive thing provides you with the surety of whether or not a brand is reliable in the long term? So, you will make it clear if a brand ensures quality along with a warranty or not. Plus, there are a lot of other benefits as well.
Starting from Shun, this is an already established Japanese knife brand. Shun itself wasn't a brand since the start as this was owned by her parent brand that is known as KAI group. That being said, you will never disappoint in terms of reliability. However, Shun got separated from KAI in 2002.
Shun launched their first-ever knife back in 2002 right after their brand launch. That was their classic knife that still exists and dominates today as well. Shun is a Japanese-originated brand, but their headquarters also existed in the United States under KAI USA. However, they are manufacturing out there in Japan.
Explore more about Yoshihiro VS Shun
Coming to Global which is an older brand than the Shun. With the launching year of 1985, Shun has been in the market for around 36 years. This was owned and their knives are made by Yoshikin or Yoshida brand out there in Japan.
You will find their knives a bit similar to Western knives in terms of appearance. But, the design and blade profile still features a traditional Japanese outlook. Moreover, their knives are popular all across the United States & Europe as well.
Shun VS Global | Collection & Knives Types
Shun and Global both are considered Japanese Kitchen knife brands as they are only making knives for kitchens. So, you will only find Kitchen knives in their fleet. Here, you will get almost all sorts of knives that you would need in a kitchen.
This may mostly include, Santoku, Chef knives, boning, Fillet, deba, slicer, vegetable knives, cleavers, and maybe some other types of Japanese knives. All these sorts of knives are offered both in Shun and Global's fleet out there.
However, you will find most of these knives in relatively different series or knife collections, to be precise. When it comes to Shun, you are likely to find almost 15 or maybe a bit fewer knives in their entire timeline.
Out of these 15 series, almost 7 to 8 series have been popular, converting, and the most appealing ones to the chefs. This covers their magnificent series like Classic, Sora, Kanso, Premier, Hiro, and a couple of others. But these have been the leading ones. If you want a long-lasting knife, you should opt for this series.
For Global knives, you might find several series but global's 3 to 5 series are popular and most impressive ones. This covers Classic, UKON, and SAI being the top ones. Along with that; their Asian & Model series are also quite decent ones.
Since their launch, Global has launched several series but only a few out of those were successful that still runs today. In this regard, Shun has an edge over Global as Shun knives are quite successful considering their 20 years in the market!
Also Check: Dalstrong VS Shun Comparison
Design & Build Quality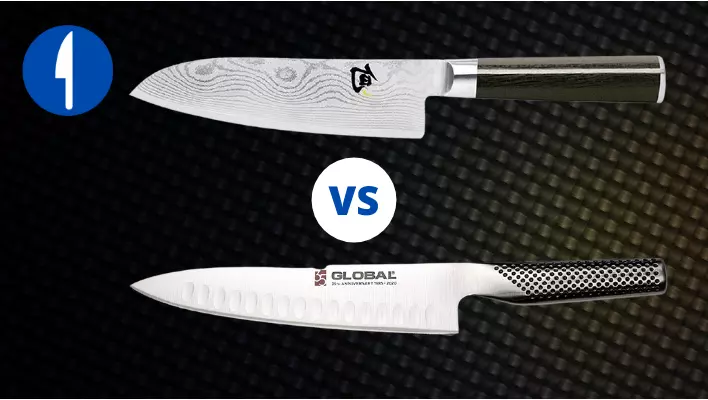 From this section and onwards, these things are going to relate directly to your daily life in almost every aspect. The first thing you should consider in a knife is its build quality which is responsible for making or breaking your knife in the long term. And of course, this thing also depends on the brand that you are using.
Shun is mostly using VG-10 and VG-MAX to make their knives durable right out of the box. For that, Shun uses both automated and manual production methods that depend on the ideal knife series and also the price as well.
After picking up the right steel for their knives, they pass this steel into the heat treatment chambers or furnace. Here, they used to forge that steel so it would end up giving up all the stresses. After that, the steel is cut into the blade shape and the second layer of forging is applied.
After achieving the properties in that steel, they start sharpening their knives either with machines or traditional methods. Then, the cooling part comes into play and Shun cools their processed knives into normal or water cooling.
Almost the same thing goes for Global knives but there is still a considerable effect on the knife. And, that is due to a different kind of steel that is said to have been the custom made by Global itself. Yes, we are talking about Cromova 18. It is packed with stainless steel features due to the addition of non-ferrous metals.
Sharpness & Versatility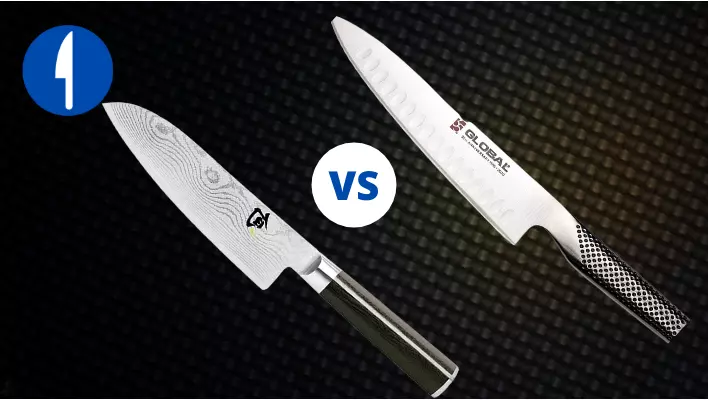 Let's come to the main part that is a direct concern of every single chef out there. How do Shun and Global knives perform in terms of sharpness and versatility? So, let us explain every single part of it in a detailed manner.
Although traditional Japanese knives are way sharper than these Japanese knives that you are exploring here. This is due to a different blade in terms of bevels. Traditional Japanese knives are offered in single-bevel blades that provide them with an extensive and razor-sharp blade right out of the box.
But, Japanese knives with single bevel blades need enhanced customization and support as they are razor sharp. Sometimes, these knives are not a good match for chefs due to some reasons and price is also a considerable factor out of these.
So, to provide a far better profile at a good price range, double bevel knives are designed. Both Shun and Global knives are offered in double side blades with a razor-sharp effect still given. Still, the knives are more detailed and precise.
Global knives' blades are sharpened at 10 to 15° for one side that makes a blade profile of up to 30°. Shun knives also hold almost the same profile but their superior series like premier, classic and sora are way sharper than these.
In addition to this, versatility is also a considerable factor of a knife. Thankfully, Versatility is also more than enough in both these brands while Global takes over Shun in this part. Global knives are handled heavy and it is more likely to be handled by some professional chefs especially for the butcher's related tasks.
Hardness & Resharpening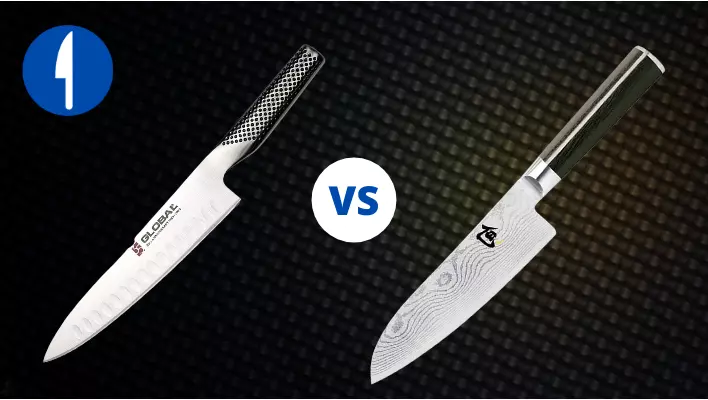 Now, if you are okay with the sharpness and deliverance of a knife; the next important thing is to validate the hardness part of it. If a blade is hard, it is likely to provide enhanced longevity over a period of time.
Along with that, the hardness of a knife tells about whether a knife is easy to sharpen or not as you have to deal with the sharpening part at least once a week. Knives with less stiffness tend to be sharpened easily with whetstones.
However, if a knife is a hell harder, it is also not a great choice. Knives with harder blades are likely to bend or chip easily once they hit the ground. So, you would have to find a balance in terms of Rockwell's hardness that guides you about this.
For Shun knives, you will get a Rockwell hardness of an average of 60 HRC. Some specific series can go as far as 62 HRC, but most of the others don't exceed 61. Global knives on the other hand are offered at relatively less Rockwell score.
You will be getting an average of 58-60HRC in Global knives that are ideal if you don't want a stiffer knife. Such knives don't chip nor break unless you frequently drop them. Of course, you will also find them pretty easy to sharpen.
Handle, Care & Comfort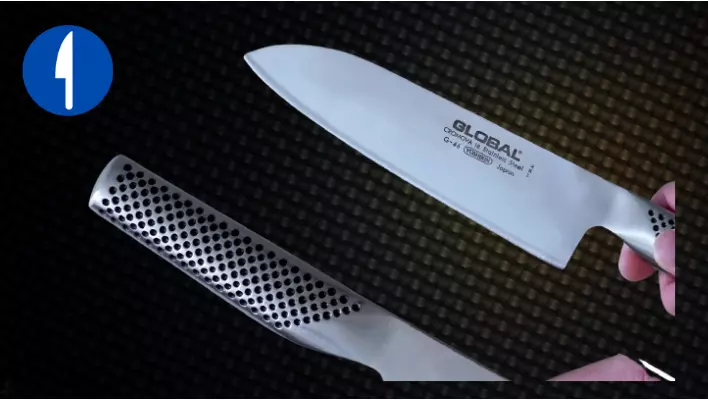 Coming to another decisive part of a knife that you must consider while purchasing a knife which is a handle. To be honest, this isn't just a handle, it is a lot more than this. With this part, you will be making or breaking your cutting.
If you are a professional chef, your knife should come with a lucrative handle to ensure comfort and maneuverability. You can skim this out if you are a casual chef as you are not supposed to use your knife for a couple of hours every single day.
Shun takes over this part in terms of additional comfort and a luxurious handle. They are using a Pakkawood handle with a waterproof lamination on top of that. If you want a gorgeous handle, try getting their Classic Blonde chef knife.
Shun knives extensively differ in terms of their origin. However, all of their handles are offered in a full-tang handle that improves your versatility and makes you pretty productive. Their Kanso & Sora series features a riveted handle; while Premiere & classic series handles from the house of Shun aren't riveted at all.
However, things get completely different for Global knives. Global knives feature a different handle of their kind. These knives come packed with metallic handles that are made up of premium Stainless steel.
This makes the entire knife somewhat handle heavy that brings a different taste to your cutting habits. Additionally, this handle is rust-resistant and Global has drilled several blind holes into its body that makes you handle the knife quite optimally.
Shun VS Global | Knives Pricing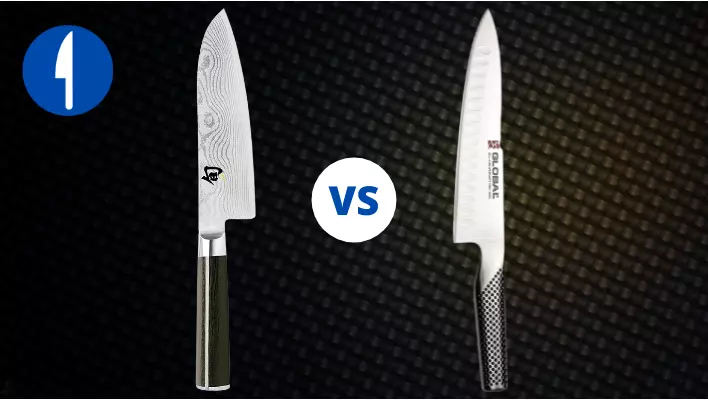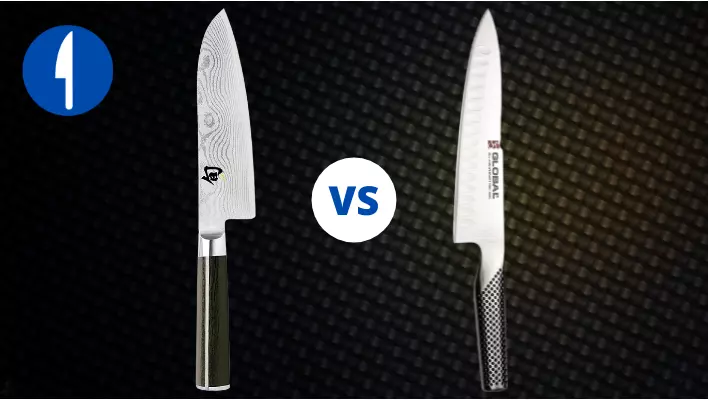 Price is the last yet the most important difference that you will get in Shun and Global. Without this, you won't be able to make a final decision. After a strong competition, Shun and Global knives are offered at some sort of the same prices except for specific knives with a reasonable price difference.
Global's chef knife with an 08" long blade is to be had at a price range of 110 to 150 bucks. While Shun's 08" chef knife from their classic series is listed for 150 to 175 bucks. However, things get completely different for the rest of the knives.
Shun's santoku knives are offered at 150 to 190 bucks depending on the collection. Global Santoku knives start from 90 bucks and don't exceed 130 bucks at all. So, if the price is an issue, Global is the best choice for you. Otherwise, Shun is the ideal deal to grab. Other knives would be at a completely different offering.
Summing Up Shun VS Global Knives Comparison
Global and Shun both are making extraordinary knives but their production method and techniques are quite different from each other. Both these brands are famous when it comes to manufacturing durable, sharpest & convenient knives.
After reading this whole comparison; you would have already found which brand is ideal for your use case and which one isn't. Your taste of use may not be the same as compared to other chefs, but it doesn't mean your rival brand isn't okay.
For a professional chef either if he works in a restaurant or a house; he needs a professional knife in parallel. So, Shun is an ideal deal for him to grab without any exception. However, if budget is a concern, Global is still here for your cup of tea.
In terms of sharpness and versatility, both brands have done a great job. However, Shun is taking over Global for his sharpness, but Global is on a par with his impressive versatility that is even better than Shun. So, the ultimate choice is still yours. Both these brands are worth it and also meet the expectations.