Do you know what's the common term between you and us? Yes, you get it right; we both are passionate about cooking equipment especially when it comes to Japanese knives! You love using these knives and we love finding the right ones.
Every one of us would love to get possibly the best knife whether he is some sort of a chef or just a hobbyist. That's why you will find several hundred Japanese knives that we have already reviewed on this blog. And, every single knife is better than the other. Almost every single knife is made in Japan, so you get a great deal.
We can still find some other best knives that you may haven't explored yet. But, the main challenge comes when finding impressive yet Cheap Japanese knives because everyone wants a budget-friendly knife for his tasks.
There's a common myth (you can say) that real & the best Japanese knives come for a premium price. This is some sort of reality but we can still find you the real, performing, best & Cheap Japanese knives with a little bit of extensive research.
Interestingly, Japanese knives are currently available at a huge price variation that could start from 50 bucks and go as far as 1000 bucks or sometimes even more. Here, we will be considering the Best Japanese knives under $100 or a bit more than that. Of course, you will hardly get Shun or Yoshihiro knives at this range.
So, if you are hoping for top Japanese brands, this could be a bit hard in this range. Better is to get some more budget or you can pick some other respectful brands like TUO, Tojiro, Mac, Yaxell, or maybe some other ones.
Best & Cheap Japanese Knives At A Glance
IMAGE
PRODUCT
SHOP

Overall Best

Shun Sora 8 inch Chef Knife

Benefits: The must-have kitchen knife – handcraft in Japan, Steel: proprietary composite blade technology; VG10 san Mai cutting core; Japanese 420J blade upper

Shop Here

TUO Cheap

TUO Chef Knife 9.5 inch – Ring Lite Series

Benefits: Ring Lite chef knife is designed to be multipurpose knife for professional applications. It can be used for your daily kitchen tasks of chopping, slicing, dicing and mincing of all kinds of meat, vegetables and fruits.

Shop Here

Dalstrong Cheap

DALSTRONG 6″ Shogun Series Utility Knife

Benefits: A Dalstrong culinary revolution combining outstanding and award-winning craftsmanship, cutting-edge breakthrough technology, awe-inspiring design, and the absolute best materials available.

Shop Here

Cheap Knife with a Sheath

KYOKU 8″ Daimyo Series Gyuto – with Sheath

Benefits: Crafted with superior Japanese VG-10 steel cutting core at 58-60 HRC, this chef knife features supreme sharpness, long-term durability and incredible edge retention.

Shop Here

Miyabi Cheap

Miyabi Fusion Morimoto Santoku, 5.5-inch

Benefits: VG10 super steel, Authentic thin Japanese blade profile, Hand-honed using the three-step Honbazuke process to 9.5 to 12 degree edge, CRYODUR blade ice-hardened to Rockwell 60

Shop Here
Best & Cheap Japanese Knives | Our Best Picks & Review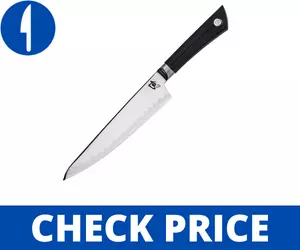 Here's a surprise from Shun for our beloved readers who are impatiently waiting for our top pick for the Cheap Japanese Knives. Normally, Shun knives come for an expensive price but this isn't the case with their Sora series thankfully. So, being a top knife brand, we have exclusively placed Shun at this premium spot.
Build Quality & Material:
Shun has launched this holy knife back in 2013 and this makes it a mid-range knife of this list both in terms of launch date as well as for the price. Traditionally, Shun is popular for using VG-10 steel to make their knives as this is the most reliable culinary steel out there. This is the same case with this 08-inches chef Sora.
To enhance the construction, even more, this knife is packed with an immense steel layering composition that makes it completely outstanding. Of course, the layering is minimal here considering the price of this guy. Still, the knife is supposed to hold its edge along with durability for a long time.
Cutting & Performance:
When it comes to Shun and cutting, you can't find any other option regardless of the price and brand of the blade. Shun and a few other brands don't compromise on sharpness regardless of price, unlike some brands that degrade the sharpness for cheaper knives. Here, you will undoubtedly get magnificent sharpness.
To make this knife magical, Shun has sharpened the knife for both its sides yet at a comparatively low bevel. The blade of this knife is purely plain and simple and doesn't come with any sort of pattern at all, nor can you expect it from Shun at this cost. However, the knife pretty much seems to be non-stick.
Pros
A Double bevel chef knife
With Pre-sharpened blade
Maneuverable cutting profile
Balanced & optimized handle
With a Versatile & sharp blade
Cons
The handle is a bit fragile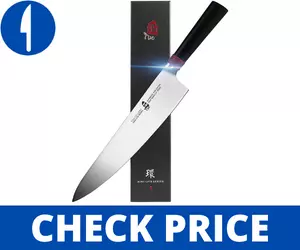 TUO is the runner-up of this huge list but their 9.5-inches chef knife is still competitive in front of Shun's and several other brands with their knives. With the official launch year of 2020, this knife becomes the most recent knife on this list. Plus, it is offered in a couple of sizes and knife types out there in its launched fleet.
Also Check: Types of Japanese Kitchen Knives
Build Quality & Material:
This knife is a part of the Ring lite series by TUO which is a respectful series by TUO. They have made this knife with a combination of expertise along classical steel. TUO is using AUS-08 to make this magnificent knife.
As compared to AUS 10 & VG 10 steel, this one isn't that extended but it does make a difference to optimize your cutting experience. Additionally, these knives seem quite beautiful in terms of design and the quality of finish on top of that.
To make this knife incredible, TUO uses forging techniques to make its core. Further, this core gets nitrogen cooling after being cut into the recommended size along with a few other steps as well. This leads the blade to get 59 HRC hardness.
Cutting & Performance:
Though the knife features a gyuto profile, you aren't limited to deal with the specific sort of cutting. This is a multitasking knife and you can use it for chopping, slicing, and dicing almost anything that you want.
The cutting profile is maintained and pretty much optimized. Together with this, TUO is also focusing on durability, sharpness as well as versatility. Though the knife is made up of alloy steel, there's still a minor chance of getting rusted. So, it is better to take care of the knife especially when it comes to washing it out.
If you are an advanced or a home chef and looking for the longest blade for any reason or as per your requirements, this knife is your ideal match. With the 9.5-inches long blade, the knife features the longest blade on this entire list.
Pros
Simple yet Comfortable handle
An Optimized Cutting blade
Pre-Sharpen & balanced blade
A Durable multi-tasking Knife
Forged blade & 59 HRC Hardness
Cons
A pretty lightweight body
So, Dalstrong is going to be the third best brand that features the best and cheapest Japanese Knives. This knife belongs to their mighty shogun series and they launched it back in 2016 with a lightweight body of just 120grams. You can get this knife serrated as well as in the plain blades to pick up as per your needs.
Build Quality & Material:
Starting from its build quality, that is the most crucial part of any knife. Dalstrong is using AUS10V in its core construction to make it freaking durable & long-lasting. Other than that, they have optimized the steel composition a little bit, which seems to be an experiment by Dalstrong. However, the knife is still pretty much decent.
This knife comes with a hardened blade that doesn't lose its edge. So, edge retention isn't going to be a big issue unless you misuse it as every budget knife is fragile from its edge part. Nonetheless, the blade is made up of layered steel.
In addition to this, the knife features a Rockwell hardness of 62HRC which is the highest among all. The hardness part of a knife is some sort of a trademark of Dalstrong as their knives are quite hard when it comes to the core blade.
Cutting & Performance:
Right after the build quality, the next part is the cutting quality that helps in evaluating a knife more precisely. For this knife, everything is smooth which provides you with an improved consistency for the price at least.
Dalstrong features a durable, and rust-resistant blade that overthrows the fear of rusting. Likewise, the blade is also loaded with non-stick qualities that help in making the cutting experience pretty smooth right out of the box.
Along with all these things, this knife features balance both in its blade as well as in its handle. You will get a G-10 handle that is exceptionally strengthened and it is also quite comfortable in feel. Overall, it is a nice match for advanced chefs.
Pros
A Double bevel sharp blade
An Incredibly hard knife
A Decent edge retention
Resilient & balanced handle
Robust & easy to sharpen knife
Cons
The handle needs a bit of optimization
KYOKU is the runner-up for today's guide and we have got you with Kyoku's exclusive chef knife that also comes with a high-quality sheath to make it protective from rust and debris. With a launched date of 2018, you will get this knife in a perfectly balanced profile right out of the box.
Build Quality & Material:
This is one of the few knives on this list that don't come with any sort of variation in its launched fleet. It is a single knife and Kyoku is using VG-10 steel to optimize these knives with durability pretty impressively. The cutting blade is packed with an immense hardness with a range of up to 60 HRC on the Rockwell scale.
Though it is VG-10 steel, Kyoku is claiming this to be super steel due to the addition of cobalt into its composition. With this addition, the knife has reached its peak hardness to make it durable yet brittle both at the same time. Thanks to its 67 microlayers to support its over-optimization & to make it last longer.
Cutting & Performance:
Despite its toughness and durability, the next deal to break is its cutting superiority that makes a lot of difference. Being a chef knife, this guy completely justifies the blade profile and price. Its round belly leaves a huge impact that eventually leads to its edge retention that is one of the most compelling.
Along with its maneuverable blade profile, the knife also features an adorable Damascus pattern that pretty much leaves a luxurious design. This provides you with a completely non-stick cutting experience that enhances your productivity.
Furthermore, this knife provides you with a tremendous sharpness that doesn't need any praise. The knife doesn't come pre-sharpen out of the box, but resharpening doesn't take your time or effort at all.
Pros
Balanced & Optimized blade
With a Comfortable handle
An Impressive edge retention
Sharp & Durable cutting blade
Effective non-stick experience
Cons
The blade isn't sharp out of the box
Miyabi captures the list of Cheap Japanese knives with its Santoku that belongs to the Morimoto series of it that doesn't need any intro. This knife is a launch of 2013 and it doesn't come with a lot of weight that is packed inside its body. However, it does come in two variants that vary in terms of their blade size.
Build Quality & Material:
Starting from its build quality, Miyabi has been famous for making its knives incredibly durable. Miyabi is using VG10 to make this knife and they are calling it Super steel even though Super steel is said to be different from VG-10 steel.
In addition to this, the knife also features an impressive hardness that enhances the knife even more. You have got 60HRC of Rockwell hardness in this knife that is made possible by the featured ice-hardening technique.
The blade is pretty much down to earth in terms of profile and cutting length. Miyabi is using layered steel to make these knives compelling. CRYODUR blade is what they call it and it doesn't lag in any term.
Cutting & Performance:
Miyabi has made these knives to follow a double bevel blade that doesn't disappoint when it comes to sharpness. You got a balanced sharpness rather than an optimized version of it, especially for its price. This sharpness is long-lasting and you don't have to sharpen it frequently despite it being easy to sharpen.
The blade is loaded with their custom flower design that makes it completely non-stick and provides it a sword sort of look to some extent. Other than that, the knife comes with decent edge retention that is not so stiff or fragile as such.
Moreover, this knife is loaded with a maneuverable handle that features a comfortable feel. On top of that, it is a riveted handle that is traditionally colored and doesn't fall apart. Plus, its finishing and bolster both are quite optimal.
Pros
Traditional Japanese handle
Non-Stick & sharpened blade
An Easy to sharp knife
A Robust edge retention
Cons
Needs to be a bit more balanced
Frequently Asked Questions
Summing Up the Cheap Japanese Knives
Almost every chef believes that Japanese knives come for a decent amount and you can't find the real knife for a budget category. Although, it is a common thing and a majority case nowadays, it doesn't omit the presence of Knives for a budget range at cheap rates.
You must have to dive into deep research to get the ideal knife for a cheap price that also proves to be a money value. Everybody wants to save his money to get the product he wants and that's completely fine regardless of his profession.
You might have to compromise on a bit of factor when you are strict to a specific budget in your mind. Maybe, you won't find a knife with a gorgeous design, or you might have to compromise on its comfort a little.
Luckily we have tried our best to fulfill all your requirements from appearance, price, design, sharpness, and versatility. So, you won't have to regret any of the knives out of this list. Some of these are cheaper than each other, while some seem to be at an upper higher limit of your range due to any feature or reason.
Whatever is the case; you don't have to push your piggy hard to get any of the knives listed here. All these knives are going to provide you with a fine experience when dealing with your daily chopping, slicing, dicing, or any sort of cutting!