Having the right set of tools in the hands of a chef is crucial just like an engineer with his proper tools. Without proper tools, you will always be suffering and wasting your time instead of completing your job with time and precision.
If you are a chef, you better know what stuff is included in your tools arsenal. Whatever is your expertise, you must have to get a competitive knife so you can feel proud. So, you can say that a knife is a very important member of your gear.
Of course, there are a couple of types of Japanese knives in the culinary world and almost all kitchen knives perform satisfactorily. But, this performance isn't ever-lasting most of the time. Imagine spending several hundred bucks to get a knife and then regretting it in terms of performance as well as price.
To overcome this part, Japanese forged knives are meant for your hands. These knives are a complete package for chefs who want durability, robustness, longevity, and rust-resistance alongside performance, sharpness & versatility.
It's now the time to replace your underpower knives with the best Japanese forged knives. Before exploring our ideal selection for this, let's find out why these knives are good and when these knives should be used and when they shouldn't.
Japanese Forged Knives | Why are these knives best?
If you have some sort of techie guy, you must have known how Japanese knives are made? then it will be simple to understand. However, if you don't, you should not worry as we will make this elaboration pretty simple and digestible for you.
Forged VS Stamped knives
Well, there are a lot of production methods in the culinary industry but two or three being the most popular and credible ones. The first one is stamping in which the blades of knives are cut through a die with an existing set of patterns.
The knives produced through stamping are offered for a cheap price as you might also find some of these knives in our guide to Cheap Japanese knives. This method is economical as manufactures can produce knives in bulk quantity.
However, the quality isn't that exceptional as the other methods. If you are a beginner chef who wants to feel the taste of what a Japanese knife looks like, this might be a good deal. Plus, it's good for casual chefs but not for professional ones.
Now, if you want to be a professional or you are already an advanced chef, you should opt for the forged knives. Most western knives are durable but only a few brands use forging to make their knives. But, almost all the best Japanese brands now offer Forged Japanese knives to ensure quality and beat the competition.
The Japanese forged knives are unbeatable in every regard. These knives are extensively made with traditional yet innovative forging methods. In this method, the blades are forged in a chamber at a higher temperature to meet the required properties in steel. You will mostly get these knives in AUS-10 and VG-10 steel.
As a result, the blade is formed with extensive robustness that is rich in durability and longevity. After being forged, the blade is then cooled either at room temperature or through nitrogen cooling. Later, the blade is sharpened to reach the smoothness, precision, and razor-sharpness effect that reflects at the board.
Japanese Forged Knives | Do's & Don'ts
To be honest, Japanese forged knives are made to deal with almost any sort of ingredient that you want; but there are some rules that you should follow. Without following these guidelines, you will be risking the longevity of your knife.
As these knives are considerably expensive due to stainless steel and non-stick blades, these knives are unlikely to rust as usual. But, you should still take care of it. Better is to clean your knife with a dry cloth, or simply wash it within the sink and immediately dry the water. Also, take care of its handle if it's wooden.
Read Also: How to Protect knives from Rust
The knives come pre-sharpen and maintain their sharpness for a comparatively longer time than usual after being sharpened. Now, to sharpen these knives, you should better use whetstones if you are a home chef, and machine sharpeners if you are a busy chef. Don't apply excess pressure, so its blade won't easily bend.
Depending upon the type of knife you picked, make sure you stick to the recommended ingredients to cut with that knife. If you have a forged paring knife, you shouldn't try this as a boning because paring isn't supposed to handle bones.
However, you can still use their universal knives and this rule doesn't apply to them. Most of the time, you can use your Nakiri, Gyuto, and Santoku interchangeably. But, better is to resharpen them so it won't lose its feature. Furthermore, don't use a dull knife as it would easily start chipping out.
Also Check: Handmade Japanese knives
Forged Japanese Knives At A Glance
IMAGE
PRODUCT
SHOP

Overall Best Forged Knife

Dalstrong Damascus Chef Knife – 8″ – Shogun Series

Benefits: Double bevel but the short blade, Exceptionally strengthened knife, A Hard, Robust & Anti-Rust blade, Quite versatile & easy to sharpen

Shop Here

Easy to Sharpen knife

Shun DM0707 Classic Ebony Traditional Chef's Knife 10"

Benefits: Full-Tang & Comfortable handle, Rust-Resistant & sharpest blade, Versatile and a non-stick knife, Elegantly Optimized forged knife

Shop Here

For enhanced precision

Shun Classic Double-Bevel 6.5" Nakiri Knife

Benefits: A flawless cutting experience, With a Well-balanced Handle, Double bevel sharpest blade, Versatile & professional knife

Shop Here

Versatile & Reliable blade

Dalstrong Shogun Santoku – 7″

Benefits: Decent knife with a Stunning handle, A Rust-Resistant & sharpest blade, A Double bevel balanced knife, With a Forged & hard blade

Shop Here

Incredible edge retention

Yoshihiro 16 Layer Hammered Damascus Gyuto

Benefits: A razor-sharp double bevel blade, Best forged knife for pro chefs, An Incredibly best edge retention, Full-tang and a balanced handle

Shop Here
5 Best Japanese Forged Knives | Our Best Picks & Review
Dalstrong is going to be the opener of this mighty list. They have launched several knives since their launching, but some of those knives were successful. Out of those, the Shogun series is at the top of the list. This is a chef knife that dates back to 2016 and has a pretty balanced weight out of the box.
Build Quality & Material:
This knife is listed in 04 to 05 variations in terms of blade size along with serrated style in one. All these knives feature Japanese steel known as AUS-10V that's customized by Dalstrong to make their knives incredible or unique at least.
It has got an integrated steel core that comes with a Rockwell hardness of up to 62HRC. To be honest, you will find this hardness just in Dalstrong. Even Shun knives don't hit this hardness for their top knives.
Anyway, Dalstrong has redesigned the knife by using high-quality layered steel. In this steel, you will get 66 layers of premium steel covering the knife from rust. Alongside, the layering also enhances strength along with durability as well.
Cutting & Performance:
The knife is rated as best or worst that depends on its performance on cutting boards. For this knife, almost everything is exceptional and this has to lead us to list this knife on top of the list. Theory aside, the knife features an evolved blade.
In this blade, you will get a completely different cutting profile when comparing it with Shun and Yoshihiro knives. This knife comes with a round belly that you won't either find in the chef knives. However, the tip is still the same & works fine.
Dalstrong features an exceptionally sharp blade that is never going to deceive you at any point unless you misuse it. Either way, you should manage resharpening at least once a month to keep enjoying its performance over time.
On top of the blade, you will get a so-called Damascus pattern that is meant to provide you with a non-stick touch. Dalstrong has made this knife in a double bevel blade, so you can easily get used to it. Moreover, the blade is also encrypted with a tapered bolster to enhance the feel and balance as well.
Pros
Double bevel but the short blade
Exceptionally strengthened knife
A Hard, Robust & Anti-Rust blade
Quite versatile & easy to sharpen
Cons
Edge retention isn't top-notch
Shun succeeds the best knife on this list with its classic chef knife which is going to be the second love. With the launch date of 2007, this knife has earned a lot of credibility, and chefs are now pretty confident about what they are using. The knife features an optimized weight that would feel awesome in your hands.
Build Quality & Material:
Just like the previous one, this knife also comes with a couple of size variations to provide you customized preferences. However, all these variants feature VG-Max steel that is considerably tough. VG-Max composes its core blade, while VG-10 is featured in its overall blade. The steel is layered that makes it pretty awesome.
This elegant knife is a result of forging that enhances its durability and makes it usable for quite a long time. The blade is a little bit thicker from its spine, which is crucial to make as usual. This provides good support to the overall blade.
The entire blade is rust-resistant and Shun has carefully optimized the cladding, so it won't house debris or water to form rust and stains. Along with all these things, the knife doesn't disappoint in terms of robustness or durability either.
Cutting & Performance:
This knife not only features a beautiful blade, but they also take care of its performance to make it impressive right out of the box. The knife is loaded with sharpness from its top till its end and it's not dangerous either.
Due to a relatively thick spine, the knife results to form a durable and balanced blade that allows it to cut through deep cuts. The knife is pretty graceful in terms of versatility that is a central point for a knife to succeed out there on the countertop.
Moreover, this knife features a futuristic and luxury design for lovers. This will shine in your collection and make you feel proud in the preparation of the meal. The knife doesn't come with any bolster nor is it a requirement for this knife. In parallel, you will get a classical and ebony handle that is loaded with comfort.
Pros
Full-Tang & Comfortable handle
Rust-Resistant & sharpest blade
Versatile and a non-stick knife
Elegantly Optimized forged knife
Cons
Could easily chip if misused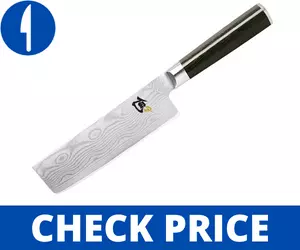 Shun is now succeeding its gyuto with a professional nakiri that is ideal for vegetarian chefs out there. They launched this back in 2010 almost and since then the knife is serving chefs across the world. The knife is pretty organized in terms of weight and it is the first knife here that doesn't come in any variation.
Build Quality & Material:
Here as well, Shun is utilizing their flagship VG-MAX steel that is sometimes referred to as Super steel. A good part; this knife also features a layered steel composition that makes it decently durable to bring good longevity.
This knife is optimized for anti-rust properties that reflect both in its steel and it also reflects at its blade. Just like Shun's previous knife, you will also get a slightly thin thick spine in this knife as well that enhances the build and support.
With 68-layers of additional steel, the knife gets an anti-rust touch that stays there and doesn't disappoint. Of course, you do also have to take care of it yourself. Overall, the knife is a little bit flexible as compared to some other blades.
Cutting & Performance:
First of all, the knife comes with a Damascus pattern as usual and it provides a luxurious feel to the chefs. Later, this pattern allows you to flawlessly cut through the ingredients. In the last, it also takes part to protect the knife from rusting.
The knife features a maneuverable blade with enhanced sharpness that shines the blade. With this knife, you will be able to cut any sort of vegetable, fruit, or herb including broccoli. However, it is not a good deal for raw meat and frozen stuff.
Due to a double bevel blade and a slightly thick spine, the knife provides a smooth and sharp cutting to enhance your productivity. The knife is hand-sharpened out of the box, and it is recommended to use hand sharpening such as whetstones.
Besides all these things, this magnificent knife comes along with a PakkaWood handle that is no less than a diamond. This knife is full tang yet tapered but its D-shaped profile prevents it from slipping. Overall, this handle is pretty well-balanced and provides a comfortable grip to its users.
Pros
A flawless cutting experience
With a Well-balanced Handle
Double bevel sharpest blade
Versatile & professional knife
Cons
Edge needs to be optimized
Dalstrong for the second time on this list of Japanese forged knives. This knife belongs to their flagship Shogun series and it is a launch of the year 2015 and comes with a body that holds an optimized weight. The knife is offered in up to 04 size or class variants but we will be specifically considering their Santoku version.
Build Quality & Material:
Just like their first knife, this one is also using a so-called AUS-10V culinary steel that is modified by Dalstrong themselves. This super steel features up to 67 layers of stainless steel to form a nice and durable construction out of the box.
This knife features a hard cutting core that holds a Rockwell hardness of up to 62 HRC. Now, this knife is hard though, and delivers a lot of robustness. But, this hardness sometimes leads to chipping as it could make the construction pretty brittle. So, it is better to avoid using it as a boning knife.
After being forged, the knife retreats from the furnace so it will be cooled. Now, depending on the series, Dalstrong knives are cooled through Nitrogen or normal methods. However, this one is treated through nitrogen cooling, and this later results in resilience, hardness (once again), and anti-rust properties.
Cutting & Performance:
Shogun's Santoku seems to be quite intelligent when looking at its blade profile. It comes with a slightly wide belly that helps in taking deep and precise cuts. The spine is thick as usual and provides you with a controlled cutting experience. Moreover, this blade is completely straight and its bolster makes it a bit balanced.
Being a Japanese knife, this knife is packed with immense sharpness. However, this could be even better if the blade would be single beveled. Still, in this case, this double bevel knife cuts like a pro as it is optimized for 08 to 12° each bevel.
Sharpening takes no time but it depends on your skills and patience. The knife is rust-resistant and it also comes with a sheath that you should use after washing out the knife. Just, don't forget to dry the blade after washing.
Last but not the least, this knife is balanced obviously, but its handles play a key role in it. This is the first and last G-10 handle of this list. The handle itself is well-balanced and nicely polished to resist water and sweat. Also, this is full-tang and riveted so that it doesn't let it fall apart.
Pros
Decent knife with a Stunning handle
A Rust-Resistant & sharpest blade
A Double bevel balanced knife
With a Forged & hard blade
Cons
The edge of the knife is a bit fragile
Yoshihiro is making her debut with his forged Gyuto that is a launch of 2018 and features a slightly bulkier body. This knife is offered in up to 03 blade sizes that include 07, 08, and 09.5-inches longer and versatile versions. If you are an advanced chef, 08 and 09.5" blades are a good deal for you to grab.
Build Quality & Material:
Yoshihiro is undoubtedly the best brand that produces forged knives. Their quality reflects in their knives and the performance they deliver. In the backend, these knives are made up of VG-10 with more than 60 additional steel layers on top.
Just like the other knives, this forged knife has also got a hard & tough body. It comes with a Rockwell hardness of up to 60 HRC that makes it an incredible knife. Now, the knife is rust-resistant along with durability as well.
If you are not happy with the edge retention of the knives listed above, this is your boy. This knife comes with a perfect edge quality that isn't going to chip easily. It is extensively durable and it doesn't capture rust until you take care of this piece.
Cutting & Performance:
Exploring its performance part to let you judge the knife closely. The knife features a straight blade that is nicely designed and you will get one of the best Damascus patterns on it. This enhances the toughness even more and also prevents sticky ingredients from sticking to it. Hence, you will enjoy a flawless cutting experience.
The blade is slightly thinner from the edge and a little bit thicker from its bolster or spine that would provide support to the entire blade. This blade is loaded with the premium sharpness that you deserve. Alongside, the blade comes in a double bevel design as usual, but the sharpness is still impressive here.
As compared to Dalstrong knives, this knife has a bit higher bevel of 14° but it still performs pretty decently as compared to them. Moreover, the edge retention is undoubtedly the best and it is specifically designed for professional hands.
Last but not the least, the blade features a traditional mahogany wooden handle that is not so beautiful. However, its comfort and balance are at the next level. The knife is hosted with a full-tang construction to provide stability. Overall, this knife is a good choice for chopping, slicing & dicing meat, veggies, and fruits.
Pros
A razor-sharp double bevel blade
Best forged knife for pro chefs
An Incredibly best edge retention
Full-tang and a balanced handle
Cons
The bolster isn't ideally installed
Japanese Forged Knives | Frequently Asked Questions
Summing Up Best Japanese Forged Knives
Forged knives are the best category knives in the Japanese fleet. With the forged blades, you will get a razor sharpness effect, and that is too long-lasting. These knives are meant for advanced, professional chefs and experts to work like a pro.
These knives feature a forged blade that provides meaningful durability and versatility as well. With these knives, you will be able to expect longer longevity. The incredible design makes them eye-catching and their superior edge makes a perfect complement. Plus, their handles are also very comfortable.
With so many options out there in the market, finding out ideal Japanese forged knives becomes pretty tough. You are likely to get fooled by the underground or replica sellers, whose knives aren't forged but they pretend to be the forged ones.
To overcome this risk and to provide you with the best forged blades, we have crafted this creamy guide to serve. This guide lists our 10 best selections that you should never miss. All these knives are incredibly perfect for you to be a chef. Just take a skimmed look and thank us later!