Almost all of us must have seen a Swiss army knife since childhood to use for different sorts of tasks. These hybrid knives were pretty durable and sturdy that one can use for any matter including kitchen as well as some outdoor tasks. The knives come with the sharpest blade that doesn't get dull easily if maintained.
This impressive performance helped in tightening the roots of the Victorinox brand that led people to trust them blindly. Again, Victronix came up with serious planning, and currently, after 138 Years of their establishment, you are here at the Victorinox knives review as you are planning to get some blades for your kitchen.
This Swiss knife brand uses exceptional German steel to deliver a phenomenal quality in their knives out there on the table. As time flies, Victorinox has become an ultimate choice for many professional as well as home chefs to be used in their kitchens. In fact, whenever a new Chef gets started, he is more likely to use a Victorinox knife due to the quality. So, you can imagine Victorinox's dedication.
In this Victorinox knives review, we will be taking a detailed look at their success that helped their customers to stay loyal even after more than a century. They provide a pre-sharpen blade loaded with excellent deliverance. From sharpness to durability and handle to ease of use, you will get complete info on it right here.
Though their knives are affordable and people love to purchase individual knives from Victorinox, they also make knives sets as well. If you are looking for a set too, we've split this list into individual knives as well as Victorinox knives sets. So, to narrow things down, let's dive deeper into this Victorinox knives review.
Best Victorinox Knives Review At A Glance
IMAGE
PRODUCT
SHOP

Overall Best Victorinox Knife

Victorinox Fibrox Pro Chef's Knife

Benefits: A well-balanced knife, Impressive build quality, A maneuverable cutting, Razor-sharp & value to money

Shop Here

The best Victorinox knife set

Victorinox 6.8063.20-X2 Swiss Classic Chef Knife

Benefits: A smooth and sharp knife, Balanced & maneuverable, With a Promising sharpness, Performing & a durable knife

Shop Here

The Exceptional Sharpness

Victorinox Cutlery 7-Piece Swiss Classic Knife Set

Benefits: A Dishwasher safe knife set, Maneuverable & simple knives, Stamped yet a durable knife set, Gives a phenomenal performance

Shop Here

A Durable and sturdy Knife Set

Victorinox Swiss Army Cutlery 4P Fibrox Pro Knife Set

Benefits: A Well-balanced knife set, Also Safe for dishwashers, With an Optimal sharpness, Precise and productive cutting

Shop Here

Victorinox Boning Knife

Victorinox 6-Inch Curved Fibrox Pro Boning Knife

Benefits: Comfortable handling and grip, Outstanding cutting performance, An Easy to sharpen cutting blade, Precise and a very sharp cutting

Shop Here
Best Victorinox Knives Review | Our Best Picks & Review
So, let's start this list of the best Victorinox knives with their officially one of the best chef's knives out there on the market. Victorinox launched their Fibros Pro back in 2001 and it is the senior-most knife to be reviewed on this blog. This lightweight chef knife doesn't feature any styling or sizes for its blades.
Fibrox Pro features a non-modern and contemporary simple styling sense that makes it a universal knife both in the look as well as for its feel. As Victorinox claims, this is a stainless steel blade, but it is technically a carbon steel blade of German grade and it can have a stainless steel lamination on top of its blade.
Being a western-style knife, Fibrox Pro doesn't come with any sort of Tsuchime patterns that is a prominent part of any Japanese knife out there. This is already a slip-resistant and productive blade that doesn't catch ingredients while cutting things down. Compared to any western knife, it has a relatively wider profile.
This knife features a maneuverable and an easy to glide blade that makes you confident while chopping, slicing, and dicing. Also, it has a straight cutting line that gives you reasonable precision and doesn't affect the beauty of your cutting. Meanwhile, the entire blade comes with a sophisticated range of sharpness.
Now, this is a single bevel blade and you may find it a little bit hard for your first attempts. But, it will get better if you put some of your time into it. Anyways, it is a simple and thin blade that makes it more impressive in terms of practicality. The angle of this knife is supposed to last for quite a long time.
Pros
A well-balanced knife
Impressive build quality
A maneuverable cutting
Razor-sharp & value to money
Cons
The blade is quite lightweight
Moving forward with Victorinox's second knife for this list that belongs to their magnificent classic series. Victorinox launched this knife back in 2011 and it is also a pretty lightweight knife. Victorinox uses a flagship and extremely better high carbon steel to compose this knife and it is also German, so quality is consistent.
Here in this chef knife, Victorinox has tried to give it a little light touch of a Japanese knife and this is the reason it has got a bit narrow blade for its length. Initially, this knife is meant for dealing with any raw meat, but it later turned out to be an all-purpose cutting knife. Since then, it has been a performing knife.
If you are a beginner or a lazy chef who doesn't want to put effort while cutting down things; this knife is better for you. This knife provides an effortless cutting experience on your fingertips and also features a reasonably better precision. You can use this blade nearly for any sort of cuttings as it has got the sharpest blade.
Due to its significantly thin blade, the knife provides precise and thin cuts and it can also be used as a slicer for regular ingredients. Along with these things, the knife is quite on an easy to sharpening side that doesn't require effort as such. You can either use Whetstones or Machine Sharpeners to get this job done.
Furthermore, it has got a longer edge which is pretty straighter and it doesn't ask for any struggle to put in order to get things done. Both the maneuverability and versatility are on a balanced side. Also, the edge retention and handle both are comfortable. Though it isn't a full-tang handle, durability is still very decent.
Pros
A smooth and sharp knife
Balanced & maneuverable
With a Promising sharpness
Performing & a durable knife
Cons
Needs to be sharp before using it
The first set of this holy league is here that belongs to the classical swiss series of Victorinox. This set is a launch of 2012 and you will get a sturdy build quality instead of lightweight construction. If you aren't a beginner chef, this set deserves your attention. Victorinox offers up to seven varieties for this set in the fleet.
First thing first, this set contains knives: a swiss knife, a paring, a utility, a chef knife, kitchen shears with a sharpening tool as well. All these things come packed right under a hardwood block that has an exceptional build and a luxurious feel. Being a kitchen knife set, this family is supposed to be a multi-tasker for you.
You can use this set to deal with tiny or fragile ingredients to peel them off like apples and tomatoes. Also, it is quite performing for other tasks including bigger ones that take a reasonable time and effort in some cases. To make things supportive, the set is made up of high carbon steel with stainless incorporation.
The entire set features stamped blades for each of their knives and this is the core reason why these knives are on a lighter side. These knives come pre-sharpen and the sharpness itself is comparatively decent as they have ice-hardened the knives. Now, the edge retention is also phenomenal so you won't see any distortion here.
Last but not least, all these knives are pretty easy to handle as it features an anti-slip grip on their handles. The best part of any Victorinox knife lies in its simplicity of design and it is also very fascinating. You will get a balanced and vulnerable blade for any of its knives.
Pros
A Dishwasher safe knife set
Maneuverable & simple knives
Stamped yet a durable knife set
Gives a phenomenal performance
Cons
Could rust if not taken care of properly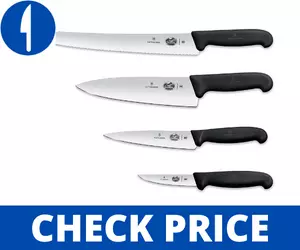 We got you with another great Victorinox knife set that you will definitely love to have in your kitchen fleet. Victorinox launched this 04 piece knife set back in 2011 and it is on a more lightweight side. This Fibrox set is meant for so many things but it is specifically designed for regular kitchen cutting tasks.
In this set of knives, you will get a paring, bread, utility, and chef knife. All these knives are certainly more than enough to get your regular tasks done. Also, all these blades come with a futuristic sharpness as they don't need frequent resharpening as long as you are maintaining them nicely.
The Fibrox Pro knives set features an amazing sharpness and they are made up of high carbon steel to provide a reasonably better build quality. Victorinox has made it a pretty maneuverable and easy to control knife set, so you won't suffer for its handling department. Also, the knives feature truly a straight cutting blade.
With these knives, you can now dice, mince, chop and slice down the stuff quite effectively. Due to added precision, these knives provide beautiful results after the ingredients are chopped. Also, you don't have to spend time practicing, as it is a fairly easy to use knife set that doesn't need a lot of effort to master.
For its slicing department, the set performs quite better as Victorinox integrates a flat spine into this. This provides good support that would lead to great power. Along with this, this set as well is safe for dishwashers and the handle is comfy too. Overall, this set provides great value to money.
Pros
A Well-balanced knife set
Also Safe for dishwashers
With an Optimal sharpness
Precise and productive cutting
Cons
Edge retention could be better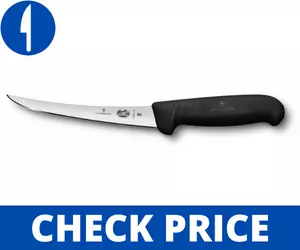 Officially the first and the only boning knife by Victorinox for this list. It is a reasonably lightweight knife that you would be using to deal with chickens and turkeys. It can be used with raw beef, but you may not find it responsive there. Victorinox is using high-quality German high carbon steel to compose this blade.
To be very honest, this boning knife of Victorinox has the most-impressive cutting angle as it is nicely optimized for boning related tasks. If you are planning to have Sushi at your dinner for your guest, this knife would be the best companion especially due to its precision on the table.
Not just the blade angle is optimized, but its sharpness is also pretty luxurious. Although you would need frequent strokes at your sharpener while boning down the meat, it still gives a fairly responsive cutting experience. From sharpness to durability, Victorinox has taken care of almost every aspect of it.
Of course, boning knives don't feature a straight cutting line. But, this knife does feature a solid spine that allows putting force on the blade to deal with any type of cutting with little to no problem. The cutting edge is nicely optimized but its longevity is still not pretty outstanding. Overall, the knife is still effortless in use.
Pros
Comfortable handling and grip
Outstanding cutting performance
An Easy to sharpen cutting blade
Precise and a very sharp cutting
Cons
A fragile knife to some extent
Victorinox Knives Review | Frequently Asked Questions
Summing Up the Victorinox Knives Review
The dynamics of the culinary industry changed with the establishment of Victorinox back in 1884 and later after the birth of Swiss army knives. Throughout their journey, Victorinox has launched several knives collections and most of them are still popular due to so many reasons.
We weren't supposed to discuss Swiss army knives but their kitchen knives. Victorinox makes one of the most impressive kitchen knives that comes loaded with exceptional performance in their blade along with a comfortable grip on their handles. Another great thing is their economic price that everyone loves.
If you have been looking for the Victorinox knives, this Victorinox knives review will surely fascinate you. These inexpensive knives are pretty helpful on the countertops and their sophisticated build quality provides you with good longevity. Their exceptional kitchen knives are truly worth spending every penny.