Yoshihiro is usually considered the Tesla of Japanese knives when it comes to performance, durability, and versatility along with sharpness as they all are the decisive elements of any knife a chef opts for. If you are a brand conscious guy, you are here in the right place as we'll be taking a closer look at the best Yoshihiro knife sets that are worth investing your time and money in.
Historically speaking, Yoshihiro has been making Precious Japanese knives for more than a century but they have just landed their cruise in the United States market. By ensuring the best build materials and promised performance, Western chefs are liking Yoshihiro pretty much along with a very few other Culinary brands.
They have been a leading brand in their home country and this success led them to capture the international market with their impressive and stunning knives. Though the design part may not be very precious or modern, unlike Shun or Miyabi, their blades still give a very tough time to those brands. So, in terms of deliverability, Yoshihiro is still an honorable Japanese knife manufacturer.
Their single knives are on the expensive side when compared to other brands. As long as Professional and expert chefs are concerned, they can opt for whatever Yoshihiro knife they love to bring them on the countertop. But, for the beginner to advanced or casual chefs who don't want to invest a lot of money in single knives. For that, they prefer getting a Yoshihiro knife set to get the work economically.
So, without wasting your time here and there, let's jump right toward the list of the best Yoshihiro knives set. Unlike other brands, Yoshihiro knives sets are very limited out there in the market. So, it was a challenge to find and analyze them to bring them on the guide. Anyways, let's get into it!
04 Best Yoshihiro Knife Set At A Glance
IMAGE
PRODUCT
SHOP

Overall best Yoshihiro Knife Set

Yoshihiro Steel Gyuto 8.25" & Petty Utility Knife 5.3" Set

Benefits: Stain-resistant & maneuverable, Easy to resharpen and versatile, The Balanced and riveted handles, Sharp, optimized & a clean cutting

Shop Here

Beginners & Budget Friendly set

Yoshihiro Hammered Santoku 7" & Petty Utility Knife 5.3" Set

Benefits: The easy to sharpen blades, Balanced & comfortable blades, For a Precise & smooth cutting, Durable and high-quality blades

Shop Here

The most versatile & balanced set

Yoshihiro Ambrosia Gyuto 8.25" & Petty Utility Knife 6" Set

Benefits: Balanced & well-crafted knife set, Maneuverable & easy to sharpen, Features Sharpest & versatile blades, Double bevel and a durable knife set

Shop Here

The premium-most Yoshihiro set

Yoshihiro 6P Hammered Japanese Knife Set

Benefits: Double bevel sharp blades, Best one for Precise cuttings, Full tang and riveted handles, Anti Rust and bolstered knives

Shop Here
04 Best Yoshihiro Knife Sets in 2022 | Our Best Picks & Review
Let's start with the most appealing and popular set launched by Yoshihiro back in 2011. The best part of any Yoshihiro knife is its durability and handmade craftsmanship to make it outstandingly durable. For that reason, you would find these knives considerably bulkier, but you will still find them easy to maneuver.
This set is launched for many sizes of variation that you can select as per your need and budget of course. The longer the gyuto the better would be the versatility and balance. But, in this set, every single variation and knife is doing pretty great. Yoshihiro is using the flagship VG-10 steel to compose its blade.
Due to this exceptional core, the knife features incredible durability that is nicely encrypted with stainless steel to protect it from rusting. Just like any other traditional Japanese knife, this one also comes in a forged and layered construction as Yoshihiro is incorporating 16-microlayer steel in its core.
Again, Gyuto features exceptional performance and balance right out of the box. You will get a slightly tapered blade with an improved edge with a slightly little contoured design in the end to bring some durability. Of course, the cutting line is also not completely straight but it results in an easy back and forth cutting.
The blade is not technically designed nicely, it has also been sharpened perfectly. With these blades, both chopping and dicing become appealing. From meat to vegetables and fruits, you can deal with everything with it. These blades are designed for clean cuts and their bevels are also very optimized.
Both these blades feature a maneuverable cutting experience and they are also quite productive due to an incorporated pattern on top of the blades. Also, there is a bolster that works fine to provide a balanced fit along with the comfy handle.
Pros
Stain-resistant & maneuverable
Easy to resharpen and versatile
The Balanced and riveted handles
Sharp, optimized & a clean cutting
Cons
Gyuto's Handle could be even better
We have now got you with Yoshihiro's another great set that features a Santoku along with a reasonably better utility knife. In this set, you will get up to two variations for the size as Utility knives come in both 3.25 and 5.3-inches. The set itself contains up to two blades in one package and both come in a forged design.
Yoshihiro incorporates forged and layered VG-10 steel in their blades along with a hammered design. With this amazing construction, Yoshihiro ensures a performing and deliverable set that comes packed with reasonable anti-rust support. Santoku features a bit thicker spine to eventually enhance your cutting skills. Comparatively, this set has got a well-crafted blade width out of the box.
Santoku is an all-rounder knife that can be used for any sort of cutting flawlessly. This is why these knives feature impressive stability and versatility after a Gyuto. Likewise, Santoku provides you with precise cutting even though you won't be having a straight cutting line on the blade. Resharpening is also pretty easy here!
Moreover, these knives come with a patterned blade to provide better productivity. Also, the blade here comes in a double bevel that makes it maneuverable without compromising on its sharpness or anything else. Alongside, you will get the sharpest blade that comes pre-sharpened right out of the box.
Heading towards its handle that is nicely encrypted by a bolster that enhances both the beauty and balance of these knives. You have got a wooden handle that comes in a riveted assembly and full-tang construction. Likewise, the handle itself is balanced, comfortable, and features decent durability.
Pros
The easy to sharpen blades
Balanced & comfortable blades
For a Precise & smooth cutting
Durable and high-quality blades
Cons
The Weight could be a bit more improved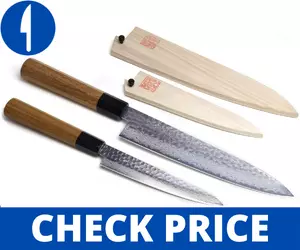 Our next Yoshihiro Knife Set again comes with a utility and a chef knife of different sizes. Yoshihiro launched this set back in 2018 and you won't get any size variation for this set. However, you do get handles of different versions in this set. To ensure an outstanding construction, Yoshihiro is once again using VG-10 to form this set.
To enhance its durability, Yoshihiro uses hammered and forged methods to make it more valuable. This set has almost the same versatility and design as the first set that we reviewed on top of the list. The major difference could be its width which is a little bit on a lesser side. Otherwise, it is featuring a little curved blade.
Coming to its usability part which is exceptional here as well. Due to its slightly curved blade, you will find it pretty easy to rock. Its incremented tip makes it even more versatile, resulting in an improved chopping experience at your fingertips. Likewise, the rest of the slicing and dicing also goes pretty fine with this set.
Another knife you are going to get is a Utility knife which is bigger than a petty but a little more than a Gyuto knife. With this knife, you can tackle things like chopping smaller ingredients including vegetables and fruits like tomatoes or apples. The precision of its blade is also up to a mark that you will never forget.
Besides all these things, Yoshihiro ambrosia features a tremendous handle that is loaded with an exceptional balance. Yoshihiro incorporates a durable wooden handle that is not riveted but comes in an octagonal construction to provide a comfortable yet sophisticated grip. The resharpening is easier through whetstone.
Pros
Balanced & well-crafted knife set
Maneuverable & easy to sharpen
Features Sharpest & versatile blades
Double bevel and a durable knife set
Cons
Nothing to argue for the pricing
Here comes the last Yoshihiro knife set of the list that comes in a family of 06 blades. Yoshihiro launched this set back in 2010 and this is the most expensive set launched by them. Though it is not quite popular or successful, you will still find hidden gems in all these blades that would be sufficient to get your work done.
Yoshihiro uses advanced forging methods to compose these outstanding blades durable right out of the box. This set again comes in a VG10 core just like any other knife by Yoshihiro in its fleet. Here, you will get 16 microlayer steel with stainless properties to prevent all your knives from patina and rust.
From versatility to performance and sharpness, all these things are given in the set to enhance your cutting experience. This set consists of a pair of chef knives, a 07-inches Santoku, 9.5-inches of Slicer along with a 5.3-inches Utility, and a 6.5-inches Nakiri knife. All these knives come in a stain and rust resistant design.
Due to their double bevel blade design, you will get an amazing and maneuverable sharpness on a considerably easy to sharpen blade. Not all knives come in a straight cutting line, but you still get pretty much precise cutting. Also, there is an incorporated bolster to support overall handling to make it balanced.
Pros
Double bevel sharp blades
Best one for Precise cuttings
Full tang and riveted handles
Anti Rust and bolstered knives
Cons
Comparatively an expensive knife set
Summing Up the Yoshihiro Knife Sets Review
Yoshihiro is an incredible brand due to its rich lines of knives. They have been making stunning knives for more than a century and there is no doubt for their optimal performance along with deliverance. But, their knives are generally on the expensive side and not everyone is comfortable paying an expensive upfront.
For that reason, Yoshihiro launches a limited yet performing knife set that you can grab to kick start your career. In this article, we have reviewed Yoshihiro knife sets that are worth spending every penny on. Since their international launching back in 2008, they have been producing balanced, versatile, durable, and sharpest blades. After skimming through this amazing guide, you will surely get a perfect match!