There are several professional chefs in the world but they're not born professionals but learned over time. If you have a passion for cooking or you are now accepted into a culinary school, you are about to fulfill your dream. However, cooking takes practice and you need proper tools and especially good knives to master it. As a student, you need to get a reasonable chef knife set for culinary school that suits your needs and doesn't cost a ton.
Remember, you're about to learn how to cook, and using a knife nicely is the first step on your checklist. For that, you need a good knife set for culinary school but don't rush yourself into expensive knives with premium blades. You're first supposed to learn and then upgrade your tools or knives. So for now, stick to simple, inexpensive but good chef knife sets for culinary school.
I know, it's not an easy task to find a good set as I have been through it when I was in culinary school. So, with my years of experience, I'll let you know what sort of knife set you need, what you should get, what you shouldn't, and what mistakes I made so you can avoid them to save your money and time.
Let's discover every single thing in this detailed article. Stick to the end so you can get my best and personal recommendations and don't forget to take a skimmed look at the knives I review and the information I share! So, let's begin this guide here:
06 Best Chef Knife Set For Culinary School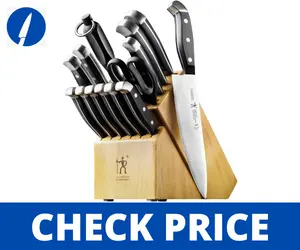 Alright, Henckels is the brand that tops the list. As a beginner, you may not know which is the best brand and what they are best at or what Henckels is best at, you should give this guide a read. Culinary students don't necessarily come with loads of money in their pockets to spend on high end knife sets, nor do they need that. A nice and inexpensive set is what you all need in your tuition.
Henckels never failed to amaze with their performance and quality as this brand has been in existence for over a century. As far as the budget is concerned, Henckels stands out here as well. This entire 15 piece knife set of Henckels is offered for the price you pay for a single Shun knife making it a good set to start with. The set has variations too, you can either get its 12, 15, or 20P set as well.
Back to the knives, this set by Henckels features amazing manufacturing for the price and they use stainless steel (lamination) on their carbon steel blades. As you can't expect SS steel core at this price, it is still worth more than its price. They are all single piece knives and all of them are nicely stamped but not forged.
Still, the set and especially the kitchen knives in it stands out in durability and sturdiness as well. Alongside, you get a good cutting length with a little bit better edge quality so it won't break. Also, you being a student should focus on your cutting instead of worrying about durability or construction too much. Moreover, the knives are easy to sharpen and their sharpness lasts decent enough.
Overall, the set is nicely built and well organized. You get a nice wooden block that houses all these knives. In this set, there are 10+ sharp knives and they all are dishwasher safe. The set includes an 8" Chef knife, an 8" bread knife, a 7" Santoku, a 5" utility knife with a serrated blade, a paring knife, honing steel, kitchen shears, and 06 pieces of 4.5" steak knives making it a complete package for home and school.
Pros
Dishwasher safe lightweight knives
Durable blade with a nice point on each
Stamped but comparatively easy to use knives
With a Sophisticated design and a comfortable handle
Cons
Could get more transportable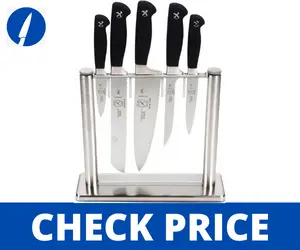 Alright, the first set was too big and it might create a mess for you if you don't like Housefull sets. So, if you are in search of comparatively short and precise sets without compromising on deliverance in any regard, Mercer has got you captured with their Genesis knife set which is a next-level set in terms of practicality, budget, deliverance, and even in durability. Let's take a detailed look at this set.

This 6 piece set contains a tempered glass block to keep all the knives in it and there are 05 different types of knives. Each knife has a different length of the blade and every knife is best at a specific set of cutting operations. However, it is still a nice simple set to fulfill all your cutting needs whether it's in school or for your home assignments. Another thing is, the set is easy to carry which I like the most.
Check the Review of Mercer Knives
Now, exploring each knife in terms of design, construction, and practicality. As far as design and construction are concerned, all these knives are almost identical with a little bit of variation. Mercer formed all these blades with carbon steel and they are nicely stamped. They are using german steel as it is a good selection to manage budget and deliverance at once. Although Japanese steel is the best in some respects, it is slightly more expensive than German steel.
So, the steel alone and stamping treatment brings good maneuverability that leads to an efficient cutting experience making it a nice start for culinary students and home chefs. A bolster is placed on every knife to provide a good balance when using it.
Also, the cutting line is pretty smooth and sharp enabling you to deal with all sorts of cuttings. It isn't so easy to sharpen but it can last for quite a long time. The set contains an 8" chef's knife, 8" bread knife, 6" boning knife, 5" utility knife, and a 3.5" paring knife as well.
Pros
Finest Non slip handle
Durable steel core
Sharp and balanced knives
Precise and a nice student set
Cons
Carbon content is a little bit higher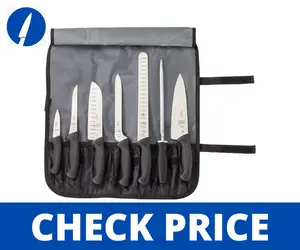 Mercer once again but this time their Millennia is here to do wonders which is a set of 06 to 07 knives and all these knives come in a carrying back which is the easiest one to carry that I like very much. The set itself contains a chef knife, a boning knife, a santoku knife, a utility knife, a paring knife, a bread, and a slicing knife. Alongside, you get honing steel to sharpen all these knives, and this all comes in a nice bag making it convenient to travel between school and home.
It is one of the budget sets and it still stands out pretty nicely. The handle of these knives is not a full tang one but it does provide a firm grip with a smooth and durable feel. The knife is pretty easy to hold with this Polypropylene handle. There isn't an official bolster at all, but Mercer has designed the handle in a way, so you won't feel tired whenever you use it. Still, it is not the coolest knife set to hold but it does get the work done. So, you can call it a good knife set to start with.
All these blades are stamped and they are all slim and flexible so you can find them easy to cut and flawless. Moreover, the cutting point of these blades is amazing and it works quite well on all these double bevel blades. You can use this set for chopping, slicing, dicing, mincing, or any sort of cutting. Every knife is a single piece knife and they all feature a quick blade with a razor sharp cutting line.
Pros
A good budget knife set
Nicely Stamped blades
Easy to use and clean
Sharp blade and simple design
Cons
Nothing as such to argue about
Victorinox doesn't need any introduction because it is a world famous brand in knives and kitchen accessories so I'm not going to waste your minutes on this. Victorinox has been into knife making for nearly 2 centuries. So, Let's get straight to the set. Victorinox Fibrox is a 7 piece knife set specifically designed for starter chefs and culinary students keeping their needs and budget in mind. This is a stamped knife set as you can't expect a forged one, and you need one.
This knife fleet contains a 10" chef knife, an 8" bread knife, an 8" carving knife, a 6" boning knife, and a 4" little paring knife. Alongside, you do get honing steel as well so you can learn and start resharpening these knives on your own. All these blades feature a nice design making them ideal for all sorts of cutting tasks.
Similarly, these knives feature a partial bolster with traditional Victorinox looks making it an easy to use set so you can maneuver it as soon as possible. Victorinox uses high carbon steel to manufacture these blades adding brittleness and hardness to their core but making them a little tough in sharpening for students. But, don't worry as you will surely get a week or more on resharpening lectures. Alongside, the overall knives are well balanced and comfortable to grip which is what you all need at the start of your career.
Pros
Easy to handle knives
Balanced and comfortable
Hard yet pre sharpen blades
A Robustly stamped knife set
Cons
Some may not like its bolstered grip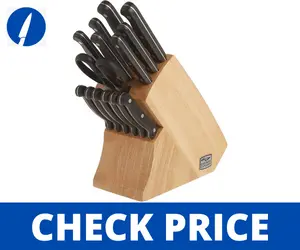 Here we go with another great budget set which now belongs to Chicago knives that are based in the United States claiming to sell Japanese knives but they don't. However, their knives are practical and almost promising except for a few ones. But, this essential knife set is what we like the most, especially the value you get for the price you pay. So, if you are on less than a $100 budget, get going!
Alright, it was a winter night when I first got to know about this set. I love it very much and ordered mine within the next week to review and get my hands on it. Since then, I have been in touch with these knives and I feel it is a promising knife set so that's why I would recommend it for culinary students with a strict budget.
Exploring the knives in the set, you will find an 8" bread knife with a serrated blade, a similar chef's knife, a pair of Santoku with 5 and 7" blades for each, a pair of utility knives with serrated blades of 4.5" each, a 3.5" paring knife and a peeling knife of 3". Along with these things, you will get a set of 6 steak knives, kitchen shears, and a wooden block to put all things inside.
All these knives are made up of high carbon steel providing a durable and hardened core to the entire blade. These knives are stamped and you will get a full tang handle as well to support the entire construction. These blades are quite sharp and you will get double bevel blades in all these knives which is enough for household and general cutting tasks if you maintain the knife and don't abuse it.
Pros
The cheapest culinary school set
With Stamped and hard blades
Double bevel knives blades
With Balanced and nice handles
Cons
Sharpness isn't that amazing though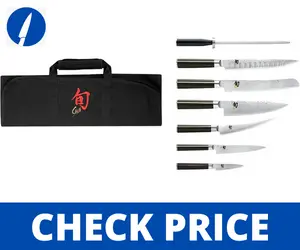 Well, I am not a big fan of premium and expensive knives especially if you are looking for a chef knife set for culinary school. But, if you still love it or you are about to graduate and start your career, the only set we would recommend belongs to Shun cutlery. This student knife set is some of the most expensive and premium knife sets I've ever experienced that I received as a graduation gift.
It is the only set featuring alloy steel and the only one here with VG Max steel incorporation. The entire knife set features anti rust construction and overall a very durable feel to strengthen its lifespan. It can surely last for your lifetime if you don't abuse it. Mine has been working pretty nicely and it has been more than 7 years. Yes, I sharpen it with care and it will surely last even after my coffin.
This isn't like the traditional bulky sets we usually get. It is an 8P knife set that comes with an iconic chef knife of 8", a 9" bread knife, and a slicer of similar length, a utility and a boning knife of 6" long blades along with a paring knife of 3.5". There is honing steel as well so you can take care of it yourself. Else, get it sharpened by a professional sharpener. Overall, the set is pretty delightful and pleasing.
You get a comfortable handle with D shaped construction and it is made up of the legendary pakkawood. Everything is durable and balanced so you can keep enjoying it while using it. So, it is the best knife set for a flawless cutting experience.
Pros
Appealing and a premium knife set
The nicest and sharpest cutting
Durable and a balanced blade
Anti rust blade and a nice design
Cons
A very expensive deal for culinary students
Frequently Asked Questions: