A knife or a set of knives is no less than an asset for a passionate chef as it is the main ingredient to make delicious dishes. You might have got the best kitchen knife or set for your tasks which is a very good thing. But, keeping your knives safe is as important as having the best knives in your hands. You should take the best steps on how to store kitchen knives & keep your kitchen knives safe and healthy.
If you are a chef who loves cooking or you want to be a professional cook to conquer your kitchen, you need good housekeeping skills at least for your knives. Normally, people just throw their knives in the drawers without cleaning them properly which could be risky as well. So, if you don't treat your knives well, your knives will also not happily work for you. Let's dive deeper into this guide.
Also Check: How to Prevent Knives from Rust
The 03 Best Ways How To Store Kitchen Knives
Well, there could be so many ways on how and where to store knives in the kitchen. But, we will specifically discuss the best ways instead of scratching your head for all possible ways. From now, you can start using any of these methods to store your knives safely and correctly.
Don't have a good Knife yet? Click here to see the best Japanese knives
Use RIGHT blocks or a Magnetic Knife holder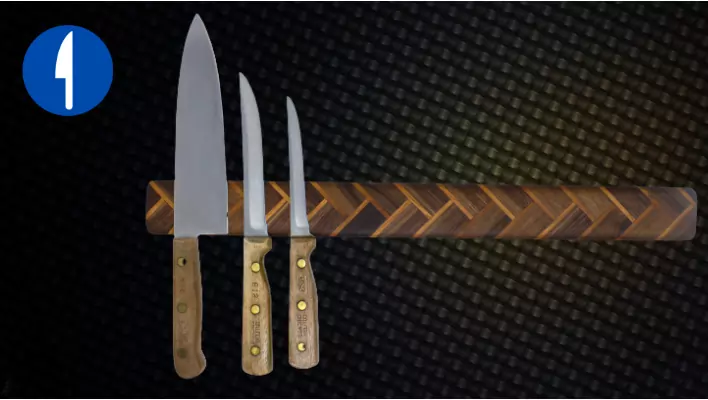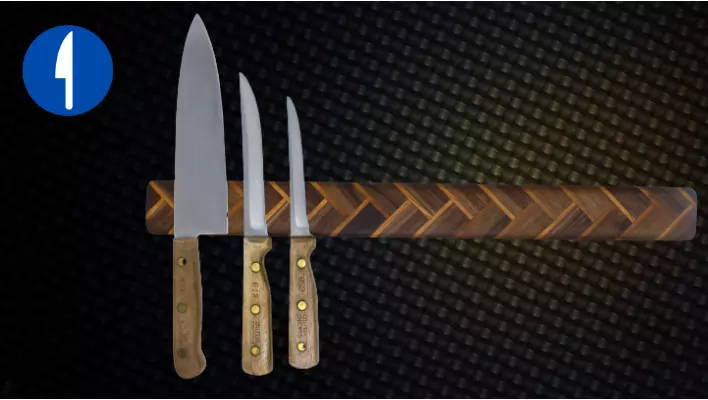 Alright, guys! Most of you prefer single knives to start your journey and the rest of the people prefer getting an entire set of knives instead of getting santoku, fillet, chef, or vegetable knives individually. If you have got a knife set, you must have got a block as well in which you used to keep your knives. Everybody has their own taste as some people love keeping knives in that block while others don't.
Now, if you have a limited number of knives preferably under 15 blades, you should opt for the knife block without any doubt, but it should be fine and durable. If you don't have one, you can get a knife block to better present your knives out there on the countertop. Brands like Shun, Mercer, Yoshihiro, Miyabi, and some others already provide you with a block mostly of bamboo or walnut.
Knife block features dedicated spots along with the slots to provide a great fit to your knives according to the thickness and width of that specific knife. Prefer getting a wooden block as they are economical and comparatively easy to carry and you can also adjust the opening of those slots if you have got a custom knife to store in it.
With the knife blocks, you don't need to get separate covers or sheaths for every single knife in your fleet and it protects your knife from rusting and oxidation if you keep them sharp, dry, and clean. However, the drawback of a block, the edge, and cutting line of your knife could get chipped if you put some pressure to insert it. So, prevention is better than cure. Otherwise, you can look for something else!
Magnetic knife holders could be a great alternative to kitchen blocks as they are completely open and there is no chance that you will accidentally penetrate them in the wood. A magnet is installed beside the stand and you can simply tap your blade that will grip your knife. It is fairly easy to use and cheaper than a block. However, a sheath for your knife is a must as it is completely exposed and someone can accidentally put his hand on the blade and there will be no mercy!
In-Drawer Knife Storage or a Portable Bag
Now, if you want to keep things simple and sleek, and you don't want to rush your countertop for knife blocks or drill the wall for magnetic strips or racks, in-drawer knife storage is the best solution then. It would also be best for you if you have dozens of knives of almost every type that work fine and you don't want them to get rusted. You can utilize your kitchen drawers under the countertop to organize things at their best and that too by preventing the chance of injuries.
A knife organizer is simply a rectangular box that you can put under your cabin or inside of your drawer without drilling or breaking anything. The best in-drawer knife storage comes with cork drivers to protect the cutting length and overall blade at its best. Moreover, the cork length helps get the most out of its space.
If your knives are dishwasher safe and you wash your knives in them, there's still a chance of rust. But, you can still protect your knives from rusting in a dishwasher.
This too has an alternative and it is the simplest thing you can do to store your knives. If you tend to travel here and there, you need something safe yet portable to store your knives. Nothing could be better than having a leather knife pocket bag that is just like you see in the hands of professional chefs. This also doesn't take a load of space and you are supposed to have several important knives in it.
Sheaths or Blade Protector | How To Store Kitchen Knives
Now, if you are building your knife collection from scratch, you don't need to get a knife block as you are not sure of the thickness, length, width, and weight of your current or upcoming knives that you may be unable to put them inside then. We are talking about sheaths and blade protectors, which are the best solution to store your single knives without breaking your piggy and extending your countertop. You can also use a combo of knife organizers and a layer of sheath.
Sheaths are very portable and easy to carry that are designed to protect your entire knife blade and especially it's cutting length. The handle is obviously naked here as well and if you are worried about your handle, first you should try getting a knife with a durable handle. Otherwise, you can wrap your handle in a sheet along with a sheath that will be protecting your blade specifically. Here is the guide covering the best kitchen knife sheaths that you need to look at.
Some Japanese knife brands provide you with quality knives that come with a sheath out of the box so you don't need to get them separately in that case. However, if you don't have one, you can get any sort of sheath or blade protector. Wooden and leather sheaths are also best and simple to use.
Boxes can also be used as a blade protector or guard and you can put your knives back after using and cleaning them. Leather sheaths are best in use while wooden sheaths are expensive and that is sometimes known as Saya.