Whether you are a home or a professional chef, you just need to know about the precious Kiritsuke knives. These Japanese knives may not be so common unlike a Chef or a Santoku knife, they still provide a plentiful range of cutting so you will find them worthy for your tasks. The Best Kiritsuke knives come later to explore.
A Kiritsuke is a type of knife that has multiple purposes to do. With this knife, you get a dedicated blade to get the precise and amazing slices out of your veggies or any sort of ingredient. In simple words, you can assume it as an alternative to yanagiba knives that are on the next level but come for an expensive price.
Back to the Kiritsuke knives, which are designed to provide precision cutting with its slightly curved cutting line through the ingredients pretty easily. If you are someone learning to make Japanese cuisine at your home, then Kiritsuke is a must to have a blade for your knives collection. Also, it is relatively easier to glide.
Traditionally, Kiritsuke knives used to feature a single bevel blade as they are Japanese-oriented. Nowadays, you will mostly get the blades with double bevels as they are a bit easier to maneuver. These knives feature a sword sort of tip on their slightly curved or sometimes straight blade.
Some people think you can use Kiritsuke specifically for Japanese cuisine but this isn't true. You can use this whenever and for whatever dish you are planning whether it be Western, Asian, or American cuisine. It just doesn't matter.
With this blade in your hand, you can use it to dice and slice through the veggies, meat, and fish. It can also be used to chop some vegetables, but Santoku does this job comparatively fine, however, you still have an option in this blade. In the start, you might find it a bit critical to handle, but using the pinch grip makes it fine.
With these things in mind, you will easily get the best Kiritsuke knives. For your ease, we have done this part to make your decision wisely. Just keep scrolling and you will surely get the best match for your hands. So, let's get into the list.
Best Kiritsuke Knives At A Glance
IMAGE
PRODUCT
SHOP

Overall Best Kiritsuke Knife

Dalstrong Shogun Series Kiritsuke Chef Knife

Benefits: An adorable Kiritsuke knife, Balanced and rust-resistant, Double bevel & easy to sharpen, With an optimized cutting blade

Shop Here

With a Super Sharp Blade

Zelite Alpha-Royal Series Infinity 9 Inch Kiritsuke

Benefits: Features a sharp cutting profile, Balanced & a precise Kiritsuke, Beautiful yet comfortable handle, Easy to sharpen & a sharp blade

Shop Here

The Well-Balanced Kiritsuke

Shun Premier TDM0771 Kiritsuke Knife

Benefits: A Well-balanced Kiritsuke knife, Razor-sharp and a straight blade, With an Impressive build & design, Generous & a productive Kiritsuke

Shop Here

An easy to Use Kiritsuke

Dalstrong Gladiator Series Kiritsuke Chef Knife

Benefits: Full-Tang & Comfortable handle, Sharp & a precise cutting blade, Easy to sharpen & anti-rust knife, Performs well at a reasonable price

Shop Here
Best Kiritsuke Knives | Our Best Picks & Reviews
Let's get started with Dalstrong's Kiritsuke which is a launch of 2017. This knife specifically belongs to the Shogun series of Dalstrong which is already a premium and one of the most prominent series ever launched by Dalstrong. Within the series, you will get a bunch of Japanese knives and all these perform impressively. However, the Kiritsuke is listed only in 8.5-inches long blades.
Dalstrong is using slightly modified AUS-10V which provides an exceptional build quality to the knife. Now, this specific Japanese culinary steel is used in its core only as it was more than enough to get the required durability out of it. The entire blade is packed with a Rockwell hardness of 60 to 62 HRC to make it a hard blade.
The knife itself uses a layered steel construction that comes incorporated with high carbon steel along with a stainless touch to make it a rust-resistant knife. Along with this, the knife is stain resistant so your blade will stay cleaner. Compared to a few other knives, it is a slightly flexible blade.
This tempered knife gets an above-average hardening and it's been manually sharpened through the Honbazuke method which is quite a reliable way. By the way, it is a double bevel blade that is processed on up to 12° of bevel for one of its sides. With this profile, the knife performs pretty decently and is easy to use.
To bring a western knife touch to it, Dalstrong integrates a tapered bolster which is not so impressive though but makes the knife pretty practical and maneuverable as per your taste. Also, the Tsunami pattern gives an adorable link and it also helps in presenting productivity due to its non-stick optimization by Dalstrong. The G10 handle is well-balanced and provides a controllable touch to the knife.
Pros
An adorable Kiritsuke knife
Balanced and rust-resistant
Double bevel & easy to sharpen
With an optimized cutting blade
Cons
Edge retention could be phenomenal
Zelite is the successor for this mighty list of Kiritsuke knives and it has almost the same launch date and its balanced weight makes it worth every single penny. Zelite here is focusing on quality rather than quantity. For that reason, you will get a standard 09-inch blade for its Kiritsuke exclusively.
In this knife as well, you get an AUS-10 steel blade which is lighter and durable at the same time. To bring an exceptional strength for the price, Zelite is using layered construction for this blad as they provide reasonably better longevity. Alongside this, the knife features a hardness of up to 60 HRC to present it nicely.
To get the most out of it, you need to resharpen and maintain it frequently and properly. For this, whetstones and sharpeners are recommended as they are economical and quite easy to get used to. Being a double bevel knife, this Kiritsuke comes with a pre-sharpened blade and it has a profile of up to 15°. However, you can resharpen it to 12° to take its maneuverability and sharpness to the moon.
To give it a full Japanese touch, the blade is designed in a little wider blade for its upper part which makes it relatively easy to glide. The contoured belly can serve you for chopping as well but the accuracy wouldn't be like a true Santoku. It has also got a bolster to bring exceptional stability and balance to the blade.
Here, the blade is razor-sharp from tip to end. The whole cutting line isn't straight but still provides a precise cutting experience at your fingertips. The beautifully designed pattern gives it a non-stick touch to make the cutting smooth and productive. Also, the handle is durable, riveted, comfortable, and well-balanced.
Pros
Features a sharp cutting profile
Balanced & a precise Kiritsuke
Beautiful yet comfortable handle
Easy to sharpen & a sharp blade
Cons
Edge retention could get even better
Any list of knives would be incomplete without Shun cutlery and we were feeling the same for this guide to the best Kiritsuke knives. Shun launched this Kiritsuke back in 2015 and it is amongst the lightest knives. If you skipped Zelite's Alpha Infinity Kiritsuke just due to its weight, nothing could be better than Shun's Premier knife.
Shun launched this knife for an 08-inch long blade which is a reliable and commonly used size for almost every kitchen knife. Though the knife is on the higher side for its price, it still gets the job done and we recommend it if you are having extra investment, ready in your hand. You won't regret its performance at any point.
TDM0771 is the only Kiritsuke for this list to use VG-MAX for its construction. This specific steel features the most outstanding results and it's been only used by Shun. If you were thinking about its price, this is one of the reasons behind it. This not only enhances its build quality but also improves its performance.
You will get an impressive performance along with a long-lasting blade that lasts for quite a long time. On its blade, Shun uses its impressive Tsuchime pattern that enhances both the beauty of the blade as well as your productivity. With the incorporation of polishing, the knife becomes luxurious even more.
With all these things in its blade department, the knife performs impressively to make your cutting experience quite better. For its purely straight spine which is a bit thick as well, the knife becomes easy to control and maneuverable. The cutting length is not purely straight, but sharpness and precision are fine.
The edge retention is comparatively better in this knife by the way. Alongside, the knife doesn't feature any sort of bolster that brings traditional vibes to it. Furthermore, this Premier Kiritsuke features a Pakkawood durable handle, that is neither created nor comes in a full-tang design. But, it still has a comfortable feel.
Pros
A Well-balanced Kiritsuke knife
Razor-sharp and a straight blade
With an Impressive build & design
Generous & a productive Kiritsuke
Cons
The price is slightly on a higher side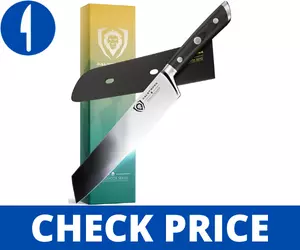 Dalstrong for the second yet last time with its Kiritsuke which belongs to the Gladiator series. This knife comes pretty lightweight right out of the box, and Dalstrong launched it back in 2017. If you are on a limited budget, this Gladiator Kiritsuke is a good and reliable deal. Kiritsuke comes in an 8.5-inch long blade.
This knife is made up of high-quality carbon steel to make it a fairly economical and budget-friendly knife. However, it has got a stainless steel lamination on its blade so it won't capture rust unless you are taking care of it. Other than that, the knife is pre-sharpened and it is also easy to sharpen.
It is not a heat-treated knife and this is why it isn't that hard. In this knife, you will get a Rockwell Hardness of up to 56 HRC that is taken through a bit of tempering so it would be strengthened and a bit hardened also. Overall, it is a robust construction considering its pricing and our expectations from it.
For its blade department, the knife is quite delightful when it comes to cutting and slicing specifically. It would be quite good for cutting fish and meats as it has a straight cutting length. This is a double bevel cutting blade and it features up to 18° for one of its sides that brings optimal performance to your fingertips.
Besides all these things, this Kiritsuke comes with an adorable and balanced handle that is simple and sleek. It has also got a bolster to optimize its balancing and let you deal with the longer sessions. The handle is riveted and comfortable.
Pros
Full-Tang & Comfortable handle
Sharp & a precise cutting blade
Easy to sharpen & anti-rust knife
Performs well at a reasonable price
Cons
Needs a bit of frequent sharpening
Frequently Asked Questions | Best Kiritsuke Knives
Summing Up the Best Kiritsuke Knives
Kiritsuke knives feature a thin, sharp, accurate yet a little curved blade along with the incorporation of a sword-like tip at the end of its blade. These knives make your cooking pretty easy and their handles make them quite easy to control. If you love to cook, this straight-edge knife is one of the best blades to grab.
Also, these knives hold their edge for quite a long time and they mostly come pre-sharpened right out of the box. Alongside, resharpening isn't a problem with these knives if you use Whetstones for it. Sharpening and maintaining any knife is necessary so you can protect it from rusting to enhance its performance and life.