A knife with the sharpest possible blade is the core thing for any chef to have in his kitchen. This helps in providing a seamless cutting experience and productivity as well. In parallel, there are many types of kitchen knives and each knife plays amazingly in its domain. Santoku knives can never be replaced by meat cleavers and deba knives can never be replaced by chopping knives.
As you are looking to get the best knives for chopping, we would like to come straight to the point. Chopping knives are considered the backbone of a kitchen as you have to deal with veggies multiple times a day. These knives are designed just to chop for a good deliverance instead of dealing with every sort of cutting like butchering, mincing, and dicing. Let's take a detailed look at our today's selection.
05 Best Knives for Chopping | At A Glance
IMAGE
PRODUCT
SHOP

Overall Best Chopping Knife

Shun Classic Blonde 7 inches Santoku

Benefits: A Double bevel blade, Stable & balanced knife, Productive & sharp blade, Easy to sharp chopping knife

Shop Here

For Home Professional Chefs

Global G-2-8 inches Chef's Knife

Benefits: Easy to maintain and resharpen, The Double bevel sharp blade, With a Superior edge retention, Maneuverable and easy to glide

Shop Here

For a complete western taste

Wusthof Classic Super Glider 8 Inches

Benefits: Delivers an exceptional sharpness, Precise and a strengthened blade, Comfortable and a balanced handle, Features a fantastic edge retention

Shop Here

Chopping Knife for Beginners

TUO Fiery Phoenix Series Vegetable Cleaver– 7 inches

Benefits: Balanced & bolstered knife, With an amazing sharpness, Easy to sharpen chopping knife, A double bevel contoured blade

Shop Here

The Cheapest Chopping Knife

Fam Cute 7 inches 3 Layer Vegetables Knife

Benefits: An amazingly sharp knife, The comfortable handle, Maneuverable chopping knife, An under the budget regular knife

Shop Here
05 Best Knives for Chopping | Our Best Picks & Reviews
Shun is the king of all knife manufacturers and there is no doubt. The level of performance and the zenith of luxury you get in Shun knives are always exceptional. These things make Shun a classic brand to meet the expectations and needs of a chef. We have captured you with their classic blonde for this guide.
This exceptional knife features VG-MAX construction and it has got an amazing core that never easily lets the knife break. Shun is using layered steel to make things durable right out of the box to improve its overall longevity in the long run. Alongside, this Santoku is a multi-purpose knife that can be used for all sorts of cuttings. However, once you dedicate it to chopping, better avoid cutting meat.
The blade has got a plain surface that comes loaded with custom engraving to bring a delightful look to the blade along with packed productivity so your veggies won't stick with the blade. Likewise, the knife has got a pointed edge at the end which makes it easy to glide the chopping knife out of the box.
Coming to its performance which is the main course of the day. This knife by Shun comes razor-sharp and it has got a double bevel blade. You will get a bevel of no more than 15° on each side for ease of sharpening and brilliant performance also. It has a straight cutting length to bring precision to chopping at your fingertips.
Along with all these things, Shun integrates a beautiful handle in this knife to provide you with decent stability and an overall balanced knife. You will get a nicely crafted Pakkawood handle which is comfortable and waterproof as well.
Pros
A Double bevel blade
Stable & balanced knife
Productive & sharp blade
Easy to sharp chopping knife
Cons
A safety sheath would be a plus!
Global captures this spot with its G2 chef knife which is going to be an all-rounder for your kitchen tasks. This knife was launched back in 2018 and it is performing very decently ever since. The forged blade profile takes its deliverance to the next level and this point along with many others encouraged us to have it onboard.
Being a global knife, this blade looks very professional and its aesthetic look makes it more luxurious. Praise aside, let's take a look at its performance and construction department. Global uses their flagship Cromova 18 steel to compose these knives. On top of it, the blade is encoded with a stainless steel layer as well.
G2 of Global is equipped with a modern design that looks quite attractive. Its pointed edge features superior edge retention and it doesn't break easily. Moreover, this has got a slightly contoured cutting length but a completely straight spine for better maneuverability. Alongside, the cutting length itself is quite sharp.
Also, it is a double bevel blade to provide a sophisticated sharpness at your fingertips. The precision is already more than enough and you can take detailed cuts and chopping would also be a nice experience with this knife. Furthermore, the handle is also metallic and its balance is completely on the next level.
Pros
Easy to maintain and resharpen
The Double bevel sharp blade
With a Superior edge retention
Maneuverable and easy to glide
Cons
The feel would be much better with a partial bolster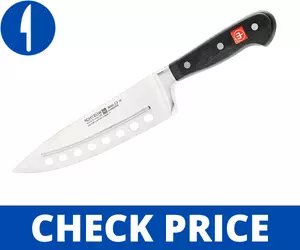 We are not going to limit this guide just to Japanese knives but western knives should also be on the list. This is why we have got you with the Wusthof Classic knife which is a western knife that was launched back in 2014. This mighty knife belongs to the Classic series of Wusthof which houses many impressive knives.
Wusthof is using Precision edge forging technology to make these impressive knives and this brings prosperous durability to its entire construction. This compelling knife uses High carbon steel with some stainless steel properties. Not just that, but it is also going through proper heat treatment as you will get a Rockwell hardness of around 59 HRC in these knives.
These things make it an impactful and durable knife. This is further reflected in its edge retention and overall performance. Its edge retention is now more stunning and it will also improve the rest of the cutting for sure. The stainless steel layering prevents the blade and overall knife from rust and corrosion.
Being a Wusthof knife, this baby gives a complete look of a western knife. These knives come with a contoured cutting length and the spine is also not straight. Now, it does not affect the precision but it could get quite better when compared with the Japanese knives. The thickness of the blade also plays a key role.
Besides all these things, you will get a bolster for a comfortable feel and a balanced performance of the blade. Instead of the Tsuchime pattern of Japanese knives, this knife features air packets of large sizes to prevent ingredients from sticking to its surface. Moreover, the handle is durable and it works great here.
Pros
Delivers an exceptional sharpness
Precise and a strengthened blade
Comfortable and a balanced handle
Features a fantastic edge retention
Cons
Air packets are sometimes hard to clean
It is not meant for left-hand chefs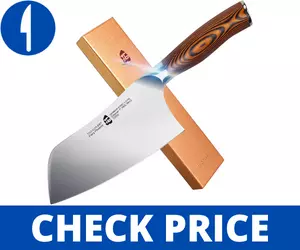 Vegetable cleavers are also very practical when it comes to chopping vegetables with precision. This is not a truly forged chopping cleaver but its build quality is still far better than traditionally stamped knives. TUO is using german high carbon steel to compose this knife and it has been treated through precise tempering.
You will get a Rockwell hardness of 56 HRC and you can sharpen these knives easily. It has a double bevel blade although its bevel is large it still gets the job done. This knife is equipped with an 18° bevel on its one side making a collective angle of 35° and above. You should use Whetstones for these knives.
Look-wise, it gives a Nakiri profile with a heightened spine. The knife is overall balanced and its cutting line is slightly contoured to make it easy to glide. We would recommend using wooden chopping boards to protect the knife from chipping. Also, the edge is nicely pointed and the spine corner is rounded here.
Being a Chinese cleaver, it comes equipped with a full yet optimized bolster to bring meaningful thumb support and provide better usability. It also helps in making the knife balanced and it has got a nicely designed wooden handle that is comfortable and durable though. It is honestly a very nice knife for this price.
Pros
Balanced & bolstered knife
With an amazing sharpness
Easy to sharpen chopping knife
A double bevel contoured blade
Cons
The durability could be even better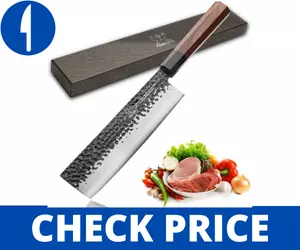 Here we go with another decent yet under-budget vegetable chopping knife which is going to be a nice addition to the best chopping knives. Famcute launched this knife back in 2018 and it has been a popular knife for years. You will get this knife in several versions in terms of its blade size and type. The 7" version is better here.
Fam Cute uses high carbon steel in this blade to compose a better knife within a price limit. Now, this knife is obviously not meant for professional chefs, but beginners, students, and casual chefs can surely go for it. The exact composition of steel is not clear but it has a Rockwell hardness of 57 HRC which is very good here.
This is a 7" long blade which is enough to deal with the veggies and their chopping. It is an everyday knife and features almost a straight blade and a straight spine as well. The Tsuchime pattern looks great here and it enhances productivity at the same time. Overall, its maneuverability is very exceptional.
Last but not the least, though it is an entry-level knife and we can't expect a plethora of features, Fam Cute still tries to make basic things decent and gorgeous. The handle of these knives is simple but balanced and it has got a D-shaped profile. Its complimenting Rosewood design also makes it comfortable.
Pros
An amazingly sharp knife
The comfortable handle
Maneuverable chopping knife
An under the budget regular knife
Cons
It is not a professional knife at all!
05 Best Knives for Chopping | Frequently Asked Question
Summing Up the Best Knives for Chopping
Every chef has to deal with chopping every day and it requires the sharpest and the best chopping knife to get things done nicely. Chopping knives could be the greatest investment for you due to the impressive sharpness and design of these knives to ensure precision and a productive chopping experience out of the box.
By choosing the best knives for chopping, you can make your life easier and avoid complicated cuttings. We helped you in bringing the best chopping knives so you can save your time and pick the best and sharpest blade for your further chopping tasks. Just take a look at this guide and explore the knives yourself.