Welcome to an exclusive & well-explained comparison of Santoku VS Chef Knives!
If you are searching for Santoku VS Gyuto Knives out there, we are assuming that you aren't already having any Japanese knives. In fact, you are planning to get a Japanese blade but you don't know which is the exact knife for you?
To be honest, there are several types of Japanese knives waiting to hit your countertop. But, not all of these may have been meant for you! So, finding out the exact match would be a headache. Now, if you aren't aware of terms like Gyuto, Santoku, Deba, Nakiri, Sujihiki, or kiritsuke, you couldn't find one exact blade.
Also Check: Deba VS Fillet Knives
So, all these non-English terms that we have used are the names of popular Japanese knives. Every single knife comes with a unique sort of blade and different blades are meant for a different kind of cutting. Some of these knives aren't pretty common, but Gyuto, Santoku & Nakiri are truly universal knives. Also, there are many brands covering chef knives such as Miyabi and Yoshihiro. You can find a couple of them for under $100. But premium knives perform better than cheap knives.
The type of steel and quality of manufacturing varies from brand to brand, but their use case would always be the same. In some cases, several types of knives are designed for a different composition, especially when it comes to universal and all-rounder blades. As not all chefs like to keep several knives for their tasks.
Gyuto and Santoku have been two popular Japanese knives for a long time. Both these knives are recommended for chefs with any level of experience either a professional or home chef and even a newbie. For a nice understanding of both these knives, let's take a detailed look at Chef VS Santoku knives comparison!
Comparison of Santoku VS Chef Knives | Best Japanese Kitchen Knives
To make this guide detailed, informative yet joyful, we have divided this entire discussion into some remarkable points for your ease. Every aspect of these knives will make you clear about your further selection. In the end, you will get to know some common questions in the niche along with product recommendations.
Build Quality & Design: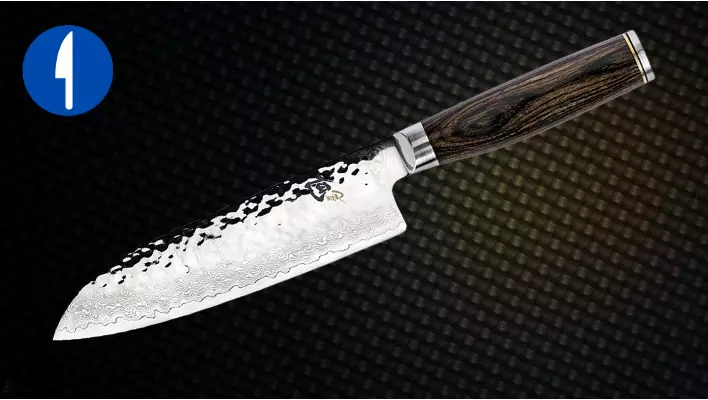 Whatever knife you get; the first point to consider remains to check its build quality. You can get to know about this with the production method that's used for the production of that specific knife.
Both in terms of Gyuto and Santoku knives, you will get the same durability if both your knives belong to the same series of that brand. Nowadays, several brands are producing so-called Japanese santoku & gyuto knives. But, you should opt for the ones who use AUS10, VG10 sort of culinary steel as they are outstanding.
Brands like Shun, Yoshihiro & Dalstrong use the forging technique to form Santoku and Gyuto from layered steel. Layered steel composition enhances durability and adds ease of sharpness to the blade. Both these things later reflect in the performance and further enhance their overall durability. Not all chef and Santoku knives are forged but they're quite better.
This not just enhances the durability of the knife, it also adds practicality to the knife in terms of balancing. Both gyuto and santoku feature an extended core that later adds robustness and also protects the knife from rusting. Some may provide a complete traditional blade especially if they are handmade.
Cutting & Performance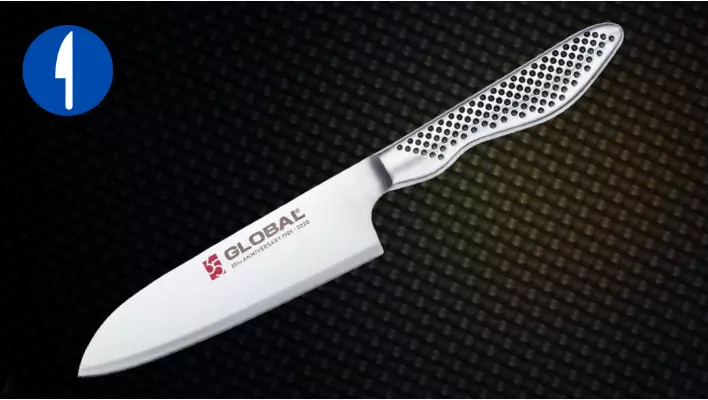 The most luxurious part of a knife is its cutting that makes or breaks your experience. If a knife lacks a cutting part, it isn't feasible at all. So, to overcome this part, make sure your santoku or gyuto gets an exceptional sharpness. Performance-wise, both Santoku & chef knives offer their own pros and cons.
Though both santoku and gyuto could be used interchangeably, it doesn't mean you should expect this all the time. The level of performance a santoku delivers for chopping, slicing and dicing couldn't be easily achieved by a gyuto.
Because, a Santoku is specifically meant for Chopping, Slicing, mincing, and dicing & gyuto for vegetable cutting, disjointing, and cutting of meat and dry fruits. You couldn't get this precision level with a Gyuto unless you are an expert chef with experience of several years.
Santoku holds a slightly round belly that is quite reasonable for rock motion & is ideal for chopping sort of cuttings as it doesn't need to be lifted up again and again. This position was possible with previous versions of gyuto, but brands are now making rocking santoku but it gets a slightly modified blade.
Where santoku is designed for chopping, a gyuto lacks this part in some cases. You could rock a gyuto with its tip but it requires some practice to get fine cuts. However, a gyuto could easily be used for raw meat cutting that may not be easily possible by a Santoku except for soft and boneless meats.
Sharpness & Resharpening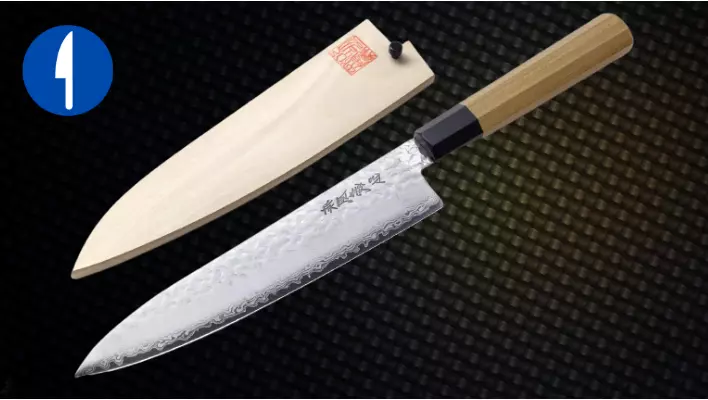 Now, in terms of sharpness, our verdict is the same as we had for build quality. It mostly depends on the brands & series you pick. For example, Dalstrong's Shogun series features a tremendous sharpness for their chef knives exclusively, but you won't get such sharpness in their santoku knives as we have in Shun Classic.
However, it doesn't totally depend on the brand itself. Some technical points determine the sharpness of a blade. For gyuto knives, they are considerably sharper than santoku knives due to their long yet versatile blades.
But, when it comes to portability or productivity, Santoku took over gyuto. Though they don't feature as much sharpness as a Chef knife, their controlled blade length could lead you to get an exceptional performance much like a gyuto. However, the blade tip will always be sharper in a Gyuto as compared to a Santoku.
As far as resharpening is concerned, this depends on the resharpening tool, expertise, and blade's orientations as well. Now, Santoku knives are considerably time-consuming for resharpening due to their longer blade especially if the spine is thin. You have to take long and consistent strokes that won't let it break out there at whetstones. However, this could be skipped with machine sharpeners.
Moreover, the sharpness of a knife also depends on the bevel of its blades. Both Santoku and gyuto mostly come in a double bevel blade except for limited brands.
However, the results are much better at a whetstone as compared to machine ones. You don't have to take long strokes & the bending risk is also pretty minimal for Santoku knives. And, this is the spot where Santoku knives took over the gyuto for their long-lasting and ease of sharpness.
Handle & Balancing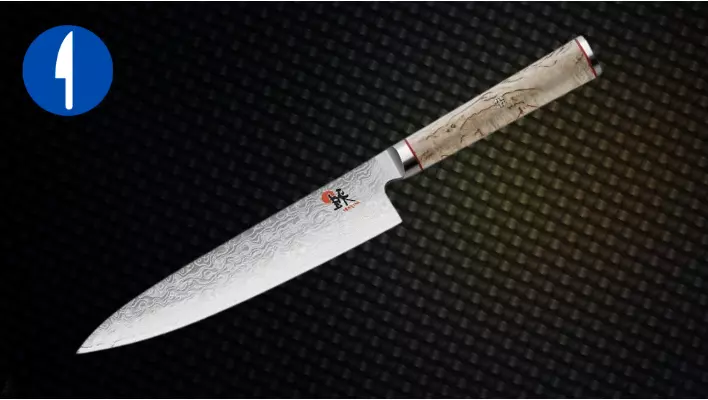 This is another interesting yet mostly neglected factor of a knife. It should be in your direct considerations due to its direct contact with your hand. Anyways, a santoku comes with a considerably balanced handle while gyuto comes with an extended handle with a bulkier weight. That's specifically for the best options.
This may not be the necessary case all the time, but santoku knives are nicely balanced from edge to handle. Chef knives, on the other hand, don't feel lightweight as their handle is lighter than the rest of the blade. Again, all these things depend on your preferences. A simple bolster could optimize this part.
Lastly, you will get handles both in wooden and also in plastic material. Most of the top-notch santoku and gyuto's come in a pakkawood build along with lamination on top of that. However, you will get metallic handles for global chef knives, and plastic textured handles for Shun Sora, & mercer's gyuto knives.
Length & Weight
This is a completely different part both for santoku and gyuto knives. Just to make things simple and short, let us tell you briefly. A gyuto knife comes with a longer blade that could vary from 08-inches and goes up to 10 and 12-inches. Santoku on other hand doesn't exceed 08-inches in length for its cutting blade.
You could get santoku from 05" but these knives hold a thicker spine and a wide blade as compared to a gyuto. In some cases, you also get a bolster in santoku and even in chef knives but that's a rare case. The shorter the blade length the easier it will be to control and maneuver. And, the longer the blade, the more versatile it will be. The chef knives are slightly bulkier than a Santoku by the way.
The Pricing & Budget
One last thing that will make a clear difference for you is their pricing analysis. Here, things are almost different but it might also be the same in some cases. Chef knives are obviously more expensive than Santoku knives due to the extended amount of material and carbon steel in their forming. Plus, they are sharper, common & versatile. But, you can still find them under budget.
Santoku knives, on the other hand, may come at a slightly less price than a gyuto, but they will be almost the same or expensive sometimes. If you opt for Shun santoku, you will get them at a slightly premium price as compared to other ones. But, their knives ultimately deserve this price without any doubt at all.
Santoku VS Chef Knives | Our Recommendations
Though we have already covered dedicated articles both for Santoku knives as well as for chef knives also, we are still adding some of our recommendations here. So, you won't have to spend more time. However, we do strongly recommend skimming both guides to explore more about these knives.
Dalstrong's Durable 07-inch Shogun Series Santoku Knife
Shun Culinary Professional 07 inch Premier Santoku Knife
Global Cutlery 05 Inch Classic Santoku Knife for small hands
Yoshihiro VG-10 8.2-Inch Gyuto Layered Japanese Chef Knife
Miyabi 8-Inch Chef's Single Bevel Stainless Steel Gyuto Knife
Global 8-Inch Model X Chef's Knife with signature handle
Also check: Best knives for Home Chefs
Santoku VS Chef Knives | Frequently Asked Questions
Summing Up Santoku VS Chef Knives Comparison
Japanese kitchen knives own a vast territory in terms of usage and style of course. And, if you are new to Japanese knives, these types of knives will make you complex when it comes to selecting the exact match for your tasks.
Santoku offers a considerably smaller blade that is though packed with deliverance and it is a nice deal for chefs with smaller hands. Chef or Gyuto knives are the Japanese versions of western chef knives that are offered quite in longer blades. However, both the sharpness & versatility are top-notch in both these.
Both these knives are used as all-rounder or universal knives, but these aren't meant for rough and tough tasks at all. Their sharpest blade depends on the brand you opt for & they will surely make your tasks easy & pleasant by increasing your productivity. They are versatile & do perform their jobs satisfactorily.
As this isn't everyone's cup of tea; we have created this entire list that covers almost every aspect of Chef VS Santoku knives. With this guide, you are more likely to get to your ideal weapon without worrying or compromising at any point. Comparison Of Santoku VS Chef knives