The chef knives are the most important member of any kitchen arsenal. You may neglect the need for any other type of knife, but a chef knife has no substitute at all. With the chef knives, you can deal with almost all sorts of cutting tasks (except for a few ones) and you can also call it a universal knife that you will surely find in every kitchen around the world. Professional chefs also prefer gyuto knives.
Chef knives are made to provide a convenience ship to chefs looking to get their hands on cutting, slicing, chopping, dicing, and things like mincing. Compared to other knives, these knives feature a longer blade along with good sharpness. But, Japanese chef knives are spectacular due to their versatility and manoeuvrability which is a dream of every chef out there.
Now, many brands are providing gyuto knives to the chefs but Yoshihiro chef knives are pretty amazing. Yoshihiro has been making their Japanese knives for more than a century and they still follow traditional forging methods in their knife-making processes. This gives them an edge over their competitors as Yoshihiro gyuto knives provide a strengthened and sharpened blade. Unfortunately, there are no chef knives under $100 when it comes to Yoshihiro but we have linked to that guide for you.
Yoshihiro chef knives aren't only meant for professional chefs, many casual and home chefs also love to use their blades as Yoshihiro knives are easy to manoeuvre. With exceptional balance, a comfortable feel, and a full tang handle, Yoshihiro chef knives provide you with great precision and a quality cutting experience. Click here to find Miyabi Chef knives featuring great handles. There's no way to compare Yoshihiro with the Cheap Japanese knives.
Along with these, many factors make Yoshihiro Gyuto knives better but we can't include every single one of them here. As we are limited on time, let's dive deeper into the list of best Yoshihiro chef knives to be used in 2022.
Yoshihiro Chef Knives At A Glance
IMAGE
PRODUCT
SHOP

Overall best Yoshihiro Gyuto knife

Yoshihiro NSW 46 Shitan Chef's Knife

Benefits: Sharp and a durable knife, Straight and a sharp blade, An extraordinary performance, Balanced & a versatile chef knife

Shop Here

The Ice Hardened Chef's Knife

Yoshihiro Ice Hardened HCS Gyuto Knife

Benefits: A razor-sharp cutting blade, Effortless cutting experience, An amazing edge retention, A balanced & durable handle

Shop Here

Double bevel thick Chef Knife

Yoshihiro Layered Gyuto Knife Ambrosia

Benefits: For a Versatile cutting, An Easy to maneuver knife, Precise & a hard cutting blade, A decent edge & balanced handle

Shop Here

The knife with a Full Tang blade

Yoshihir VG10 16 Layer Gyuto Chef Knife

Benefits: An exceptional sharpness, Precise and smooth cutting, Well Balanced and comfortable, The Best choice for professional chefs

Shop Here
04 Best Yoshihiro Chef Knives | Our Best Picks & Review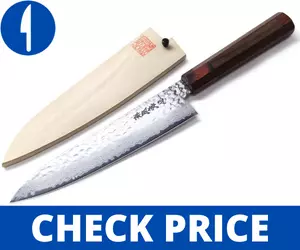 NSW 46 of Yoshihiro is an emerging knife that was launched back in 2012 and it has been playing in the market since then. Yoshihiro featured this guy in up to 03 sizes that include 07, 08.25, and 9.5-inch versions of it. Depending on your preferences and style, you can pick any of the given sizes to feel the taste of NSW.
Yoshihiro is using their flagship VG 10 steel in this knife with very strategic yet durable incorporation so it would never fall apart. They are using layered steel with manual forging along with a hammered touch on top of its blade to make it meaningful and super outstanding. You will fall in love with its performance.
This knife features a Rockwell hardness of up to 60 HRC that is supposed to provide you with a flawless cutting experience without being stuck. With this intensive hardness, Yoshihiro has been able to develop a thinner yet sharper blade right out of the box. Of course, it is an anti-stain and anti-rust blade for sure.
Throughout this blade, you will get a slim and thin blade starting from its spine and extending towards its cutting length as well. This helps in providing a seamless and precise cutting as its cutting line is quite straightforward to make it more futuristic. The sharpness and double bevel blade make it quite more delightful.
Last but not the least, NSW 46 of Yoshihiro gets a tough blade that is supposed to last longer. Likewise, it comes with a pointed cutting tip which isn't fragile at all. For its handle, though it is a durable one, it is not that exceptional as it is not a riveted handle at all. However, it does give a balanced and comfortable feel.
Pros
Sharp and a durable knife
Straight and a sharp blade
An extraordinary performance
Balanced & a versatile chef knife
Cons
The blade height could be better
Heading towards the second contestant of this mighty list of the best Yoshihiro chef knives and we have got you with their ice-hardened chef knife which is a new thing for Yoshihiro, being a traditional manufacturer. Yoshihiro launched this baby back in 2013 and it is a relatively bulky knife compared to NSW 46 and a few others. By the way, It does not come in any sort of color or size variation at all.
Usually, Yoshihiro knives are a great blend of Carbon or stainless steel along with VG10. This time, however, Yoshihiro is featuring AUS-8 along with the incorporation of Molybdenum content to get the most out of forging and ice hardening. With this procedure, the knife is now more resilient, so it would reflect its cutting performance while having a consistent cutting on your cutting boards.
Still, Yoshihiro ensures a hardened blade even after being treated through ice-hardening. This knife features a Rockwell hardness of around 60 HRC to make it an attention to detail knife out of the box. So, construction, strength, and durability are never compromised in this chef knife. The edge retention is also quite superior due to a slightly thinner profile for its cutting blade.
Being a double bevel blade, this guy provides an easy to maneuver design to ensure an effortless yet precise cutting. The sharpness is also at its best to make things delightful even more. Thanks to its razor-sharp blade which is also easy to resharpen if you opt for the right sharpeners and whetstones. The knife initially gives Santoku feel, but it is not that one.
Pros
A razor-sharp cutting blade
Effortless cutting experience
An amazing edge retention
A balanced & durable handle
Cons
The finish could be much better
The next Yoshihiro chef knife on this list was born in 2010 making it some of the senior blades ever launched by Yoshihiro. This knife comes in up to 03 different sizes for its blade that includes 07, 08.25, and a 9.5-inch version of it. Also, it does not come with any sort of color preference which is a good thing to some extent.
This time, Yoshihiro is using VG10 to compose this exceptionally strengthened blade to bring you a decent life. The blade itself is both forged and hammered to make it free of all stresses, so it won't be prone to chip or rust. This also has a good blade profile which is not thinner as such but still provides a good precision. You will get a good balance between strength and hardness along with a fair edge.
Being a construction of VG10 and stainless steel, this knife doesn't rust and doesn't catch stains frequently. Also, don't ever wash any of your expensive knives in a dishwasher as it would be a graveyard for your knives. Instead, prefer manual washing and must dry it out so you can prevent your knife from rusting. Overall, this knife is pretty much lightweight and easy to maneuver as well.
Due to its impressive maneuverability and sharpest blade, the knife is supposed to cut every sort of ingredient either by chopping, dicing, slicing, or anything else. Of course, it is not officially meant for boning or filleting. Again, this is a double bevel blade that doesn't lack cutting or performance at all. Overall, the knife provides a balanced, durable, and maneuverable handle with a packed comfort.
Pros
For a Versatile cutting
An Easy to maneuver knife
Precise & a hard cutting blade
A decent edge & balanced handle
Cons
Comparatively an expensive knife
Here we go again with Yoshihiro's layered chef knives and we have got you with another VG10 stainless steel knife that was launched back in 2010. If you are looking for a size other than 08-inch, this guy is offered in 07-inch, as well as in 9.5-inch of the blade along with the standard one. However, all these are versatile.
This knife features 16 layered construction to make it appealing and durable both at the same time. To be very honest, this specific knife has the most elegant blade when it comes to its looks as Yoshihiro is working on a detailed Tsuchime pattern to enhance both the productivity and looks as well.
Similarly, this knife has got a slightly wider blade that provides a meaningful cutting experience and also prevents the ingredients from sticking to its surface. Likewise to any other blade, this one is also an anti-rust blade that features a Rockwell hardness of a bit more than 58 HRC as a balance between strength and stiffness.
The blade keeps its edge for a long time and doesn't chip until you are dealing with the right ingredients in the right way. Its cutting length is straight to provide you with a reasonably good precision throughout your cutting sessions. Other than that, you will get a partial bolster that is designed to make it a balanced knife. The handle is riveted, comfortable, and full tang in construction.
Pros
An exceptional sharpness
Precise and smooth cutting
Well Balanced and comfortable
The Best choice for professional chefs
Cons
The handle could be quite improved
Yoshihiro Chef Knives | Frequently Asked Questions
Summing Up the Yoshihiro Chef Knives
Yoshihiro gyuto knives always refer to the top-level creation when it comes to Japanese cuisine. These knives could never be skipped as Yoshihiro is adding a lot of effort to make you and these knives successful through traditional forging techniques. Their knives are meant for chefs of any skill set, either a complete beginner, a casual chef, or a chef with professional hands and expertise.
They have a clear idea about the requirements and expectations of a chef from their blades. This lets them design and craft better knives that don't disappoint. With these versatile chef knives in your hands, you will get a tremendously better cutting experience as it comes packed with manoeuvrability, precision, and sharpness. All these knives provide a flawless cutting experience with ease of use. If these knives aren't under your budget, you can see our guide to the budget Japanese knives.