To get a good knife for your kitchen, you are likely to prefer Japanese knives due to their enhanced cutting performance and impressive lifespan. As Japanese knives are very productive and manoeuvrable, there's an increase in demand, and tough competition is also happening across the brands of Japanese knives. And, Kamikoto is one of those brands competing for a lot!
You're here on this Kamikoto Knife review article because you may have heard of this brand and now want to try it. In this guide, you will know how Kamikoto knives perform, how they feel and which Kamikoto knives are the best. The most common question we received is, Are kamikoto knives good & Are these knives made in Japan?
Don't worry, as we'll respond to every single query you'll have in your mind regarding Are Kamikoto knives. So, let's get into this Kamikoto knife review right now!
Kamikoto Knives In-Depth Review | Everything You Need to Know
Brand Background & Location
Let's begin with the background before getting into the details. Compared to other brands like Shun, Yoshihiro, Miyabi and even Dalstrong, who provide detailed and straightforward information about the brand, this isn't the case with Kamikoto Knives! We aren't saying this is extraordinary, but they are missing important things like their launch date, exact location and a few other things.
A multinational brand must provide such things so their potential customers and the public can know them anytime. However, we know that their headquarters are located in Nakano, Japan. That would make people consider them a pure Japanese brand. But, this is just a marketing tactic and nothing else. They are also located in Yanjiang city of China, where they make their blades. It seems like they are trying to present them as an Original Japanese knife manufacturing brand, but the presence of their Workshop in China reveals everything!
To be very honest, many people may know this, but they still get their knives and even set them for a couple of reasons. First, they still provide a good knife that cuts like a blade and feels balanced in their hands. Now, we didn't mean they are fake or that they don't make a single original Japanese knife. You will still get a few Original Japanese knives made in Japan. So, hold tight and head towards the next section!
⭐⭐⭐
Kamikoto Knives Portfolio | What Knives They Offer?
When looking at the Kamikoto Knives portfolio, some of you would be shocked to know that they manufacture original Japanese knives, but that's the only two knives in their entire range! That's called Ganjo and Genten. The rest of the knives are close to the Japanese style in appearance, blade, design and sharpness. But, they all aren't physically manufactured in Japan.
Across their fleet, you will see several knives. This fleet mainly includes the Kanpeki and Kuro series. Other knives are primarily offered in terms of blade type, such as steak, Santoku, Yanagiba, Cleaver and chef knives. A few other series may include Ryoshi and Senshi. But, these 04 series are the most popular and productive ones.
⭐⭐⭐⭐
Knives Design & Build Quality | Kamikoto Knives Review
Some people are identical towards a particular brand. They never opt for the other one, no matter what. While there are others, they just mind their business with the quality product of whatever brand. If you are from the first group of people, Kamikoto knives aren't meant for you, and you should opt for the big brands like Miyabi, Shun and Yoshihiro. But, if you just need sharpness, design and usability, you should never miss Kamikoto!
Kamikoto knives are excellent yet sleek when it comes to design. All these knives we mentioned on the table feature an excellent presentation due to a solid, beautiful wooden box. These knives feature a bright blade that is corrosion resistant and features a good finish. Due to forged construction, you don't find any joints, but you may get a bit of tolerance in grinding, which is only noticeable if you take a significantly closer look at it. So, full marks on its knife Design.
⭐⭐⭐⭐⭐
Now, the blade isn't the only thing that is sleek; the G10 handle also makes Kamikoto knives pretty unique. The knives feel comfortable in the hands, enabling the end user to hold the knife for a long time. Kamikoto gives a full tang and riveted handle, but it depends on which series and knife you pick.Similarly, some blades may come with a bolster, and some may not. But, you will mostly get a balanced and lightweight feel to make things easy to maneuver.
Blade Performance | Are Kamikoto knives good?
Let's head towards the business: the blade and its performance! Usually, this part makes or breaks your morale and motivates you to choose or drop any specific knife. Imagine a knife giving all luxuries but sucks in performance; what would you do then?
Let me say it clearly.
A brand's performance is obtained through a knife and then a series of knives. It's not always the performance of a brand but the performance of a specific knife in some cases. For example, Shun knives are 95% good at their blades' deliverance and performance, making us call it the most outstanding Japanese knife manufacturer.
Similarly, not all Kamikoto knives are good when it comes to long-term performance, but it's Kanpeki and Kuro series are what we can rely on. These two series are great at long-term performance because their blades won't dull.
Now, the blade version isn't entirely its sharpness; several other things collectively enhance or affect the overall performance. This includes the length, width, weight, bevels and even the way you pick the knife also matters. Some Kamikoto knives are heavy, while some are rightly balanced to be added to the list of Japanese-type kitchen knives.
If you pick Kamikoto's Santoku, heavier than usual, you can't manage it initially. Later, if you can handle its weight which is usually due to its blade thickness, you may consider it a good-performing knife.
Similarly, the single bevel blade will perform better than a double bevel blade, but it would need the expertise to resharpen it properly. Otherwise, it is going to affect your productivity. In a nutshell, the top 05-06 knives mentioned above are practically performing. Some would be good at veggies and meat, while others may not!
Overall for Kamikoto, we won't say it's the worst nor the best performance out there! The best Kamikoto knives deliver a good performance and last for a good time in sharpness and edge. But, this is not the case with every single knife that Kamikoto makes!
⭐⭐⭐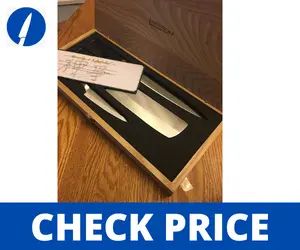 Kanpeki is one of the most successful Kamikoto knives. We also love using it every time. Kamikoto put their best to make it a charming knife, and you can guess that with its unique box. The presentation is fantastic as you will get three different knives in a delightful gift box. So, if you are planning to give a knife to a newly graduated chef, this would be a great thing, although it isn't meant for commercial chefs.
Build & Quality:
These Kamikoto Kanpeki knives are single bevel which means they feature an outstanding sharpness out of the box. If you need a razor-sharp knife that doesn't frequently dull, you should try it. The cut's precision and sharpness would be significant enough to slice anything effortlessly. Whether you cut veggies or take slices for sushi, this bad boy would complete the job nicely. Kanpeki is a dishwasher safe knife, but you should always wash it manually.
What's In the Box?
The set contains up to 3 knives, and every knife is different from the other in terms of size and type. In this deal, you will get a chef, a paring and a Sushi knife that all come with a gorgeous black color featuring a stunning look without being riveted. The steel bolster adds more value to both its beauty and also to its usability. The paring knife is smaller, but it is slightly heavy.
Our Verdict:
Overall, the knives are good on the table and ingredients. But, not everyone is used to single bevel knives as these knives require extra care to resharpen them nicely. The best would be if you could use a whetstone sharpener or get it sharpened professionally. If this isn't a big deal, you should never miss it. But, if sharpening isn't your cup, better opt for another option.
Pros
A good presentable knife set
Single bevel sharp blade
Balanced & a versatile knife
Claimed as a dishwasher safe knife set
A Good knife tool set for home chefs
Cons
Choice of Steel could be relatively better
An expensive knife set to some extent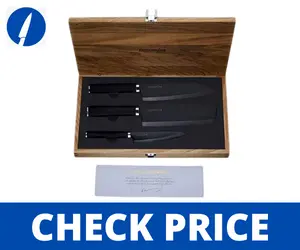 The Kuro series is the second best series from the Kamikoto knife considering its pricing and value. Kamikoto is often criticised for giving a fancy name to their knife steel, and the same happens with this series. The Kuro series is made up of Zirconium dioxide steel, a comparatively hard material, but it still belongs to the family of high carbon steel. Kuro is famous for being Kamikoto, one of the most rigid knives with excellent edge retention.
What's In the Box?
It is also a set of knives in which you will get up to 3 knives. The set contains a Utility, Santoku and a Chef knife of 5, 7 and 6.5-inch long blades. They are all impressively sharp knives that come in a lovely presentation box. According to Kamikoto, this knife set is meant for professionals but is not limited to professionals. If you are a growing chef with improving cutting skills, you can head towards it to make it your first great weapon.
Our Verdict:
Features a double bevel blade to resolve the problem of resharpening. You can resharpen this blade with the help of a machine sharpener as well, but you still need to put some focus while doing that. Although the sharpness isn't going to be as great as a Single bevel blade, it still cuts your veggies and fruits. You can also mince the meat but never use it on bones and frozen stuff. Else, you will lose its sharpness and chip its cutting length. This is a fantastic kitchen knife for the price but is still not the greatest.
Pros
Excellent craftsmanship
Double bevel wide blade
Best knife for preparing meals
Easily cut through veggies and fruits
A stiff knife with an improved edge
Cons
Sharpness isn't amazing
Some buyers notice poor pre-sharpening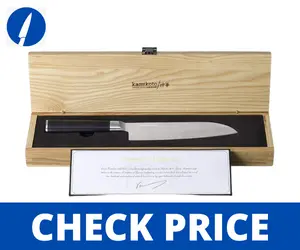 The only single knife in the Kamikoto fleet which is worth investing time and money. Usually, people prefer to get a chef knife as it is considered an all-rounder almost for all tasks. But, not everyone is comfortable with a chef knife, hence requiring an alternative. Santoku is an excellent alternative to Chef knives due to its good blade profile and manageable length.
Unboxing & Overall Build Quality:
This santoku individually comes in a traditional wooden box. It is a 7-inch long blade which is just the right size for a Santoku in terms of usability. Kamikoto Santoku is a single bevel blade based on similar high carbon steel with some added chrome to provide anti-rust properties. The exact steel composition isn't given, but it's not even near Shun's steel, which is VG-10. Besides, the knife features a straight-cut profile for home cooks and chefs. Overall, the feel is pretty sophisticated and has excellent performance, but the price isn't!
Our Verdict:
This is one of the most expensive Santoku we have ever reviewed. We can still say it's overpriced when you have such great options like Shun DM Santoku and Yoshihiro NSW layer Santoku that you can quickly get for a similar price. So, if I were you, I would never pick this knife by Kamikoto even though it features a similar performance as Shun's and Yoshihiro's notable mentions. Overall, the knife itself is pretty impressive and features a good deliverance.
Pros
A simple yet adorable knife
Sharp single bevel cutting blade
Amazing anti rust & balanced knife
A Good Santoku knife for home cooks
Cons
An expensive Santoku knife
Steel isn't fantastic but cheap
Kamikoto Knives Frequently Asked Questions
Summing Up
After overwhelming demand from our readers, we have brought an in-depth Kamikoto Knives Review after spending several hours and money researching and reviewing the Kamikoto Knives. Kamikoto is a Japan and China based knife manufacturing brand that has been making several Chinese and very few Japanese knives that are actually made in Japan.
Except for the Kanpeki series, everything else by Kamikoto is actually made in China, and Kanpeki is the only authentic Japanese knife series. So, it is recommended only to get Kanpeki if you want a Japanese knife. Otherwise, Chinese knives are also good at performance, but they are being sold at a hefty amount, making Kamikoto face criticism. If they stop using false marketing tactics to be an authentic Japanese knife maker and start using quality steel for the price, we all would love to encourage Kamikoto Knives as a good knife manufacturing brand.